Hollyoaks star Jessica Fox confirms engagement to boyfriend Nicholas Wiles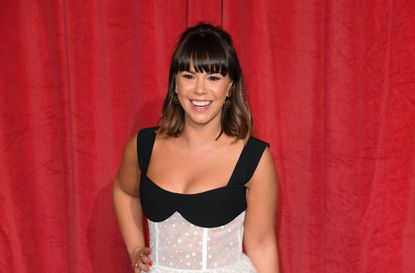 Hollyoaks actress Jessica Fox has announced that she and her boyfriend Nicholas Wiles are engaged.
The soap star, known for playing Nancy Hayton in the Channel 4 programme, took to Instagram to share the news after her musician beau Nicholas popped the question.
Breaking the news on social media, Jessica shared a photo of two printed snaps for her followers, in which she can be seen posing next to her future hubby, beaming with joy and showing off her new ring.
Captioning the sweet upload, the telly star explained why she had accepted Nicholas' proposal with no hesitation, writing, 'Be with someone you can be completely yourself with. Someone who makes you want to be better, kinder, eat more fruit and veg. So of course I said "yes" 💍.'
Meanwhile, Nicholas shared the same photo, beside a heartfelt caption explaining that a tough year had prompted him to go ahead and take the plunge.
'Funny thing, life. beautiful, brutal and colourful. and sometimes a little too shiney, especially on the internet. in honesty, i'm still struggling to come to terms with what's happened in my life over the last year and a bit, and that it's a real thing. grieving for two best friends has certainly brought a lot of tears, anger, confusion and what i thought was an irreparable hole in my heart,' he wrote.
READ MORE:Made in Chelsea's Millie MacKintosh expecting first child with husband Hugo Taylor (opens in new tab)
'I don't think it will ever not hurt, but you learn to manage the pain. anyway, my point being, back in april I wrote on here the absolute necessity to live a bit harder and love a bit stronger, at all costs. don't wait. and i've been working on practicing what i preach. for the simple reason that, life is very, very f**king precious.
'This one is repairing the hole so it's back to it's fullest, rocking my world whilst downright making me laugh all at the same time so f**k it, here's me being shiney. on the internet. but mostly in real life, with somebody i love. did a thing. 💍🖤.'
Congratulations to the happy couple!