Mary Portas has revealed she's divorcing wife Melanie Rickey after 17 years together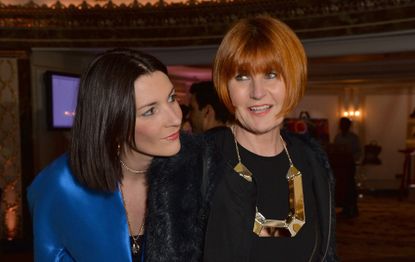 (Image credit: Alan Davidson/REX/Shutterstock)
The Queen of Shops star Mary Portas admitted in a statement that the pair separated a year ago.
Mary and Melanie started dating in 2003, with Mary divorcing her husband of 13 years, Graham Portas, the same year.
Last year, she opened up about entering into a relationship with a woman for the first time. Mary told the Guardian: 'In one way, it was just about Melanie. But there was a sexual attraction. I do love women.
'What surprised me afterwards was that so many women are fluid in this way. I would meet them and they would say: "I was married, now I'm with a woman."'
Mary has two children from her relationship with ex-husband Graham: a son called Mylo and a daughter called Verity. She also has a six-year-old son called Horatio with Melanie. He was born through IVF using sperm donated by Mary's brother Lawrence.
45-year-old Melanie, who works as a fashion journalist and brand consultant, met Mary at a dinner at the Royal College of Art. She moved in with Mary and her two children in 2005, before the pair entered into a civil partnership in May 2010.
The couple converted their civil partnership to a full marriage in 2014, just after gay marriage was legalised.
But in a statement last week, they sadly revealed: 'After 17 years together we have decided to separate. There is no one else involved.
'We have spent the last year consciously managing our separation in as good-heartedly, open and mature a way as possible to ensure a smooth, amicable evolution for us.'
'In the end they decided they were better off as wonderful friends,' a friend of the couple told the Sun.
58-year-old Mary began her retail career designing window displays for shops including Topshop and Harvey Nichols before rising to fame on the TV show Mary Queen of Shops in 2007. A few years later, David Cameron made her the UK's first 'shopping tsar'.
Samantha is a freelance writer at Goodto who has been with team since 2019. Initially trained in psychology, she specialises in health and wellbeing and has additionally written for magazines such as Women's Health, Health & Wellbeing, Top Santé, Healthy, Refinery29, Cosmopolitan, Yahoo, CelebsNow, Good Housekeeping and Woman&Home.