Wedding photographers reveal the ONE sign that tells them if a couple will last or not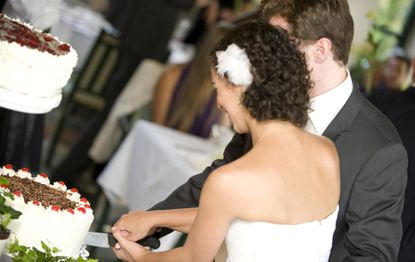 (Image credit: Michaela Begsteiger/imageBROKER/)
Wedding photographers have spilled the beans on how they can tell if a couple will be heading for divorce or not...
It's your wedding day. You've got the classy cake-cutting shot in the bag and you're looking forward to biting into that sweet, creamy icing… Then your new husband grabs a huge slab and smushes it into your mouth – and all over your face. Do you brush it off as a playful joke... or immediately start Googling grounds for annulment?
While we're all for going against tradition when it comes to wedding cakes, according to wedding photographers on Reddit, the 'cake smash' is such a big red flag that all the couples they've seen do it have ended up getting divorced further down the line.
'I swear that all of the couples that have split up have smashed the cake in their SO's face,' wrote one photographer. 'None of the nice cake couples have. Just my weird anecdotal experience. Maybe it's a sign of respect for each other.'
'To me the biggest sign is the cake cutting,' another photographer agreed. 'Some people like to smear the cake everywhere as a joke, some people don't. Usually the couple is in sync about this. They know what the other would like and they don't smush cake on the other's face if they wouldn't want that.'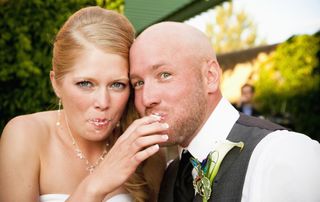 'Sometimes one of them (usually the groom) will force cake all over the other's face and embarrass and upset them. I've seen this happen a handful of times and all of those relationships that I have kept up with have ended in a divorce.'
'When it isn't agreed upon it just looks humiliating,' one commentator agreed.
'I could see failed relationships and smashing cake correlating with impulsive personalities,' another added.
One man shared his own experience of the trend, saying: 'My wife asked me nicely not to smash cake in her face, so I didn't. I knew how much work went into getting ready for the day and I think the cake smash is dumb anyways. We agreed not to do it.
'After I gave her a bite of cake, she smashed some into my face. I was not happy about it. When I'm asked about wedding stuff, I always suggest not smashing food into each others' faces. I felt pretty disrespected and really let down.'
But one bride disagreed, saying: 'My husband smashed cake into my face as well. And a really good smash. Completely unplanned. Our photographer caught every moment. I then smashed cake into his face so we would match. Probably my favourite pictures from the wedding, not gonna lie.
'We've been married for almost seven years now with no plans to divorce any time soon. So I mean I think it really just depends on the people.'
Parenting advice, hot topics, best buys and family finance tips delivered straight to your inbox.
Samantha is a freelance writer at Goodto who has been with team since 2019. Initially trained in psychology, she specialises in health and wellbeing and has additionally written for magazines such as Women's Health, Health & Wellbeing, Top Santé, Healthy, Refinery29, Cosmopolitan, Yahoo, CelebsNow, Good Housekeeping and Woman&Home.