Would YOU pay £350 to be drip 'fed' a non-food diet? The shocking KEN diet
The KEN diet is the latest extreme weight loss method, but what's it all about?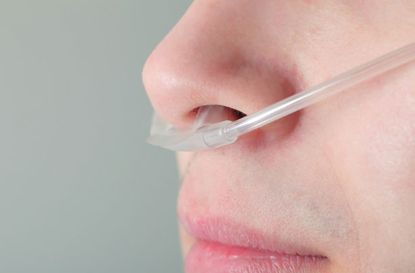 Sure, the thought of a quick-fix diet can be tempting, but despite our hoping and wishing extreme diets rarely work in the long run.
Trying to address this yo-yo dieting trend, Channel 4's latest programme on shifting the pounds How To Lose Weight Well documents all sorts of radical means to ditch the muffin top and weighs up the health implications, too.
The latest diet under scrutiny by Channel 4's presenter and health expert Dr Xand Van Tulleken is the KEN diet, or Ketogenic Enteral Nutrition diet. This helps you lose weight without diet or exercise - instead, you follow a rather strange nil-by-mouth strategy. Intrigued? Here's everything you need to know about the KEN diet...
How does it work?
The idea was bizarrely developed by Professor Gianfranco Capello in Rome and was apparently inspired by hospital patients who lose their appetites while they're being 'fed' through a tube.
For the princely sum of £350 dieters can elect to have a plastic tube inserted through their nose, into their stomach, which is attached to a small back pack. This contains a solution of proteins and nutrients and is drip fed to you through your new shiny tube 24 hours a day for 10 days (although you're allowed to wash without it you'll be pleased to know).
While you're on this non-food diet you have to also keep drinking plenty of water, take vitamins and keep up a dosage of lovely laxatives to keep your body moving...
The KEN Diet's website comfortingly states, 'The KEN Diet sends the body into a controlled "starvation mode", forcing it to use its own fat for energy.' Ah, starvation mode. An underrated state, surely?
What are the pros?
Dr Tulleken says that despite his initial worries he couldn't deny that it's a diet that works fast, and the programme did give good results.
Writing for The Daily Mail Dr Tulleken says 'There's no denying the KEN diet is ludicrously strange, but - and I hate to admit this - it works.'
What are the cons?
Firstly there's the fact that you can't eat... a big one for us. But then there's also no guarantee that you will keep the weight off after your very expensive 10-day fast.
Sian Porter, consultant dietician and spokesman for the BDA, told the Telegraph back in 2012: 'It is shocking that people are electing to have naso-gastric tubes inserted in order to lose weight, usually reserved to treat sick or chronically ill people.
'Not only that but one of the side effects is having to take laxatives because this diet provides absolutely no fibre.'
Rosie is an experienced food and drinks journalist who has spent over a decade writing about restaurants, cookery, and foodie products. Previously Content Editor at Goodto.com and Digital Food Editor on Woman&Home, Rosie is well used to covering everything from food news through to taste tests. Now, as well as heading up the team at SquareMeal - the UK's leading guide to restaurants and bars - she also runs a wedding floristry business in Scotland called Lavender and Rose.