Asda's sellout pillow has been hailed as a 'marriage saver' after reviewers say it stops snoring - and it's back in stock tomorrow!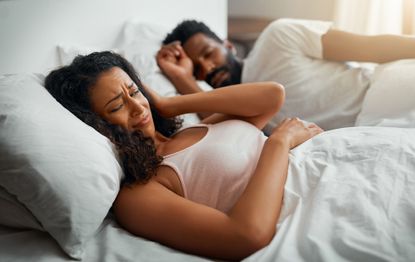 (Image credit: Getty)
There are so many things in life that can cause arguments between even the happiest of couples.
Disagreements about household chores and parenthood affecting your relationship are just two of the most common issues that can come up in a marriage.
But one grievance that people sometimes overlook is lack of sleep due to your partner's snoring (opens in new tab).
It may not seem like a big deal to some, but missing out on those precious zzzs can make you irritable and resentful, especially to the person who kept you up all night.
Thankfully, Asda is selling an anti-snore pillow that has been hailed by customers as a 'marriage saver' – and it's SO good that it has already sold out online!
The miracle pillow will be back in stock tomorrow however – but, you'd better be quick if you want to get your hands on it. We don't imagine it'll be around for long!
The Silentnight Anti Snore Firm Support Pillow, features an ergonomically-designed foam core that positions the head in such a way that it minimises snoring.
The addition of foam is also said to help the pillow retain its shape and create extra support for the user.
Priced at just £12, it's an absolute bargain for anyone who's been missing out on sleep because of their other half sawing wood all night long.
Customers have been going crazy over the clever pillow, with its product page being met with multiple five-star reviews.
Take our snoring test to find out your best treatment (opens in new tab)
'Marriage Saver!' wrote one satisfied customer wrote on the Asda website. 'The wife was threatening to expel me from the matrimonial bed because of my snoring & other "remedies" had not worked,' he continued.
'The pillow is very firm & takes some getting used to but does keep the head elevated. Since using it there have been no complaints from senior management & I'm still in the bed! A result!'
'One of the best things I have bought,' wrote another user. 'Since I bought this pillow I have had a least disturbed sleep, and so has my wife. She hasn't kicked me once since I acquired it.'
'So far, so good,' wrote another happy customer. 'I was sceptical but desperate when I ordered this pillow. Only had it one week but its already going on holiday with me as my husband says it works. Happy days!'