Mums are raving about this bizarre cleaning hack that promises to remove smells and stains from your bathroom floor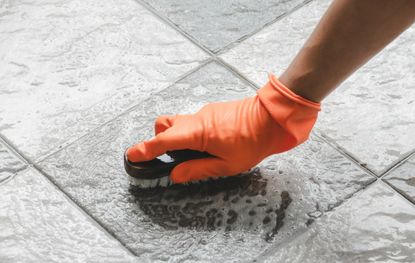 Goodto Newsletter
Parenting advice, hot topics, best buys and family finance tips delivered straight to your inbox.
Thank you for signing up to GoodTo. You will receive a verification email shortly.
There was a problem. Please refresh the page and try again.
People are praising this surprising cleaning hack that gets rid of unwanted smells.
Several people have shared photos online of an unusual cleaning hack, which apparently gets rid of the urine smell in a bathroom for good, with many claiming it's the best thing that they've ever tried for casting away unwelcome odours.
This slightly odd trick however involves covering your bathroom floor in shaving cream. Yes, really.
This clever cleaning idea has been widely reported since it was recently shared on the Facebook group, Mums Who Clean.
The trick has gone down a storm, with many people saying it works better than any product they've used before, as the chemicals are believed to destroy the urine rather than just temporarily cover the smell.
Read more: Mumsnet users shocked by woman's controversial bathroom cleaning hack
Outside of the closed Facebook group, other mums have also been sharing their positive results after trying the genius cleaning hack.
One mum shared: 'Just found this awesome hack! Definitely saving for future with these boys!'
https://www.facebook.com/photo.php?fbid=10155537231051076&set=basw.AbqDs4GfWryIkhI5-KSe0AmsEIiJuXT8Kf98OJPXgHkEe8ssWGNQVRd0GVVXThLEkVVzLsJJ3us3T_cVUsc58kSCw3m5wlXIgAJM6vAlKpdHCp3TDfHRrFb5hdXHPLS0apIXe96iJg6QR3pZUXwG48TA3rt6_DG3Fxt4I6RARad5KA.1901888073220349.550952185334721.10155537231051076.990844434426911.1340344886077557.1351715041561200.625546144476498.1614555888574187.1298524846924132&type=1&opaqueCursor=Abqz1o3-Lc04xmI8HO1eUr6HrleguXKNfINWi55GXwnPaqNyiaTos3U-JWPzeemR4FPfbcJ2yVURj6ocnZLSBYaVFrsFYjTJuyKHpXKDRkbEeY7Ko3MSbiycve8dDlPkfLxKekhLLGnzie7hrx_xH04JHVQjZt-UpqpqYXPxqLfQCxb11SGMoAxKtTldvUFW-XCgLlHdbCo6zhRStpV-IB4iOFWhut48P7hAYjUBRuOj_464Xi7tdXDBIiiVvIFTWtlph81x2i8tpzHLbSA6qeBYkF-Y6h_bYeFslYsYzzVBcpwymz43dkMVO6t2dXTWFCTP1oUI66qK6i1vHQHR6Q4A5dw5OqsMKldFu8V34KBY7Jxbkr7F72MA_WyKdz7OvEbVW8Mq0JuT92t9DebI0jBN0GANODSgRgfM-Ic3cOG_2fXuq-3kbMHas8KAM8CJhbeBAHSrJBFwCITtOwsMGnR1zENF30w4j6aTFU_b1VjFsanG2P_aNcXgFUqYA-eUd8gjZG0a1V-eHUXUjViPOo5bfEC-yPGjJ9fX5nrc5voH-Loj4QHPn_f0j2RdWsfbxfIgD3rl0JoOqqsnDyRnl-zelEKBB0yY1DGktY0aFTjhnLm_Y6xspOnYIMsAcOxBmHJkTyIiwIg9itAEyVAADkrJcno-5-7vXUmfXRFWajFaXLeaK3iz_RbzpGuIi10YNkg4sGR67mVxWhYNeAlYfJZh&theater
'Foam shaving cream removes the smell of urine from your bathroom floor and toilet trim'
Many people have since commented underneath the post to share their excitement to try out the new cleaning hack within their own homes, with one person writing:
'Definitely worth a try with 3 boys!!!! Thanks'
Another user expressed their regret that they're only hearing about such a cleaning trick now: 'who knew. Would have been a lifesaver when all the boys were little'
And one woman who has tried and tested the cleaning idea endorsed it with this comment: 'fabulous and natural and better for our environment. Not to mention cheaper!'
Read more: Mum reveals GENIUS (and super cheap) hack that keeps her sofa sparkling clean
This bizarre cleaning trick is the latest of many cleaning hacks that have gone viral after being shared on social media in recent months, with one mother revealing in December that she swears by denture cleaner (!?) to keep her sofa in good nick.
Do you have a genius cleaning hack you'd like to share? Head over to our Facebook page and let us know!
Parenting advice, hot topics, best buys and family finance tips delivered straight to your inbox.
Freelance Lifestyle Writer
Niamh McCollum is a freelance lifestyle writer who has written for Future titles GoodTo and Marie Claire UK, plus the Irish Independent. The Dublin-based journalist specialises in stories
affecting families - from health updates, to the freshest parenting debates and celebrity announcements.