'You drown in your own spit' Fans support blogger Susie Verrill after she opens up about severe morning sickness condition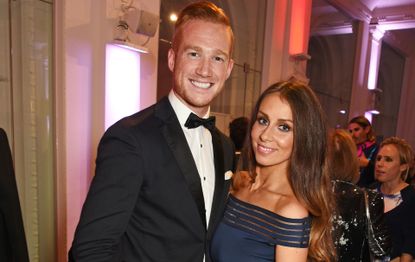 (Image credit: David M. Benett)
Blogger Susie Verrill reflects on serious morning sickness condition: hyperemesis gravidarum.
Susie Verrill, freelance writer and UK mummy blogger, took to her Instagram page to discuss the experience she had with the debilitating condition hyperemesis gravidarum (opens in new tab), which was famously suffered by Kate Middleton throughout her three pregnancies and has also affected Coronation Street actress Helen Flanagan and comedian Amy Schumer (opens in new tab).
'Over the Christmas period, my mind kept drifting to 'I wonder how I was feeling on this day 2 years ago?',' wrote Susie, who's post has received more than 1,000 comments.
She then explained that, after finding out that she was pregnant in December 2016, she didn't leave her room until March unless she needed a scan or had to be put on a drip at hospital.
The mum-of-two didn't even leave bed for doctor's appointments, as they were carried out via an app.
'Since I wrote a blog post on hyperemesis gravardium when I was 6 months pregnant (and thankfully feeling more normal) I've had around 3 messages a week from women who are desperate for help,' wrote Susie.
'After scouring the internet myself, clawing for a hint of what might allow me a few minutes of escapism from my daily nightmare, I would flit between reading 1000 terminations a year are carried out due to the illness or 'sorry, nothing worked for me',' she continued.
'One doctor advised me to 'just try to stop being sick' because I'd miscarry, another looked blankly when I literally begged for medication, through retchy tears.
'This is a condition which leaves you unable to look at certain colours, move a matter of inches, smell the smallest of smells; it robs you of everything. I remember saying to my mum that all I wanted was the chance to 'be'... without feeling like I had norovirus x 3. Nothing crazy, just to breathe, sit, sleep without vomiting up the tiny amount of fluid I might have got down that day.'
The 30-year-old, whose partner is Olympic athlete Greg Rutherford, then went on to explain how, during the experience, her she lost her hair, her gums bled and her skin flaked off.
'You drown in your own spit (seriously) you hallucinate, your mental health is SHOT,' she said.
'Some women suffer throughout their entire pregnancy... if I'd have had it much longer then I don't know what I'd have done.'
She left her followers with a word of encouragement, writing: 'If you're not doing so great at the moment, try taking each day as it comes'.
Instagram users flooded her post with thankful and supportive comments, opening up about their own previous and current experiences.
'The guilt is unreal and the stress of it definitely exacerbated my symptoms,' wrote one followed. 'Such a vicious cycle.'
Another commented: 'That couldn't have summed it up any better! Hopefully no more than 4 weeks left of being sick and I can finally have an appetite back and be able to eat decent meals again!'
Hyperemesis Gravidarum: The signs and symptoms of severe morning sickness (opens in new tab)
While another vented about the lack of support for those who are experiencing the condition, writing: 'your face breaks my heart!!
Also, after reading loads of the comments on this post, it's really stressful seeing how many people who had HG were fobbed off by their healthcare professionals! Why is this not taken more seriously across the board?'
Have you suffered with severe morning sickness condition and feel it needs to be taken more seriously? Join the conversation on our Facebook page.