'I was convinced I wasn't going to live' Emilia Clarke shares unseen photos from her hospitalisation after suffering life-threatening brain aneurysms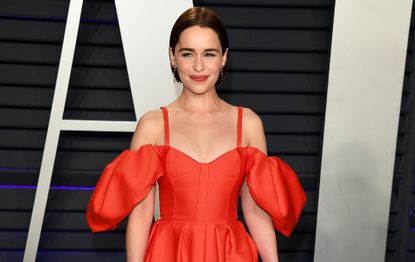 (Image credit: WireImage)
GoodTo newsletter
Sign up to the GoodTo Newsletter. You can unsubscribe at any time. For more information about how to do this, and how we hold your data, please see our privacy policy
Thank you for signing up to . You will receive a verification email shortly.
There was a problem. Please refresh the page and try again.
Emilia Clarke has shared never-before-seen photos of her hospitalisation after recently revealing that she suffered from life-threatening brain aneurysms while filming Game of Thrones.
The 32-year-old, who rose to fame in the popular TV show (opens in new tab) for her role as Daenerys Targaryen (also known as the famous 'Khaleesi' and the iconic 'Mother of Dragons'), opened up about her history with the life-threatening condition in an essay she wrote for The New Yorker just last month.
'Just when all my childhood dreams seemed to have come true, I nearly lost my mind and then my life,' stated Emilia as she explained how she suffered from her first brain aneurysm shortly after filming the first series of the multi award-winning show.
READ MORE: Game of Thrones names - Would you choose Arya, Daenerys or Theon for your baby?
And now the actress has opened up about her health scare in an interview with American talk show CBS Sunday Morning, where she shared images of her time in hospital.
https://www.youtube.com/watch?v=BCcwWERBEHg
The previously unseen photos (shown within the video above) show Emilia suffering in hospital while she was recovering from her multiple brain surgeries.
One even shows a medical tube attached to the star's head while she's hooked up to hospital machine.
In her New Yorker essay, Emilia explained how after filming the first series of the worldwide phenomenon, she suffered from her first brain aneurysm while she was working out with a trainer.
'My trainer had me get into the plank position, and I immediately felt as though an elastic band were squeezing my brain. I tried to ignore the pain and push through it, but I just couldn't,' she explained.
'Somehow, almost crawling, I made it to the locker room. I reached the toilet, sank to my knees, and proceeded to be violently, voluminously ill.'
After being rushed to the hospital, the actress, who was only 24 at the time, was told that she had suffered a subarachnoid hemorrhage (SAH), a life-threatening type of stroke, which is caused by bleeding around the brain.
T'I'd had an aneurysm, an arterial rupture. As I later learned, about a third of SAH patients die immediately or soon thereafter.'
She was then taken to a Neurology and Neurosurgery hospital to undergo a life-saving operation.
'I remember being told that I should sign a release form for surgery,' she said. 'Brain surgery? I was in the middle of my very busy life—I had no time for brain surgery.'
Emilia then recalled a time during her surgery recovery when she couldn't even remember her own name.
'I went into a blind panic. I'd never experienced fear like that—a sense of doom closing in,' she revealed. 'I could see my life ahead, and it wasn't worth living. I am an actor; I need to remember my lines. Now I couldn't recall my name.'
After pushing through a press tour where she made it through 'sipping on morphine', and then struggling through filming seasons two and three of the show, Emilia went for a check-up to discover that a second growth on the other side of her brain had doubled in size.
The Me Before You actress endured another painful surgery procedure and spent a month recovering in the hospital.
'I lost all hope,' she stated. 'Going through this experience for the second time, all hope receded. I felt like a shell of myself. So much so that I now have a hard time remembering those dark days in much detail. My mind has blocked them out.
'But I do remember being convinced that I wasn't going to live.'
Emilia now works with charity SameYou, which she helped to develop.
The charity provides treatment and support for those revering from brain injuries and stroke.
'In the years since my second surgery I have healed beyond my most unreasonable hopes. I am now at a hundred per cent,' said the TV star.
'I've cheated death twice. I survived.'