Free sanitary products will be made available in all English secondary schools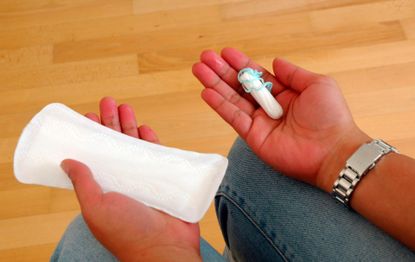 The UK Government has announced plans to make free sanitary products available in all English secondary schools.
Girls who need sanitary products will be able to access them at school from September.
Philip Hammond, the Chancellor of the Exchequer, is expected to make an official announcement about the scheme tomorrow as part of the Spring Statement. A similar scheme launched in Scotland last year.
The announcement is a victory for the two-year #FreePeriods campaign, which called for an end to period poverty in UK schools.
The movement was spearheaded by teenage activist Amika George. In December 2017, she gathered more than 2,000 protestors together outside Downing Street.
https://www.instagram.com/p/BuyKqqDlI1A
Earlier this year, Free Periods launched a legal campaign for equal access to education with the Red Box Project. The campaign demanded that free menstrual health products be made available in all schools, colleges and universities.
Amika welcomed the announcement as a 'huge step forward for gender equality,' saying, 'periods should never hold back a child from achieving their true potential'.
Statistics show that more than 137,000 girls in the UK miss school because they can't afford to buy sanitary towels or tampons.
Nearly half of young women have missed a day of school because of their periods, and 10 per cent are thought to be too poor to buy sanitary products.
'We're going to keep fighting for better education and work to destigmatise periods,' George added.
The announcement comes hot on the heels of this year's International Women's Day. Last year, Stacey Solomon shared one of her old school photos on Instagram to support an IWD campaign started by Always – for every image shared, the company donated a pad to a school in need.
https://www.instagram.com/p/BgEzNTOg8x7
'No matter how long ago it was, we were all school children once, and even if you haven't experienced period poverty yourself, you can put yourself into the shoes of young school girls who are affected!' she said at the time.
Samantha is a freelance writer at Goodto who has been with team since 2019. Initially trained in psychology, she specialises in health and wellbeing and has additionally written for magazines such as Women's Health, Health & Wellbeing, Top Santé, Healthy, Refinery29, Cosmopolitan, Yahoo, CelebsNow, Good Housekeeping and Woman&Home.