Marks & Spencer is selling coverless duvets so you'll never have to change your bedcovers again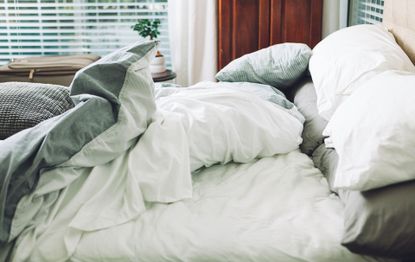 (Image credit: Getty)
Most of us can agree that one of the best feelings in life is getting into a bed with fresh covers.
But getting to that point is not so pleasurable.
Changing your bedding is one of the chores that feels like it takes the most effort (especially when you forget to do it, and only realise minutes before bedtime).
Winter duvet can be so heavy it's basically an arm workout, you somehow always manage to end up in a tangle and how the hell do people manage to find the corners?
Thankfully, Marks & Spencer have come up with a solution to let you have the best of both worlds.
The high street retailer has released a clever duvet that doesn't even need a cover.
Their Supremely Washable Duvet is designed to go straight in the wash, so you don't have to lug it down to the Dry Cleaners every time you want a clean.
And if you're thinking this duvet's practicality means that you'll be stuck with a bit of an eyesore, think again.
It comes with a cute design printed on it so that it can flow with the decoration of your bedroom.
The duvet is also designed to be quick-drying so that you can wash and dry it all in one day. No need to wait a week for the bedsheets to go through the washing cycle.
How often should you wash your bedding? (opens in new tab)
And whatever season you want it for, the store have an option for you.
You can get the smart duvet in 4.5 tog, 7.5 tog, 10.5 tog and 13.5 tog.
Customers have been raving about the product, writing reviews saying that it is an 'Excellent duvet, it is light, but sufficiently comfortable for summer nights.
'Easy to wash and dry and pit back on the bed without having the fight and battle with the duvet cover! The colour goes well with my bedroom and if necessary can put a cover on if I want the hassle.'
One user also pointed out how useful it is for children's bedrooms, writing: 'Having kids duvets regularly need washing and had no problems so far. I am so fed up with kids each night wanting their duvet covers fixing so this is the perfect idea. Looks good too.'