'It's really hard' Michelle Heaton reveals early menopause almost ruined her marriage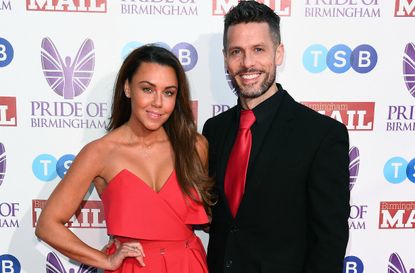 Michelle Heaton appeared on ITV's Lorraine revealing early menopause almost ruined her relationship with husband Hugh Hanley.
Appearing on the TV show this morning, 39-year-old Liberty X star Michelle and husband Hugh Hanley spoke about the strain Michelle's early onset menopause (opens in new tab) had on their partnership.
The singer and TV presenter emotionally revealed she'd gone through the menopause (opens in new tab) at just 35-years-old following a hysterectomy in 2015, which she needed to reduce the risk of developing ovarian cancer.
Hugh said: 'It's something that doesn't come up, and I have never heard anyone talk about it… I was trying to support as best I can but I don't think we knew what we were dealing with. It really caught us off guard a lot.'
Michelle, growing teary, explained: 'Obviously with us being so young and going through it and with the kids being so young as well, I don't have that group of women around me who are going through it at the same time. So, it's really hard.'
She went on to explain the struggles she faced and the impact her 'erratic' behaviour had on her two children, Faith and Aaron. (opens in new tab)
She said: 'It's kind of like Hugh saying that he can't speak to people.
'It's hard for me to bring it up in conversation with my girlfriends, not that they are not kind and considerate. But that's a right downer on the conversation when I'm out at the pub and I need to leave because I'm really hot and I can't get myself calmed down.
'It's upsetting for my mum to talk about because she didn't expect her daughter to go through it so early.
'I think what kills us most is the kids seeing those moments when I'm really erratic, down and emotional when nothing Hugh or anyone can do can get me out of it and my kids see it and they shouldn't have to see that.'
Hugh admitted that looking back he would have dealt with things differently.
He explained: 'Looking back there was a lot more I could have done.
'At the time Michelle had her operations (opens in new tab), I presumed she would recover and life would go back to normal and then all this other stuff came like the mood swings and Michelle really struggles to get hold of herself.
'She has lost a bit of herself. She struggles to understand this is part of life but she then throws that rejection back to me quite a lot… which makes me question our relationship sometimes.'
Speaking honestly about the pressure it's placed on their relationship, Michelle continued: 'Rejection has been one of my biggest things. I can't stand people in my area in those moments and he just wants to hug me… then you understand how many relationships break down as the partner feels rejected, you don't know why you are rejecting them.'
For men watching the TV show this morning, Hugh shared his tips for supporting women going through the menopause.
He said: 'Five years through it. Definitely do your research. It's obviously very hard on your partner who is going through it. But there's an element where you have to man up a little bit and be supportive… there are some days Michelle is not herself and she's not Michelle and it passes.
'She's still the woman I married and I love and I have to see that isn't her and it's just part of it… let your partner know that you love them. That's all you can do sometimes, accept that if they reject you it's not you it's just they are out of sorts with them.'
He explained that some mornings he felt terrible leaving for work when Michelle was clearly in a low mood.
He said: 'It's hard to watch how much it has impacted her as a partner.'
Praising the way Hugh dealt with the experience, Michelle added: 'I'm very lucky… so many men are lost. They are just broken and they don't know what to do.'
Michelle and Hugh, tied the knot in 2010 and are parents to seven-year-old Faith, and five-year-old Aaron.
Sibelle Mehmet is a Junior Digital Writer at Goodto.com. She joined the team in April 2019 and was her first job since completing a MA in Magazine Journalism at City, the University of London in the summer of 2019. Sibelle previously interned at a number of national titles including OK!, Heat, Closer, Mother & Baby, and The Times Newspaper magazine. She's written extensively about the latest celebrity, showbiz, and royal news.