Mum's warning after toddler tragically suffocates underneath her teddy bear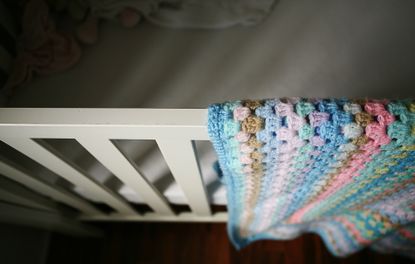 Dexy-Leigh Walsh's daughter Connie Rose passed away in her cot after suffocating underneath her teddy bear.
A mum has issued a grave warning to parents after her 18-month-old daughter suffocated to death underneath her teddy bear.
Dexy-Leigh Walsh, has taken to Facebook to urge parents to be wary of the dangers of keeping toys in the bed, after finding Connie Rose unresponsive in her cot, with the 'massive' cuddly toy on top of her.
The tragic incident, which occurred in March last year, was reported by the Daily Record. A collection of teddy bears had been stuffed down the side of the toddler's bed by her mum to prevent her falling between the mattress and the wall, with the big teddy being placed on top.
Connie Rose, however, slipped into the gap on top of the smaller teddies, with the big teddy ending up on top of her, causing the toddler to tragically suffocate.
https://www.facebook.com/185979122029468/photos/a.185979155362798/185979302029450/?type=3&theater
The mum has since set up a Facebook page in her daughter's name to raise awareness of the dangers of having cuddly toys in young kids' beds. Discussing the incident, she wrote:
'She had a bed guard at one side and the smallest gap from her wall to her bed and that's where I had put all her teddies. My biggest regret in life.'
Read more: Mum issues warning after a single kiss almost killed her baby girl (opens in new tab)
The 24-year-old mum expressed her heartache at the time by sharing a message on Facebook. She wrote: 'On March 6, 2018 at 8.01am, my life changed.'
'I have been blaming myself as she passed away due to suffocation as I had packed down the side of her bed with teddies and placed a big one on top of the smaller teddies to stop her from falling down the side of her bed.'
The mother then went on to reveal that her daughter still managed to fall down the side of the bed on top of the smaller teddies, and ended up underneath the big teddy: 'as it was all teddy bears she went under the massive teddy and fell asleep with he angels.'
Dexy-Leigh continued: 'Please move everything off your kid's bed and away from the sides. I really hope my little princesses tragic story can save someone else baby's life.'
https://www.facebook.com/185979122029468/photos/a.185987612028619/185987595361954/?type=3&theater
Since the incident, the family have been tirelessly campaigning to warn other parents about the dangers of putting their children to sleep with stuffed toys in their bed.
At a family gathering last week, Connie Rose's grandmother Vicky Walsh said: 'This is a very sad time for us. We have gathered as a family to celebrate the life of Connie Rose.'
'We also want to use the occasion to highlight the campaign. If this can save the life of one other child, then Connie Rose won't have died in vain.'
Read more: 10 surprising health and safety hazards for kids in your own home (opens in new tab)
The grandmother touchingly shared that the family's nickname for Connie had been 'Bonnie Connie', and she added: 'She was a wee soul with a big character. We miss her dreadfully.'
'We've had people approach us and say as soon as they read about Connie Rose they made sure they removed toys from their child's bed.'
'That's all we can ask for, that some good comes out of our tragedy.'
Freelance Lifestyle Writer
Niamh McCollum is a freelance lifestyle writer who has written for Future titles GoodTo and Marie Claire UK, plus the Irish Independent. The Dublin-based journalist specialises in stories
affecting families - from health updates, to the freshest parenting debates and celebrity announcements.