Woman claims that using raw honey cleared her acne in just four weeks
The before and after pictures have shocked the internet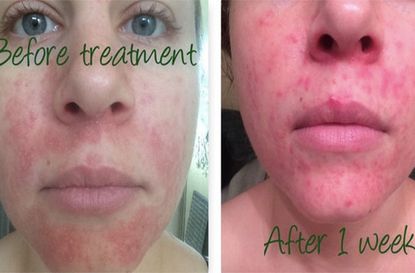 GoodTo newsletter
Sign up to the GoodTo Newsletter. You can unsubscribe at any time. For more information about how to do this, and how we hold your data, please see our privacy policy
Thank you for signing up to . You will receive a verification email shortly.
There was a problem. Please refresh the page and try again.
No matter your age, acne (opens in new tab) can be a never-ending nightmare, trying cure after cure to no avail.
However, one anonymous woman has revealed on Reddit that no matter what lotion, potion or over-the-counter medication she tried her acne never got better - so she tried a natural and cheap remedy instead, and the results were staggering.
'I've struggled with an outbreak of facial sebhorreic dermatitis since April,' she admitted. 'I've had it before, tried everything to make it go away, and then it just decides to go away on its own months later.'
Image: Reddit (opens in new tab)
She went on to say that this time it was very different, 'more aggressive' and covered more of her face.
Continuing, she wrote: 'It was harder to cover with makeup. I went to the dermatologist, who gave me steroid cream.
After the two-week course of treatment, she admitted that it had almost cleared, but it would come back even more aggressively.
'I did this three times, and then it was out of control,' she explained.
Image: Reddit (opens in new tab)
The 32-year-old woman then shared four photos to show how using raw honey cured her seborrheic dermatitis - a form of adult acne.
'After washing with mild cleanser, I massaged a think layer of raw honey into the affected area and left it for three hours, simple as that,' she detailed. 'I cannot believe how quickly and relatively painlessly this worked.
'I plan to continue the treatment every other or every third day until all traces of seb derm are gone, and then to continue weekly for six months, as the study indicates, to prevent it from coming back.'
Anyone suffering with acne know that 'miracle' ingredients are rear their head all the time, but honey's healing properties are backed up by serious research.
Studies have shown that a think layer of honey can help acne, eczema and psoriasis, and even aids the treatment of wounds, when used appropriately.
Thanks to the hydrogen peroxide it contains, the natural product is said to be incredibly healing, and so can be slathered onto skin as a mask to treat infected acne spots and lighten skin.