Gogglebox star Steph Parker reveals she was 'minutes' from death
Steph Parker was struck down by a terrifying bout of pneumonia on Boxing Day.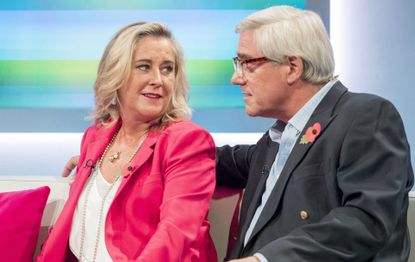 Steph Parker was struck down by a terrifying bout of pneumonia on Boxing Day.
The TV star is best known for drinking her way through a three-year stint on Gogglebox with her husband Dom. But while it may look like it, it hasn't all been fun and games in the Parker household.
Earlier this year, the couple investigated medical cannabis for a Channel 4 documentary, opening up about their 18-year-old son's battle with epilepsy.
And now they have revealed that the family narrowly swerved tragedy this Christmas, when Steph was struck down with pneumonia.
'Christmas is very busy in our home and we had been working away solidly in the run-up,' she told The Mirror. 'So I think I pushed myself too far and it was just sheer exhaustion, which allowed infection in.'
Dom confessed that while his wife was 'moaning and complaining of feeling tired' and had a cough, he didn't think there was anything seriously wrong with her because she didn't have a temperature.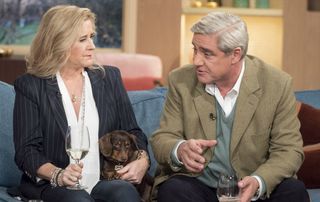 'Then, suddenly, she went a bit doolally,' he explained. 'She just wasn't making a lot of sense.'
Dom's worried mum Vivien and the couple's 16-year-old daughter Honor persuaded Dom to phone 111. After speaking to Steph, the operator immediately dispatched an ambulance, which arrived at the couple's home within minutes.
Shockingly, one of the paramedics told Dom that Steph 'might have been dead' if they'd waited another 20 minutes. 'Basically, her lungs were stuffed,' he admitted.
Steph was admitted to Southampton General Hospital where she was 'pumped' with drugs. 'I've never seen so many wires and tubes going in and out of a human being,' Dom declared.
Steph was unable to work for months after her health scare, and says she still gets tired 'very quickly' almost six months on. 'I wasn't able to travel until the end of March and had to start back bit by bit and take it slowly, making sure I could manage,' she explained.
At the same time, Dom was busy looking after the couple's children and elderly parents, and picking up prescriptions for Steph. 'It got to the stage where we felt like we were in and out of the pharmacy every other day,' he said. At one point, he had to drive all the way to Southampton from the couple's Hampshire home to pick up a specific medicine.
Steph and Dom have now teamed up with Boots UK to help them promote their new online prescription service.
'The Boots service would have been really helpful because life was pretty frantic as it was,' Dom added. 'It's great to know nothing will get missed as everything is in one place.'
Parenting advice, hot topics, best buys and family finance tips delivered straight to your inbox.
Samantha is a freelance writer at Goodto who has been with team since 2019. Initially trained in psychology, she specialises in health and wellbeing and has additionally written for magazines such as Women's Health, Health & Wellbeing, Top Santé, Healthy, Refinery29, Cosmopolitan, Yahoo, CelebsNow, Good Housekeeping and Woman&Home.