'Love these' Shoppers are raving about genius B&M 59p candle that cures colds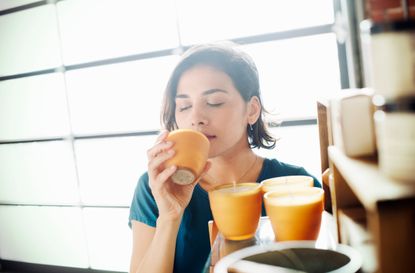 As much as we love the winter season and all the Christmassy goodness, we definitely don't love the coughs and colds that come with it.
One of our go-to cold remedies (opens in new tab) is Vicks vapour rub, which helps you to breathe when you're all bunged up. But did you know it now comes in the form of a candle?
We didn't either – until now!
It turns out B&M is selling a Vapour candle for just 59p in their stores. According to the label, it's 'easy to breathe' too, so there's a chance it could alleviate cold and flu symptoms.
Shopper Courtney O'Reilly-Jones spotted the genius candle and was quick to share the product with others.
Taking to popular Facebook group Extreme Couponing and Bargains UK, Courtney wrote, 'I don't know if I'm the only one who didn't know this was a thing? 🤷🏼♀️ like Vicks vapour but as a candle - 59p at B&M. Perfect for this time of year with all the coughs and colds going about. If it doesn't help, at least my house smells nice 😂'
Read more: Natural cough remedies: cure a cough from the comfort of your home (opens in new tab)
The post racked up over 3,000 reactions from group members, with some of them swearing that the product actually helps when you're struggling with a cold.
One comment said it had helped children, adding, 'Both my children have had a horrible cold these last few weeks so I have had the candle lit for about an hour before they went to bed and shut the door and when I have put them to bed blown it out and the vapour smell still fills the room through the night'.
Another agreed, writing, 'These are perfect for anyone with a new born when they have a cold like my youngest did.'
A third said, 'Love these have them scattered around my house.'
It could also be good if you like the smell of Vicks vapour rub, even if it doesn't have the beneficial effects you'd been looking for. So it's a great bargain buy for fans of scented candles.
Unfortunately you can't buy the candle online, so you'd need to keep an eye out for it in store if you want one.
Will you be trying this candle? Let us know your thoughts on Facebook!