William tells Kate she looks like a banana, but when else has she resembled fruit & veg?
Just when we thought we couldn't love The Duchess of Cambridge anymore, now she's reminding us to get our 5-a-day!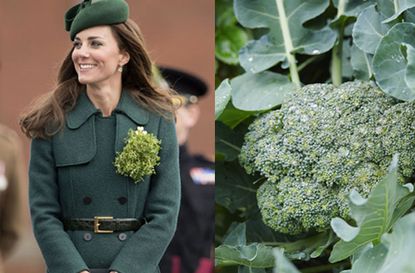 GoodTo newsletter
Sign up to the GoodTo Newsletter. You can unsubscribe at any time. For more information about how to do this, and how we hold your data, please see our privacy policy
Thank you for signing up to . You will receive a verification email shortly.
There was a problem. Please refresh the page and try again.
Tut tut William. Every man who values his life knows to be nothing but complimentary when your partner is wearing a brand new dress.
But it seems that during their recent trip to Sydney, Wills decided to play with fire after telling his wife Kate her new frock resembled the long yellow fruit. The Duchess told Heather Easton, who'd been waiting in the crowd at Sydney's Royal Opera House, 'William said I look like a banana'.
Wow. Brave move Wills!
There's no denying that Kate Middleton is one of the most stylish women on the planet and we loved her beautiful yellow look, but after Wills' comment about her banana-looking outfit it left us thinking: this isn't the first time Kate has reminded us to get more fruit and veg! So we thought it was high time to remind ourselves, and you, of what your five-a-day looks like, using the lovely Duchess of Cambridge as inspiration!
Look 1: Runner beans
Kate factor: Working the green the only way Kate knows how, here's the Duchess during a tour of New Zealand in April 2014 wearing a beautiful coat. Veg factor: Four heaped tablespoons of runner beans count as one portion of your five-a-day. You also need the same amount of cooked kale, spinach, green beans and spring greens!
Look 2: Yellow pepper
Kate factor: She loves her yellow! Kate rocked this dress during a tour of the Solomon Islands in September 2012.
Veg factor: One pepper is equal to one of your five-a-day (same goes for the green and red ones too!)
Look 3: Kiwi
Kate factor: We love this green get-up! Here's Kate in Los Angeles in July 2011 looking radiant in green. Doesn't it suit her?
Veg factor: You need two kiwi fruit to get just one portion of your five-a-day, so get stuck in!
Look 4: Cherry tomatoes
Kate factor: Red is definitely one of Kate's favourite colours, and it's clear to see why - she looks amazing in this outfit from their New Zealand tour in April. Veg factor: You'll need to munch seven cherry tomatoes to get one of your five-a-day. Try adding them to your favourite salad!
Look 5: Broccoli
Kate factor: Talk about glam in green! Kate looks amazing in this St Paddy's Day-inspired look from March 2014. Veg factor: Two broccoli spears is what you'll need to eat to get one of your five-a-day, not too bad at all!
Look 6: Aubergine
Kate factor: Here's a colour we don't usually see the Duchess in but it definitely suits her, she looks lovely in this delicious shade of aubergine. Veg factor: Just a third of an aubergine and you'll have got one of your five-a-day portions.
Look 7: Orange
Kate factor: Bright and sunny in orange, Kate looks lovely as ever during a visit to Cumbria in April 2013. Veg factor: One orange will be enough to get one of your five portions of fruit and veg, or if you'd prefer to drink it then one glass (150ml) of 100% juice will do the trick!
Look 8: Cauliflower
Kate factor: We have to admit that 'cauliflower' certainly wasn't our first thought when we saw this gorgeous pic of George's christening, but now that you think about it... Veg factor: Eight florets of cauliflower will give you one portion of your five-a-day
Look 9: Blueberry
Kate factor: We love this blueberry-coloured coat Kate wore to the Remembrance Service in London in November 2013, not to mention the matching hat! Veg factor: You need to eat four heaped teaspoons of blueberries for one of your five-a-day. Not bad seeing as we love blueberries and could eat triple that amount!
Look 10: Banana
Kate factor: Which is Kate and which is the banana, we just can't decide? Just kidding. Wills - you're so mean. We think Kate looks lovely in her yellow dress in Sydney!
Veg factor: One banana equals one portion of fruit and veg, hurrah! Try chopping one up and having with your morning cereal if you don't like the taste of banana on its own.
Where to next? -More five-a-day portion sizes
-Kate Middleton's life in pictures
-How eating more fruit and veg could literally save your life