Eating more fruit and veg could literally save your life
New research suggests that seven-a-day could help us live longer, but how can we increase our daily intake that much?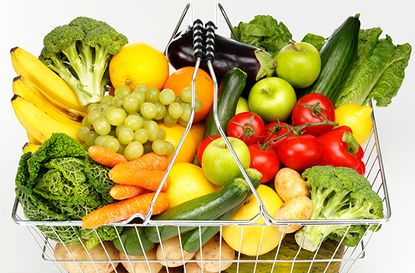 We'll be the first to admit that we struggle to get our five-a-day most days, but with new research suggesting that seven-a-day is actually the preferable amount if we want to live longer, it seems we could all do with upping our intake of fruit and vegetables.
Researchers from The University College London, after carrying out a study of 65,226 men and women, found that the more fruit and vegetables people ate, the longer their lives would be, and that seven or more portions of fruit and veg a day is better for you than the current recommendation of five.
The study showed that getting seven-a-day could cut the risk of dying from cancer and heart disease, although a decrease in people smoking and drinking as much could also have contributed to the drop in mortality. Researchers analysed data between 2001-2008 from the National Health Survey and after looking at general mortality, including death from cancer, heart disease and stroke, they found risk of premature death from any cause actually decreased as fruit and veg consumption increased.
So how much fruit and veg should we be eating?
The study found that risk of death was reduced by: 14% by eating one to three portions of fruit or veg per day 29% for three to five 36% for five to seven 42% for seven or more (up to around 10 portions a day)
The research also warned against the consumption of fruit from cans and fruit juice, saying that juice had no benefit whilst canned fruit actually appeared to increase the risk of death (perhaps due to the large amount of sugar found in the syrup).
The government has stated that its five-a-day advice is sufficient, with many of us struggling to achieve even this. And while lead investigator of the research Dr Oyinlola Oyebode said the effect of increasing the fruit and veg intake to seven portions a day was 'staggering', she added that eating a few portions a day was still better than nothing. 'The clear message here is that the more fruit and vegetables you eat, the less likely you are to die - at any age.'
Seven-a-day though, that's loads?
There is a general rule in Australia that people stick to when it comes to getting their fruit and veg, and that's the '2&5' rule, which means aiming to eat at least two serves of fruit and five servings of veggies each day. If you want to up your fruit and veg intake to seven servings a day, then this is a great rule to follow! Owner of GetleanPT, and trainer and nutrition coach for Full & Slim Darren Casey, says it's really not hard to get your seven-a-day, so long as you're prepared. 'As long as you are taking control of what you put in your mouth and by preparing your meals upfront, rather than relying on those pre-made, packet meals it's not hard at all.'
We asked Darren what a day getting our seven fruit and veg quota could look like:
Breakfast (1 portion) Porridge (with jumbo rolled oats) and a handful of blackberries
Did you know that blackberries have the highest antioxidant levels of all fruits?
Lunch (3 portions) Chicken salad: Add in 1/2 an avocado
Add in some shredded carrots and beetroot
Then throw in a handful of capers, and a handful or watercress and rocket leaves
Dash of balsamic vinegar and you're on your way to hitting your recommended portions already! Afternoon snack (1 portion) Pick one: apple, banana, pear, nectarine, two kiwis or three apricots.
Seven strawberries also counts as one of your five-a-day
Dinner (3 portions) Beef Fajitas (I usually pop in my slow cooker first thing so it's ready at the end of the day!) 500g mince beef 1 tin tomatoes or 5 chopped tomatoes Chopped leeks (yes leeks!) 2 red onions 1 red and 1 green pepper Fajitas spices
Total: 8 portions Fruit portions: 2 Veg portions: 6
Or alternatively, if, like us, you struggle to get your five-a-day as it is, then why not try our five-a-day meal planners? Loads of tasty options in an easy to use format - getting your recommended fruit and veg couldn't be more simple! Click the pic for this tasty and healthy meal plan and loads more.
Are there any easier ways to get my five-a-day?
Amarit Pabla, Holland & Barrett Nutritionist, suggests that there are ways you may not have thought of to get your fruit and vegetable intake up.
'For those who find it hard to eat fruit, juicing fruit or veg is a great way to add to your '5/7 a day'. Many people do not realise that nuts and seeds, beans and pulses also contribute as a portion of their daily intake. 'One portion is 80g, which is equivalent to around three heaped tablespoons of cooked pulses. When fresh fruit is not an option, dry fruits such as the ready to eat figs, prunes, apricots and dates are also good way to obtain a broad range of nutrients, as they all count as a portion and are great snacks for 'on the go' days.'
Where to next? -Are you eating the right food for your age?