Is there a hosepipe ban in the UK? Here's what your regional water company have said
A new hosepipe ban has been extended in areas of the South West of England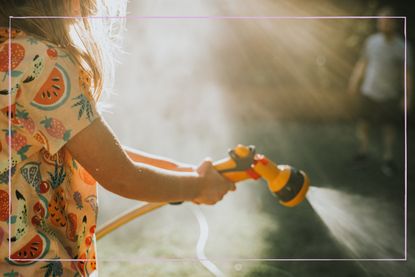 (Image credit: Getty Images)
As reservoir levels remain low, South West Water has been forced to extend restrictions on water use. But where is the hosepipe ban in the UK?
We all look forward to a bit of sunshine, but during last summer's heatwave it was hard to think about much other than how to keep the house cool and how to sleep in the heat. And while some of us may have resorted to sheltering from the scorch indoors - keeping the windows and curtains closed - for others the best remedy is to take a dip in the paddling pool or enjoy the heat while watering the garden.
Several hosepipe bans introduced across the UK made these simple pleasures more difficult, as Britain's water supply depleted. And with reservoir levels in some regions still at low capacity, South West Water's ban has remained in place - and now it's been extended. Find out everything to know about where the hosepipe ban is and what it means...
Where are the hosepipe bans in the UK?
There is currently a hosepipe ban affecting parts of Cornwall and Devon. The ban was introduced in August 2022 by South West Water, and in April 2023 it was extended. Areas affected include Plymouth, Barnstaple, Tavistock and Torquay.
The water company has said in a statement: "Our water resources across the region remain under pressure and as we go into the summer period we have taken the necessary action to safeguard supplies and break the cycle of drought following lower than average levels of rainfall last year and throughout February."
❗ We're asking customers to reduce non-essential water usage across Devon from 25th April through a Temporary Use Ban, or hosepipe ban ❗This is a necessary step to safeguard supplies following limited & inconsistent rainfall over past months.More ⤵️https://t.co/mvN4SCpJ7O pic.twitter.com/yHzW8ui8K1April 18, 2023
See more
Hosepipe ban: Region by region
Anglian Water
Anglian Water - which provides over four million customers with drinking water across the East of England - ruled out enforcing a hosepipe ban in the East of England last summer, despite the driest summer for 46 years.
Spokeswoman Regan Harris told the BBC "We're not proposing any restrictions at the moment but we definitely need to be mindful of the water we are using, to make sure there's enough to go around," she said.
"If we get a second dry winter things will look significantly different for next year."
To find out more details visit - anglianwater.co.uk
Today's declaration from the EA of drought across our region just serves to underline the seriousness of the situation we're facing. But thanks to the investments we've made & our customers support, we still don't envisage a hosepipe ban this summer.➡️https://t.co/P8kSnYh7Fr pic.twitter.com/JjXrjJvrt9August 12, 2022
See more
Dŵr Cymru Welsh Water
Dŵr Cymru (Welsh Water) ended their hosepipe ban on October 25. The ban came into force on 19 August and affected residents across Pembrokeshire and Carmarthenshire. Ian Christie said: "We have done a lot of work to communicate with customers in the area over the past few months about the importance of not wasting any water and we really do appreciate the steps people have already taken. We would urge everyone now across Pembrokeshire to respect the ban and not use a hosepipe. "
However, he added that the ban only affected around 2% of the three million people Dŵr Cymru supplies, and that there are exceptions - particularly for those holding a Blue Badge or on our Priority Service Register.
To find out more details visit - dwrcymru.com
Hafren Dyfrdwy
Hafren Dyfrdwy provides water for those living in Wales near the meeting point of Dee Valley Water and Severn Trent.
They did not introduce a hosepipe ban last summer, though James Jesic, managing director of Hafren Dyfrdwy, urged customers to save water for essential uses, such as washing and cooking, saying at the time, "Our region has seen a dry start to the year, with less rainfall than we would usually expect.
"The current heatwave combined with the dry weather means that reservoir levels are lower than we would like them to be at this time of year. Although we have no current plans for a hosepipe ban, we are continuing to monitor the situation closely."
To find out more details visit - hdcymru.co.uk
Northumbrian Water
Northumbrian Water also didn't introduce hosepipe ban, but they did offer a few tips to help their customers cut back on water usage, including making sure you don't fill your paddling pool all the way to the top and reusing the water to water the garden.
To find out more details visit - nwl.co.uk
We've seen every kind of weather over the past 24 hours - from glorious sunshine to thunder & lightening⚡️While we might be struggling to decide if it's too hot for a coat or not, the garden is fine!You shouldn't need to water your grass, just wait until the next downpour!🌧️ pic.twitter.com/NAvCU015IESeptember 7, 2022
See more
Severn Trent Water
While caution was encouraged by Severn Trent, no hosepipe ban was imposed in the region.
The company reminded its customers that it takes 12 hours to get water from reservoir to tap, and asked people to reduce their water usage to help them meet demand.
Heather Hateley, water efficiency manager at Severn Trent, said at the time: "With so many more people still working from home and the school holidays ... loads of families are getting the paddling pools out and hooking up their hosepipes, sprinklers and pressure washers to get their gardens looking lovely.
"It's these activities that can cause such a jump in demand so we're asking everyone to reuse water wherever possible."
To find out more details visit - stwater.co.uk

South East Water
South East Water lifted their hosepipe ban on November 30. It had come into force on 12 August, and affected residents across Kent and Sussex.
South East Water said in a statement: "We are taking this step to ensure we have enough water for both essential use and to protect the environment. This will enable us to also reduce the amount of water we need to take from already stressed local water sources."
Steve Andrews, Head of Central Operations for South East Water added at the time: "Temporary restrictions on water use in the area will continue until we are confident that the demand for water has reduced back to manageable levels. We will keep the position under constant review.
"This really is just a short temporary measure to help us in these very unusual circumstances."
To find out more details visit - www.southeastwater.co.uk
South West Water
South West Water's hosepipe ban remains in place for areas of Cornwall and Devon, having been first introduced in August 2022.
David Harris, SWW drought and resilience director, said of the recent extension of the ban: "We understand that our customers don't like these measures... [but] it's actually the responsible thing for us to do at this time ahead of that peak summer demand."
It comes as reservoir levels across SWW's network are reported to be 17% lower than at the same time in 2022.
To find out more details visit - southwestwater.co.uk
Southern Water
Southern Water lifted their hosepipe ban on 4 November. They were the first company to introduce the ban last summer, and the restrictions affected customers in Hampshire and the Isle of Wight.
The company explained at the time: "In Hampshire and on the Isle of Wight, much of the water we supply for our customers comes from local rivers. If the river levels drop, there's less water to go around – so this summer we had to introduce drought restrictions, known as a Temporary Use Ban (TUB)."
To find out more details visit - southernwater.co.uk
Thames Water
Thames Water ended their hosepipe ban on 22 November. The ban came in effect on 24 August and affected 10 million customers across Greater London, The Thames Valley, Surrey, Gloucester, North Wiltshire, and parts of West Kent.
Sarah Bentley, CEO of Thames Water, said the ban had been a 'very difficult decision', adding: "After months of below-average rainfall and the recent extreme temperatures in July and August, water resources in our region are depleted. Customer demand is at unprecedented levels and we now have to move into the next phase of our drought plan to conserve water, mitigate further risk and future-proof supplies."
To find out more details visit - thameswater.co.uk
United Utilities
United Utilities, which supplies water in the North West, did not introduce a hosepipe ban last summer, but they did ask their customers conserve water as well as look after their gardens.
On Twitter, they said: "Running the tap to get cool water? Collect it in a jug, you can use this later for watering houseplants, or pop it in a bowl for wildlife who may also be struggling for water in this heatwave."
To find out more details visit - unitedutilities.com
Wessex Water
No hosepipe ban was introduced by Wessex Water, but they urged customers to 'reel in that hosepipe and use a watering can to save water this summer'.
They also advised people to wash their car with a bucket of water instead of a hosepipe and cover paddling pools when they're not in use to avoid evaporation.
To find out more details visit - wessexwater.co.uk
As we head into autumn, be #WeatherAware by keeping an eye on the forecast before watering your plants as it could be raining later that day.It's also a good time to install a water butt to capture rainfall which can be used at another time.#30days30waysUK #WatersWorthSaving pic.twitter.com/5qOxsTpJExSeptember 4, 2022
See more
Yorkshire Water
Yorkshire Water lifted their hosepipe ban on 6 December 2022. The ban was the water company's first in 27 years and affects five million customers.
Neil Dewis, head of water at the company, said at the time: "We've been doing everything we can to avoid putting in restrictions but unfortunately they're now necessary as part of our drought planning.
"We need to make sure that we have enough supply for the essential needs of people across the region this year and next, as well as making sure we're able to protect our local environment by limiting the amount of water we have to draw from the rivers."
To find out more details visit - yorkshirewater.com
Manx Utilities
Manx Utilities, which supplies water on the Isle of Man, lifted its hosepipe ban on 6 September 2022.
In a statement on their website, Manx Utilities said said at the time: "By using a hosepipe ban and the help of the public we believe that we can manage our depleting stock of raw water. We are asking all our customers to use water wisely and to seriously consider the impact of the actions they take when using water for purposes other than food or hygiene reasons."
To find out more details visit - www.manxutilities.im
What usually happens with a hosepipe ban?
Hosepipe bans prohibit the use of outside hoses for a certain period as a way of controlling how much water households use. If you break the rules, you can be prosecuted in a criminal court and fined up to £1,000.
Prior to last summer, the last official hosepipe ban in the UK was in 2018. It was enforced by United Utilities on August 5 and affected around 7m people.
Can you use a watering can during a hosepipe ban?
Yes, you can use a watering can or bucket during a hosepipe ban for watering your garden and washing your car, among other uses.
Bans on hosepipes and sprinklers are often put in pace because they tend to be left on for long periods of time and use up large amounts of water, this is not the case with watering cans so you can fill them up with mains water and use them instead of a hosepipe.
However, before you do this it is always best to double check the specific rules from your water provider.
Video of the Week
Ellie is Goodto's Feature Editor, having joined the team as a Junior Features Writer in 2022, and covers everything from wellbeing for parents to the latest TV and entertainment. Ellie has covered all the latest trends in the parenting world, including baby names, parenting hacks, and foodie tips for busy families. She has a distinction in MA Magazine Journalism from Nottingham Trent University and a first-class degree in Journalism from Cardiff University, and previously Ellie has worked with BBC Good Food, The Big Issue, and the Nottingham Post, as well as freelancing as an arts and entertainment writer alongside her studies.