Where are the hosepipe bans in the UK? Here's what your regional water company have said
There are two hosepipe bans in the UK - but where are they?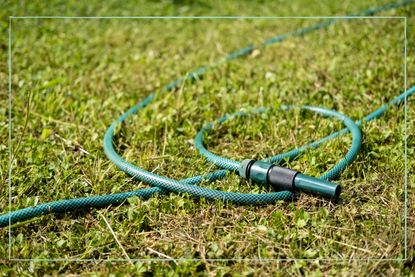 (Image credit: Getty Images)
GoodTo newsletter
Sign up to the GoodTo Newsletter. You can unsubscribe at any time. For more information about how to do this, and how we hold your data, please see our privacy policy
Thank you for signing up to . You will receive a verification email shortly.
There was a problem. Please refresh the page and try again.
After the driest July on record, many are anticipating a hosepipe ban in their area.
We all look forward to a bit of sunshine, but in the current heatwave it's hard to think about much other than how to keep the house cool (opens in new tab) and how to sleep in the heat (opens in new tab). And while some of us may have resorted to sheltering from the scorch indoors - keeping the windows and curtains closed (opens in new tab) - for others the best remedy is to take a dip in the paddling pool or enjoy the heat while watering the garden
But with with three hosepipe bans already in place, there's a risk these simple pleasures could be taken away as the hot temperatures continue. We've done some digging and have all the details on where are the hosepipe bans in the UK.
Where are the hosepipe bans in the UK?
There are currently there hosepipe bans in the UK, spanning Hampshire, the Isle of Wight, Kent, Sussex, Pembrokeshire and Carmarthenshire. Southern Water announced the temporary ban first, followed by South East Water, and then Dŵr Cymru.
Southern Water announced the hosepipe ban on 29 July. Dr Alison Hoyle, director of risk and compliance at the company, said: "We haven't taken this decision lightly and we know the temporary use ban will have an impact on our customers. We're experiencing one of the driest years on record for over a century and we've seen record temperatures. River flows are approximately 25% lower than they should be for July, which is equivalent to losing more than 25 million bathtubs of water." She added "We believe a temporary use ban is a responsible and vital step to reducing the amount of water being taken from the rivers Test and Itchen."
We work 24 hours a day, 365 days of the year to treat and manage your supplies. In hot weather, water use can increase by 70%, making it challenging for us to treat water quickly enough to keep up with demand.Here's Izzie to explain... pic.twitter.com/jmiW7eC0JsAugust 3, 2022
See more
Since then, South East Water announced a hosepipe ban on 3 August. A spokesperson for the company said "We have been producing an additional 120 million litres of water a day to supply our customers, which is the equivalent of supplying a further four towns the size of Maidstone or Eastbourne, daily. We have been left with no choice but to restrict the use of hosepipes and sprinklers."
Dŵr Cymru announced its hosepipe ban on 5 August due to reservoirs in Pembrokeshire approaching drought levels. Ian Christie, managing director of water services said "Introducing the hosepipe ban is not a decision we have taken lightly, however if we are to make sure there is enough water to see us through the rest of the summer and into the autumn then we need to act now to try and prevent any further restrictions later on."
In addition, Thames Water has warned residents across the Thames Valley and London that there could be a hosepipe ban in the region if more rain does not fall - though they are yet to impose one.
A spokesperson said "If we do not receive around or above average rainfall in the coming months this will increase pressure on our resources and may indeed result in the need for more water saving measures, including restrictions."
The rising temperatures across the UK are resulting in increased water usage, as people water their gardens and fill up their paddling pools, or even use their hosepipes to cool down their dogs when it's too hot to walk them. With so little rain fall, this means water supplies are running low.
Water companies can assess reservoir and river levels to determine when water supply is lower than it should be and, at the moment, all other water companies in the UK have determined that they don't need to impose a hosepipe ban.
Hosepipe ban: Region by region
Anglian Water
Anglian Water - which provides over four million customers with drinking water across the East of England - has ruled out enforcing a hosepipe ban in the East of England despite the driest summer for 46 years.
Spokeswoman Regan Harris told the BBC "We're not proposing any restrictions at the moment but we definitely need to be mindful of the water we are using, to make sure there's enough to go around," she said.
"If we get a second dry winter things will look significantly different for next year."
To find out more details visit - anglianwater.co.uk (opens in new tab)
Dŵr Cymru Welsh Water
Dŵr Cymru (Welsh Water) is the water company that has most recently announced a hosepipe ban, which will begin on 19 August and affect residents across Pembrokeshire and Carmarthenshire. Ian Christie said: "We have done a lot of work to communicate with customers in the area over the past few months about the importance of not wasting any water and we really do appreciate the steps people have already taken. We would urge everyone now across Pembrokeshire to respect the ban and not use a hosepipe. "
However, he added that the ban will only affect around 2% of the three million people Dŵr Cymru supplies, and that there are exceptions - particularly for those holding a Blue Badge or on our Priority Service Register.
To find out more details visit - dwrcymru.com (opens in new tab)
Hafren Dyfrdwy
Hafren Dyfrdwy provides water for those living in Wales near the meeting point of Dee Valley Water and Severn Trent.
James Jesic, managing director of Hafren Dyfrdwy, has urged customers to save water for its essential uses, such as washing and cooking, saying "Our region has seen a dry start to the year, with less rainfall than we would usually expect between April and June.
The current heatwave combined with the dry weather means that reservoir levels are lower than we would like them to be at this time of year. Although we have no current plans for a hosepipe ban, we are continuing to monitor the situation closely."
He adds that everyone needs to be 'mindful' of their water usage.
To find out more details visit - hdcymru.co.uk (opens in new tab)
Northumbrian Water
Northumbrian Water has not yet said anything about plans to introduce a hosepipe ban, but they do offer a few tips to help their customers cut back on water usage, including making sure you don't fill your paddling pool all the way to the top and reusing the water to water the garden.
To find out more details visit - nwl.co.uk (opens in new tab)
With so much advice flying about regarding the heatwave, we will keep our ask simple☀️Please #UseWaterWisely.A few simple little things can go a long way.It all helps to keep the water flowing & there are loads of other easy tips at https://t.co/QQCCCYyZKDStay safe! pic.twitter.com/vgz6U3lWSOJuly 18, 2022
See more
Severn Trent Water
Severn Trent is reminding its customers that it takes 12 hours to get water from reservoir to tap, and asks people to reduce their water usage to help them meet demand.
Heather Hateley, water efficiency manager at Severn Trent, has said "With so many more people still working from home and the school holidays just over the horizon, loads of families are getting the paddling pools out and hooking up their hosepipes, sprinklers and pressure washers to get their gardens looking lovely.
"It's these activities that can cause such a jump in demand so we're asking everyone to reuse water wherever possible."
However whilst caution is encouraged, no hosepipe ban is planned to be imposed.
To find out more details visit - stwater.co.uk (opens in new tab)

South East Water
South East Water is another one of the three UK water companies to introduce a hosepipe ban, which will come into force on 12 August until further notice. The ban will affect residents across Kent and Sussex.
South East Water said in a statement: "We are taking this step to ensure we have enough water for both essential use and to protect the environment. This will enable us to also reduce the amount of water we need to take from already stressed local water sources."
To find out more details visit - www.southeastwater.co.uk (opens in new tab)
South West Water
South West Water hasn't said anything about imposing a hosepipe ban, though they do encourage their customers to take part in their #Save5Litres challenge and share their water saving tips on social media, to help reduce demand at a time when demand for water is higher than usual.
To find out more details visit - southwestwater.co.uk (opens in new tab)
Southern Water
Southern Water was the first UK water company to introduce a hosepipe ban. The restrictions for customers in Hampshire and the Isle of Wight will start from 5 August, and mean that using hosepipes to water gardens, clean cars, fill ornamental ponds and swimming pools will not be allowed.
The ban is the first in the region since 2012.
To find out more details visit - southernwater.co.uk (opens in new tab)
It's still hot out there, and we need your help! By using less, there'll be enough to go around - it all makes a real difference.For our top tips to help #ReduceYourUse, visit: https://t.co/a5JI0jj9vj pic.twitter.com/QG4kPBgCv0July 25, 2022
See more
Thames Water
Although Thames Water have said they're not expecting to introduce restrictions on water use this summer, they ask their customers in London to remain responsible with their usage.
Andrew Tucker, water demand reduction manager at Thames Water, said: "During spells of hot weather, water usage can often rocket, with hoses and sprinklers watering gardens and paddling pools filled. That makes it even more important to be mindful of water usage to ensure there's enough to go around for everyone."
To find out more details visit - thameswater.co.uk (opens in new tab)
United Utilities
United Utilities, which supplies water in the North West, have not said anything about plans to introduce a hosepipe ban, but they do ask that their customers conserve water as well as look after their gardens.
On Twitter (opens in new tab), they have said "Running the tap to get cool water? Collect it in a jug, you can use this later for watering houseplants, or pop it in a bowl for wildlife who may also be struggling for water in this heatwave."
To find out more details visit - unitedutilities.com (opens in new tab)
Wessex Water
Although no hosepipe ban has been introduced by Wessex Water, on their website they urge customers to 'reel in that hosepipe and use a watering can to save water this summer'.
They also advise people to wash their car with a bucket of water instead of a hosepipe and cover paddling pools when they're not in use to avoid evaporation.
To find out more details visit - wessexwater.co.uk (opens in new tab)
Yorkshire Water
Though there is no hosepipe ban in place at the moment, Yorkshire Water has said it can't rule out restrictions over the summer.
Neil Dewis, head of water at Yorkshire Water, told the BBC (opens in new tab) "We came into March with stocks very nearly full, as we'd expect. It doesn't feel like it's been a great summer, but there's been barely any rainfall since then, that's why stocks are currently low."
He added that restrictions were 'just one of the tools' the company could use.
To find out more details visit - yorkshirewater.com (opens in new tab)
What usually happens with a hosepipe ban?
Hosepipe bans prohibit the use of outside hoses for a certain period as a way of controlling how much water households use. If you break the rules, you can be prosecuted in a criminal court and fined up to £1,000.
Prior to this year, the last official hosepipe ban in the UK was in 2018. It was enforced by United Utilities on August 5 and affected around 7m people.
Can you use a watering can during a hosepipe ban?
Yes, you can use a watering can or bucket during a hosepipe ban for watering your garden and washing your car, among other uses.
Bans on hosepipes and sprinklers are often put in pace because they tend to be left on for long periods of time and use up large amounts of water, this is not the case with watering cans so you can fill them up with mains water and use them instead of a hosepipe.
However, before you do this it is always best to double check the specific rules from your water provider.
Video of the Week
Ellie joined Goodto as a Junior Features Writer in 2022 after finishing her Master's in Magazine Journalism at Nottingham Trent University. Previously, she completed successful work experience placements with BBC Good Food, The Big Issue and the Nottingham Post, and freelanced as an arts and entertainment writer alongside her studies. In 2021, Ellie graduated from Cardiff University with a first-class degree in Journalism.