7 reasons Frozen's Prince Hans is the worst Disney character ever
We think there has been a serious new contender to the title of worst ever Disney character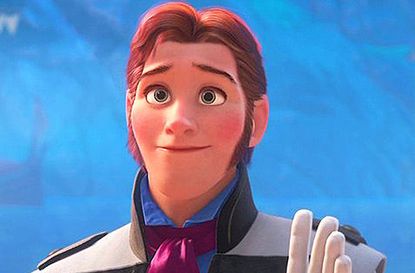 Disney are good at creating an evil villain, one so rotten you get angry just thinking about them. There have been some classics over the years but we think there has been a serious new contender to the title of worst ever Disney character.
Step forward Prince Hans from Frozen.
We knew right from the start he was a shady character. From trying to win over Anna, just so he could reign over the kingdom, to plotting to KILL Elsa - Prince Hans really makes our blood boil. He is just the worst.
Don't believe us? Here's 7 reasons Prince Hans is an utter plonker.
1. He has an annoying smug face...
Which seems to get progressively worse throughout the film. Can't you shut the door normally, Hans without pulling a sideways grin?
2. He's only interested in Anna for the big fancy palace
No Hans, you have not been searching your 'whole life' to find your own place. You've just been waiting to steal somebody else's kingdom to call it your own. Not cool.
3. He's actually pretty gormless
Anna deserves somebody intelligent and funny, but Hans has a complete lack of, well, anything, apart from that baffled expression. Get with the programme, Hans.
4. He tries to turn Anna against her own sister
The ultimate no-no. Hans' nasty streak really unfolds when he tries to manipulate to Anna to turn against Elsa. If there's one thing you shouldn't do, it's get between two sisters.
5. He's a HUGE poser
Anybody who spends time checking their looks more than a princess is seriously questionable. Instead of focusing on his posing techniques, he should have been more attentive to the lovely Anna. Bad form, Hans.
6. He's heartless
After trying to convince Anna numerous times that Elsa had frozen Anna's heart, Anna finally snapped back and delivered this killer line. Hans never cared for Anna's feelings and that IS heartless.
7. HE TRIES TO KILL ELSA
How could anyone try and kill one of the best Disney princesses ever is beyond us. Especially when she is SO nice. Turning herself to ice REALLY came in handy there...
Where to next?
Trusted, informative, and empathetic – GoodTo is the ultimate online destination for mums. Established in 2007, our 15-year-strong archive of content includes more than 18,000 articles, 1,500 how-to videos, and 7,000 recipes.