'It's a badge of honour' Alex Jones embraces feeling 'wobbly' and 'tired' after becoming a mum at 40
'I don't care if I'm a bit wobbly or look more tired'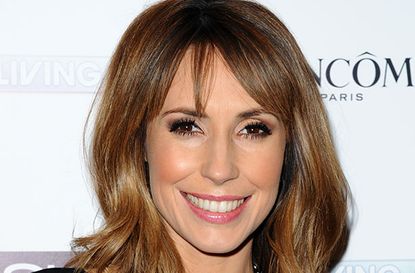 GoodTo newsletter
Sign up to the GoodTo Newsletter. You can unsubscribe at any time. For more information about how to do this, and how we hold your data, please see our privacy policy
Thank you for signing up to . You will receive a verification email shortly.
There was a problem. Please refresh the page and try again.
Alex Jones has opened up about becoming a mum for the first time, admitting that she feels 'wobbly' but isn't feeling pressured to get back to the gym yet.
The One Show host has opened up in a recent interview with the Daily Mail about becoming a parent with husband Charlie to her baby boy Edward, known as Teddy, who was born in January.
She has revealed that despite being a celebrity, she's suffering with many of the worries that other mums have, including getting back into her jeans and returning back to work.
Alex has embraced some of the difficult parts of being a mum, and referred to her changed appearance, including 'wobbly' bits and looking 'tired' as a badge of honour.
'I don't look the same as I did but I'm all right about that - life isn't just about me any more.
'I don't care if I'm a bit wobbly or look more tired, because it's all part of the fun of being a parent; it's a badge of honour.'
The Welsh TV star continued to admit that she isn't worrying about starting an exercise regime just yet.
'I haven't felt the pressure yet [to get back into shape], but it's early days.'
'I wouldn't say I don't care if I never get back to how I was. But it took nine months to make him, so if it takes nine months to get back into my old jeans, then so be it.'
Talking about getting back to her incredible career as co-host of The One Show alongside Matt Baker, the mum-of-one said that she would like to go part time to begin with to ensure she doesn't miss her baby's 'milestones'.
'I'll probably work part time in the beginning. I don't want to miss Teddy's milestones.'
'I'd be lying to say I didn't feel any paranoia when I first left the show, but then you get over it because you realise there's nothing you can do about it,' she said about seeing other people doing her job.'
Becoming a mum for the first time at 40, Alex understandably has some worries about getting pregnant again, especially as her own mother went through an early menopause at 43.
'My mum's early menopause is something we are very aware of. It would be foolish of us to chance it and leave it too late next time.
'It's very early days [after having Teddy] but if we did try to have another one and it wasn't as easy as it was with Teddy, we might think, well, we've been lucky enough to have him so we'll just have the one. Or we might think it's been so wonderful having him that we'll go down the IVF route. I don't know.'
What's more, after growing up with a sibling herself, Alex has admitted that if possible she would like the same for her son, Teddy.
'I do want two children. You tend to mirror what you've grown up with and Charlie and I have one sister each.
'I wish we'd met sooner and that we'd cracked on with trying for a baby when I was 34, 35 [to allow more time to have another child], but that's the way it was for us and you can't change that.'