'It was the most awful, bleak thing' - Radio 5 presenter Anna Foster opens up about her two tragic miscarriages
'I remember thinking I would never know what it was like to be happy again'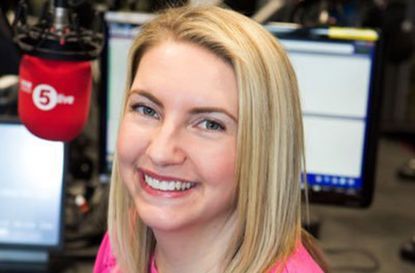 Radio 5 Live presenter Anna Foster has opened up about her difficult journey to have children after suffering two tragic miscarriages.
Although Anna, 36, regularly talks about her children on her radio show, she admitted: 'I've never talked about how difficult a journey it was actually having them, because I had two miscarriages'.
The mum-of-two revealed that she had her first miscarriage at eight weeks into the pregnancy, while her second was far later at 21-22 weeks.
Opening up to the BBC about the traumatic time, Anna said: 'It's a really painful experience. It's emotionally painful and it's physically quite painful'.
Speaking to the Daily Express, Anna described the time as 'utterly horrendous.' She said: 'My husband held my arm and I was holding a box with a tiny imprint of our baby's hands in it. We had a funeral, just me and John and it was the most awful, bleak thing. I remember thinking I would never know what it was like to be happy again.'
More: The early signs and symptoms of miscarriage (opens in new tab)
Thankfully, her third pregnancy went smoothly and Anna gave birth to a baby boy called Benjamin in 2012, followed by a daughter Jessica in 2014 with her husband and fellow radio presenter John.
By talking about her own experience, Anna hopes to encourage more people to talk about times when pregnancies can go wrong.
She said: 'Nobody really talks about miscarriage and pregnancy loss, and stillbirth, and all of the things that can go wrong, and if you find yourself living in that world and you happen to mention it to somebody you suddenly get this flurry of stories and people suddenly start to talk about it.'
To encourage more people to talk about miscarriages and their experiences of when pregnancies do go wrong, Anna has launched a new programme '5 Life'. The show discusses pregnancy issues as well as the research and science to help more women with fertility problems.
Charlotte Whistlecroft is a former Family writer at GoodTo. She obtained a BA in Theology and Theological Studies at Durham University, going on to study a masters at City University London in 2016. Since leaving GoodTo she has worked as a Social Video Researcher at Mail Online and is now Assistant Producer at BBC Sport.