Autism friendly spaces: Places to visit if you have a child with autism
From cinema screenings to theme parks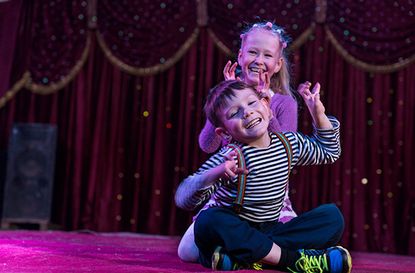 Goodto Newsletter
Parenting advice, hot topics, best buys and family finance tips delivered straight to your inbox.
Thank you for signing up to GoodTo. You will receive a verification email shortly.
There was a problem. Please refresh the page and try again.
When you have a child with a condition on the autistic spectrum, planning a day out can be particularly stressful.
However, many shops and attractions are now becoming much more accommodating for families with a child who has additional needs.
In fact, it's recently been announced that the UK's first nationwide quiet hour for people with autism will begin on 2nd October, and take place in various locations throughout the week.
The initiative, organised by the National Autistic Society, has already seen big name brands including Clarks and Toys R Us sign up, and they're urging even more retailers to get involved in the week, where lights will be dimmed and music turned off in an attempt to help those with autism have a more comfortable shopping experience.
Mark Lever, chief executive of the charity, explained: 'Like anyone, autistic people and their families want the opportunity to go to the shops and services on the high street. But our research suggests that many find the often busy, loud and unpredictable environment of public places overwhelming and avoid them altogether.'
'We hope that the hour will provide a break for families in the week and in the long term will help spread understanding so that shops and services are more accessible every day of the year.'
In addition the official quiet hour held in October, there are many places that offer autism-friendly services throughout the year.
Whether it's a reduction in sensory stimulation to help your shopping trip be as relaxed as possible or assistance at theme parks, we've rounded up some of the places that will take your child's need into consideration.
Supermarket quiet hours
Both Toys R Us and ASDA trialled a quiet hour in 2016, and while there aren't any regular quiet hours for those with autism just yet, retailers are aiming to make the shopping experience more enjoyable for those with a family member with autism.
Accessible supermarket toilets
The supermarket has launched a programme to introduce accessible toilets in over 400 stores with signs to highlight the fact that not all disabilities are visible. The decision was made after mum Tonya Glennester and her five-year-old daughter Evalynn faced criticism for using a disabled toilet.
Tonya said: 'Evalynn has ADHD and autism and can be affected by the noise of the hand dryer as well as queues and crowds of people. It can often cause a sensory reaction causing Evalynn to become upset or have aggressive outbursts, so the accessible toilet gives us a little bit more space and privacy. When we walked out on this occasion there was two customers waiting, one of whom was in a wheelchair, and they disagreed that I should be using the toilet.'
'I also suffer from health issues that that can cause pain, chronic fatigue, bowel pain, and balance problems meaning I often have to use hand/grab rails.
'I tried to explain that not all disabilities are visible but we were told 'you don't look disabled'. We were both really upset and left the store but I decided to go back in and speak to the manager because I know there are so many stories like ours.'
Tonya spoke to the Grantham store manager Abby Robinson, and now 421 stores will have an accessible toilet as well as a separate disabled toilet.
Advice for shopping
With big crowds, loud noises and bright lights, taking your child shopping can be incredibly stressful for parents. Here are some tips from the National Autistic Society to help make shopping as easy as possible.
Make a diary. A behaviour diary can help you identify any potential triggers from shopping that might help spot what is causing the behaviour. For example, whether it happens in one particular shop or whether it's a specific shop. It may also be worth making a sensory diary if they find shopping for shoes and clothes particularly difficult.
Prepare for the trip. Show your child a photo of the shop you're visiting or putting a symbol for shopping on your daily schedule to help explain the situation. There are also books available that explain why we need to go shopping and explain what it means. Writing a social story of what happens when you go shopping can also help your child understand what is expected of them when shopping.
Keeping to the same route while shopping can also help keep a regular routine. Alternatively, you can take varying routes as often as possible so they don't get confused if you have to take a different route. It might also be helpful to act of the scenario with your child to help them prepare for the real thing.
Giving your child rules for how to behave in the supermarket, full of positive instructions such as 'In the supermarket I can do...'
Relaxation technique can also help relieve stress if they're finding it difficult.
Relaxed cinema screenings
Cineworld hosts autism friendly cinema screenings on the first Sunday of every month at 11am. To find out which cinemas go to: www.cineworld.co.uk
Showcase Cinemas have autism friendly screenings on the second Sunday of every month at 10am. Book tickets at www.showcasecinemas.co.uk
ODEON Cinemas host screenings suitable for those on the autistic spectrum each month at selected cinemas. There are now over 90 ODEON cinemas across the country offering this service. For more information and to book tickets visit www.odeon.co.uk
Vue Cinemas host an autism friendly cinema screening on the last Sunday of every month at 10:15am. For more information and to see which cinemas participate, go to www.myvue.com
The Midland Arts Centre is offering relaxed cinema screenings as part of its Screen Juniors Programme at 12 noon on the first Saturday of each month. To book, visit macbirmingham.co.uk
Relaxed theatre performances
The National Theatre hosts a number of relaxed performances each year. Check for upcoming performances on their webiste www.nationaltheatre.org.uk
The Lion King (the musical)
The Lion King has partnered with the National Autistic society to put on specially adapted performances for people with autism or additional needs. Find out when the next performance is, and book tickets here.
Theme parks and adventure parks
Theme parks are a great day out, but the long queues and big crowds can sometimes be quite distressing. However, many theme parks will offer discount tickets and annual passes for helpers or carers for guest with additional needs.
Chessington World of Adventures Guests who can provide evidence of their disability can bring a helper free of charge and while an additional helper can also get a ticket at a reduced price.
Ride Access Passes are available for those who may struggle to understand the concept of queuing, find it difficult to follow instruction or get distressed waiting for long periods of time. The pass gives you 10 tokens to use, each for one turn on a ride. Present your token at each ride and you'll be given a time for your next ride which will correspond to the main queue for that ride. Get more information about eligibility and how to book here.
Alton Towers Ride Access Passes are available to guests who struggle to stand for long periods of time due to a disability. Guests who have the correct documentation can get one free carer ticket and a second carer ticket half price. For more information about what is available and what evidence is required, go here
Legoland Windsor
Legoland lets one carer in without charge while those with additional needs can request a ride access pass. For more information visit legoland.co.uk
Thorpe Park Disabled guests are able to book a free ticket for their ticket. There is also the option of a free annual pass for a helper.
Guests who are unable to queue may be eligible for a Ride Access Pass and up to three helpers. For more information, visit: https://www.thorpepark.com/resort-information/disabled-facilities
Bournstream Bournsteam is an outdoor adventure playground for children with special needs or disabilities. For more information, visit the website www.bournstream.org.uk
Are there any autism-friendly spaces that we've missed from our round-up? Let us know in the comments box below
Parenting advice, hot topics, best buys and family finance tips delivered straight to your inbox.
Charlotte Whistlecroft is a former Family writer at GoodTo. She obtained a BA in Theology and Theological Studies at Durham University, going on to study a masters at City University London in 2016. Since leaving GoodTo she has worked as a Social Video Researcher at Mail Online and is now Assistant Producer at BBC Sport.