We earn a commission for products purchased through some links in this article.
A mother discovered her five-month-old baby girl had a rare form of cancer after calling for help from friends on Facebook.
Vicky Ashall, who's 24 and from Manchester, posted a picture of baby Amelia Rose on her Facebook page after noticing a strange reflective spot on her right eye. Turning to her Facebook friends, she posted the photo asking for advice on what it could be.
Shortly afterwards, a friend of a friend contacted Vicky on Facebook messenger, explaining that her own child had had a similar glare in her eye and had later been diagnosed with cancer.
Image: Mercury Press
When Vicky took Amelia Rose to the Royal Manchester Children's Hospital, she discovered that the reflective glare was indeed indicative of cancer. Doctors diagnosed her with retinoblastoma, a rare form of cancer found in children, growing behind both of her eyes. Retinoblastoma affects roughly 40 children in the UK every year, and the most aggressive forms can result in the removal of the eye.
Vicky said: 'I rushed her to the hospital and we were told she had a large tumour growing behind her right eye and three smaller ones behind her left.
'It was heartbreaking, me and my fiancé just didn't know what we were going to do, we just knew we had to stay strong for our little girl.'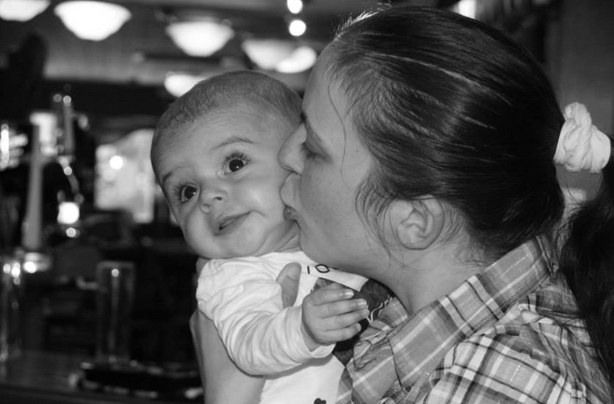 Image: Facebook/Vicky Ashall
Little Amelia Rose is now undergoing her third round of chemotherapy to target the cancer behind her eyes, which doctors are optimistic will clear the little one of all tumours.
90% of the tumour behind her right eye has now been removed, and one of the three behind her left is also gone. Although the little girl will never regain the sight in her right eye, her mum has stayed positive throughout and is just so thankful she listened to her instincts and grateful to the woman who got in touch.
She said: 'Amelia Rose is recovering really well and responded to treatment like we hoped she would.
'We were lucky to catch it early and now hopefully her sight in her left eye will come back completely – as it's just quite blurry now. 
'That Facebook post could have literally saved Amelia Rose's eyesight we'll never know – I'm just so glad I posted it.'