Barbara Windsor opens up about her decision not to have children
The TV legend is set to appear in a docudrama about her life, to mark her 80th birthday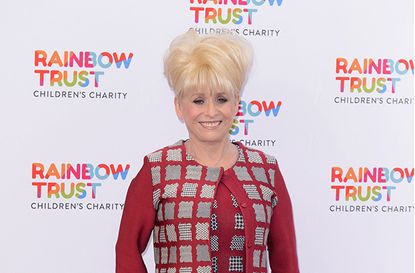 (Image credit: Jonathan Hordle/REX/Shutterstock)
GoodTo newsletter
Sign up to the GoodTo Newsletter. You can unsubscribe at any time. For more information about how to do this, and how we hold your data, please see our privacy policy
Thank you for signing up to . You will receive a verification email shortly.
There was a problem. Please refresh the page and try again.
Actress, singer, and bona fide national treasure Barbara Windsor has opened up about her decision not to have children and the - at times - tumultuous relationship she had with her own mother.
Speaking to The Sun, the EastEnders and Carry On legend admitted that she'd had five abortions throughout her lifetime, saying: 'My mother never told me anything about the facts of life. It was ridiculous. I'd make a mistake then go straight on and do it again. I was so naive.'
'I knew it was wrong, against what you should do. I'm the generation where you kept your feelings to yourself, so I always made out everything was fine. But I went through a lot of mental stress. I thought a lot about God and what he would think of me.'
However, despite her internal struggles, Barbara maintains that she doesn't regret not having children.
'I consider myself to be a warm and lovely person but I never had any maternal feelings. Neither did my mother, so that message was constantly fed to me as a child,' she explained. 'My mother was a new type of woman. Down the road they had five or six kids but she always said, "One is enough". I often felt that she regretted having me.'
79-year-old Barbara is to be the subject of a new BBC docudrama, simply titled 'Babs', ahead of her 80th birthday later this year.
She'll be played by fellow East-End star Jaime Winston, and had a say in the casting, as well as acting in a couple of scenes herself. She says it's 'a wonderful film,' but that it 'felt weird to watch my life literally flashing before my eyes.'
The making of the documentary has clearly struck up some old emotions for Bar, as her friends call her, who admits: 'It's made me very reflective because it's stirred up a lot of feelings about my past.'
Babs will air on BBC1, 8pm on Sunday 7th May