When is Pudsey day 2022? Everything to know about this year's Children in Need
The charity broadcast is returning to TV screens for the 42nd time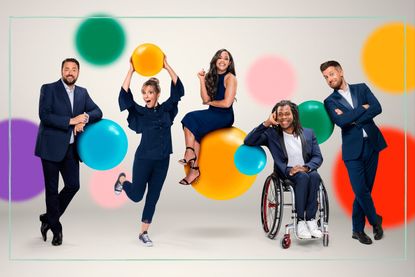 (Image credit: BBC)
The date for Pudsey Day 2022 has been announced - it's time to get your merchandise and get ready to give generously.
Children in Need is an annual charity event that supports local charities and projects to help change the lives of disadvantaged children and young people all over the country. Each year - much like Comic Relief's Red Nose Day (opens in new tab) - there's a big BBC event that entertains the nation and encourages people to donate to a good cause. All while shining a light on the various fundraising ideas (opens in new tab) undertaken by people up and down the country to raise funds for those in need.
Every year, the appeal show features BBC specials, performances and various fun and games. Last year we saw musical performances from Ed Sheeran and Tom Grennan, as well as fan-favourite TV shows The Repair Shop and First Dates meet Children in Need, and we're sure that 2022 will no doubt see the return of the Strictly Come Dancing 2022 (opens in new tab) Children in Need special too.
When is Pudsey Day 2022?
Children in Need's Pudsey Day will take place on Friday 18th November 2022, and will this year be hosted by Alex Scott, Ade Adepitan, Chris Ramsey, Jason Manford and Mel Geidroyc.
The BBC is yet to announce the itinerary for the appeal night - which will be broadcast live on BBC One and iPlayer - but they have confirmed some of the features and celebrities who will be appearing on the show. These include Matt Baker's Rickshaw Relay, DIY SOS and The Repair Shop, and appearances from Graham Norton, Romesh Ranganathan and Lewis Capaldi.
The Rickshaw Relay sees Matt Baker MBE and a team of five incredibly inspiring young people, all of whom have been supported by BBC Children in Need funded projects, take on a relay-style ride over five days. You can watch how they get on in a special one-off documentary on BBC One on Tuesday 15th November.
Matt has said ahead of the event: "I am so excited to get back on the road again. This is the highlight of my year and I can't wait for you to meet this group of riders who all have their own inspiring stories to tell.
"We'd love to have your support on the road this year, but if you can't make it please tune in and watch us on BBC Breakfast every morning, and when the documentary airs on 15th November. We know it's a challenging year for everyone, but if you're able to donate, it would be greatly appreciated and it will make a huge difference to the lives of children and young people all over the UK."
The DIY SOS team will be building a brand-new home for Leeds based, BBC Children in Need funded project, Getaway Girls (opens in new tab). They'll be be joined by an army of volunteers to create the charity's new building – from the ground up – in just nine days.
The new building will provide a much-needed safe space for vulnerable girls and young women living in Leeds, and will include offices, a creche, activity spaces, a music and media studio, counselling rooms and a garden.
BBC Children in Need 2022: Appeal night highlights
Blankety Blank: Bradley Walsh hosts a very special children's takeover of Blankety Blank with contestants Maisie Smith and John Waite.
The Repair Shop: The Repair Shop team share the story behind a very special restoration and, in a TV first, will be revealing the results of the repair on the BBC Children in Need stage.
Graham Norton's Red Chair: Celebrities once again take on Graham Norton's infamous Red Chair – with their fate in the hands of some cheeky youngsters.
The Weakest Link: Romesh Ranganathan will be hosting a special edition of the iconic game show in the studio - with a BBC Children in Need twist.
Fundraiser of the Year: The Sir Terry Wogan Fundraiser of the Year Awards (opens in new tab) are a chance to say a huge thank you to the people who support BBC Children in Need and make a big difference to children's lives across the UK. Brand new for 2022, there will be two different awards: one for young fundraisers and one for adult fundraisers. The winners will be introduced on the night by BBC Radio 2's Michael Ball OBE.
Junior Eurovision: After a nationwide search, a young contestant has been selected to fly out to Armenia to represent the UK and compete against 15 other countries. In a TV exclusive for BBC Children In Need the UK's act will perform the song live for the very first time, ahead of the contest on 11 December.
Musical Performances: There'll be an abundance of singing and dancing on the BBC Children in Need stage with music from Lewis Capaldi, a bespoke routine from the amazing dance troupe Diversity and much more. Plus, the BBC Children in Need Choir is back with a rendition of Somewhere Only We Know by Keane.
Appeal Films: Throughout the evening, films of children from around the UK will be shown to highlight the important work from BBC Children in Need.
How to fundraise for Children in Need 2022:
Get your boots on: BBC Countryfile is asking you to get together with friends or family for a walk and turn it into a fundraiser for BBC Children in Need. You can download your Get Ramble Ready fundraising pack (opens in new tab) now.
Pedal for Pudsey: Take on your own mini Rickshaw Challenge for 2022 - made famous by former The One Show presenter (opens in new tab) Matt Baker - and get sponsored for a bike ride. Find their Pedal for Pudsey (opens in new tab) fundraising kit online for extra help and guidance.
Get your Strictly on: Dress up in some sequins for the school run, wear your ballroom getup to the boardroom or host a dance-off. You can download some Pudsey special Strictly props (opens in new tab) too for the occasion.
Build your own challenge: Take something you already love and make it a challenge! Think running faster or cycling for longer, baking from dusk til dawn or even blindfolded painting. Find out how to collect sponsorship money (opens in new tab) to help you get the best out of your challenge.
Host a bake sale: Whether you're selling Pudsey biscuits or competing for top baker, there's no easier way to raise money than by grabbing your apron and baking to change young lives! Get some inspo for your creations with these easy baking recipes (opens in new tab).
On-the-spot challenge: Whatever you like to do for fun, get sponsored to do it on the spot for hours at a time - from dance-a-thons and keepy uppy to reading or playing chess.
If you're unable to fundraise, you can still just make a straight donation - and there are various ways you can donate to Children in Need (opens in new tab). You can donate online, by text or by phone, and some banks, building societies and post offices accept in-person donations too.
If you'd prefer to donate by post, then you're asked to send a cheque and not to send cash in an envelope.
Pudsey merchandise 2022:
Children in Need merchandise for adults
---
---
---
---
---
Children in Need merchandise for kids
---
---
---
---
---
---
Check out the rest of George at ASDA's Children in Need range (opens in new tab) here.
How much did Children in Need raise last year?
BBC Children in Need's 2021 Appeal raised an incredible £39,389,048 during the charity's 41st Appeal show - over £2million more than the amount raised in 2020.
Presented by Ade Adepitan MBE, Mel Giedroyc, Graham Norton, Chris Ramsey and Alex Scott MBE from MediaCity UK, Salford, the 2021 show featured a glittering array of famous faces to entertain the nation, whilst shining a light on the children and young people across the UK facing disadvantage.
The show was opened with a spectacular performance from global superstar, Ed Sheeran MBE, and viewers were then treated to a special sports day sketch which saw some of Britain's best athletes take on a plethora of sports day challenges. Later in the evening, there was a heart-warming special of The Repair Shop (opens in new tab) that saw a teddy bear given a new lease of life, and Danny Dyer presented a special edition of the popular BBC One gameshow, The Wall.
In a fitting tribute to the charity's Life-President, the show also saw the presentation of the sixth Sir Terry Wogan Fundraiser of the Year Award. The accolade recognises the charity's fundraisers, of whom Sir Terry was a huge champion, and this year was awarded to Amy Wright, who has raised tens of thousands of pounds for BBC Children in Need over her many years of fundraising.
Video of the Week:
Ellie joined Goodto as a Junior Features Writer in 2022 after finishing her Master's in Magazine Journalism at Nottingham Trent University. Previously, she completed successful work experience placements with BBC Good Food, The Big Issue and the Nottingham Post, and freelanced as an arts and entertainment writer alongside her studies. In 2021, Ellie graduated from Cardiff University with a first-class degree in Journalism.