Best artificial Christmas tree deals 2021: Save up to £135 on trees at Very, Homebase, Wilko and more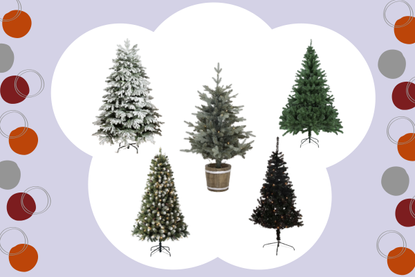 GoodTo newsletter
Sign up to the GoodTo Newsletter. You can unsubscribe at any time. For more information about how to do this, and how we hold your data, please see our privacy policy
Thank you for signing up to . You will receive a verification email shortly.
There was a problem. Please refresh the page and try again.
Take advantage of these last-minute artificial Christmas tree deals and best value offers - with up to 70% off at retailers like Amazon, Wayfair, Argos and Homebase.
With Christmas fast approaching, now is the time to nab one of the best artificial Christmas trees deals. We've highlighted some of the best price education below, along with some of the best value full-price offers.
To find the best artificial Christmas tree, consider the space you have. Christmas tree expert David Sumner, online sales manager at Christmas Tree World, to us: "When it comes to picking the right artificial Christmas tree for your home, the most crucial thing to think about is the size of your tree," he says. "Take into account the height of the ceiling and the size of the room – you don't want your tree to overwhelm the space, so take time to measure up."Next, consider what you want your tree to look like. If you're going for fake, David suggests thinking about the appearance that you want your tree to have. "If you want a realistic model that emulates a real fir tree, look for a tree with PE moulded branch tips on the outside of the tree. Avoid solely PVC branches. Also, the fullness of the tree is important. Overall, remember that the more branches and foliage a tree has, the better for creating a bushy and luxurious appearance."
Bear in mind, however, artificial trees are usually made from plastic and non-biodegradable materials. There are, however, steps you can take to reduce its impact on the environment. Firstly, invest in one that will last. The longer you keep and re-use your tree, the better. So factor in price-per-use over the years rather than shopping for a bargain tree that's won't fare well in the loft.
Secondly, choose an artificial tree with a classic shape rather than a quirky, on-trend Christmas tree. Those upside-down trees of a few years back were fun, but most people probably won't still be using them a decade from now. Finally, remember that replacing Christmas decorations and Christmas lights (opens in new tab) on a pre-lit fake tree can be tricky. Only go for one of those if you're prepared for regular Christmas tree maintenance.
Best artificial Christmas tree deals - at a glance
Best artificial Christmas tree deals
£50 and under:
£75 and under:
£100 and under:
£150 and under: