The saucy jokes from kids' films and books that went STRAIGHT over their little heads
How many of these tongue-in-cheek moments did you miss?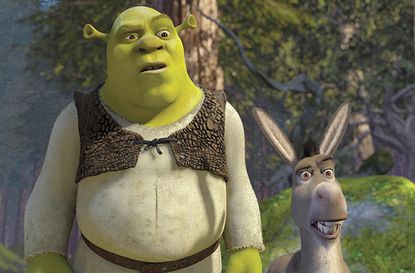 (Image credit: Moviestore/REX/Shutterstock)
We love kids' movies and books for many reasons, but if we're honest, it's mainly because we can't resist a good innuendo.
Shrek in particular deserves an honourable mention, but pretty much all kids' films or books are created with humorous pity for the poor adults who have to sit through them. While we adore lovable characters like Dory in her own right, we can't deny that it's the double entendres that make kids' films and books not only bearable, but brilliant!
Image: Dreamworks
And it's not just on screen - children's books have also been spotted getting creative with their comedy! They've got us wondering whether the illustrators and authors are having a sneaky laugh, or if they don't even realise just how rude their creations are.
Perhaps it's up to us to decide, let's hope the kids don't cotton on!
This in-joke for the parents...
Parents can get stuck reading the same book over and over... and over again, so why not give them a little chuckle?
That certainly seems to be the philosophy this author has followed...
The name of Shrek's pint-sized villain
Image: Dreamworks Lord Farquad in the first film was clearly named so that parents could chuckle at their kid's pronunciation, which sounds a little too much like f***wad. Excellent.
This awkward choice of an adjective, alongside a suspiciously-shaped whale
'Spunky' means something very different over here in the UK... and if you look at the whale's expression, you might find it hard to believe that this one was accidental...
Buzz Lightyear's involuntary 'reaction' to Jessie's swinging skills
Image: Disney/Pixar In Toy Story 2, while the toys are all stuck in Andy's room, Jessie shows off some impressive swinging and jumping skills and manages to get the door knob open. Buzz is pleasantly surprised at her performance, so his wings pop up (much like another unmentionable body part) as his face shows his awe. Cheeky!
This rather demanding touch and feel book
We mean, it seems a strange request, but that patch does look very fluffy...
Genie's cheeky honeymoon joke
Image: Disney When Aladdin and Princess Jasmine FINALLY get married in the second film, a group of rogue elephants are set upon the guests by a bunch of bandits, causing the ground to shake with the stampede. Genie slyly whispers to the person next to him, 'I thought the earth wasn't supposed to move until the honeymoon!'
The title of this unassuming story
Image: Imgur (opens in new tab) On a closer look, it's clear that the title is probably about the random bone that's in the pig lady's bag... but still. The look on that fox's face.
Marty attempting to spell out a certain curse word in a kid-friendly way
Image: Dreamworks Given the fact that he's in a bit of a tense situation - read fleeing from his best friend who is about to EAT him - you've got to give it to Marty: he's got the nifty swear-substitution trick down.
The disturbing romance advice this book has to offer
Image: Imgur (opens in new tab) We're not quite sure why children need to be learning this kind of thing...?
This troubling image of white stuff spraying on someone's face
Image: Imgur (opens in new tab) Incredible what one misplaced hand can do, isn't it?
When Henry tries to push 'special coal' on Thomas the Tank Engine
Image: Imgur (opens in new tab) Just say no, Thomas!
When Anna from Frozen definitely misinterprets what Sven means by 'shoe size'
Image: Disney When Sven quizzes Anna on how well she knows her new fiancée, he asks her what his eye colour is, favourite colour, and shoe size... to which she answers 'Doesn't matter!'. Seems innocent enough, but when you think about the link between... ahem, private parts and foot size, it means something entirely different!
This suggestion to take a peek under a flannel
Image: Imgur (opens in new tab) No matter how awesome fun flaps are, this is just asking too much.
Judy from Zootopia's so-quick-you'll-miss-it quip about her species' breeding habits
Image: Disney When Judy's trying to get Nick the fox to give her information, she nimbly clamps his buggy full of ice lollies and threatens to charge him with tax evasion. She calculates that he's supposedly earned 'one million, four hundred and sixty thousand' dollars, before saying, 'I think, I mean I am just a dumb bunny, but we are good at multiplying!'
This startling confession from Jimmy Neutron's dad
Image: Nickelodeon At dinner with his family, Jimmy's dad reveals that he once sat down on a banana, and it changed it his life.
Too much information, Mr Neutron. How did they get away with this one?
And finally, this insight into married life
We're sure there's some context to this one somewhere... Image: Imgur (opens in new tab)
Did we miss any of your favourites? Let us know in the comment box below!
Trusted, informative, and empathetic – GoodTo is the ultimate online destination for mums. Established in 2007, our 15-year-strong archive of content includes more than 18,000 articles, 1,500 how-to videos, and 7,000 recipes.