Bikes for kids tested by you!
There are so many bikes for kids and bike accessories out there, but how do you know which ones to buy? We've teamed up with Sustrans and put some of the most popular kids' bikes, trailers and seats to the test in time for The Big Pedal competition...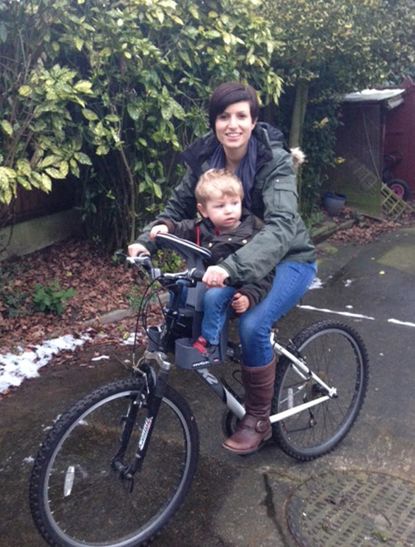 (Image credit: Sustrans)
Goodto Newsletter
Parenting advice, hot topics, best buys and family finance tips delivered straight to your inbox.
Thank you for signing up to GoodTo. You will receive a verification email shortly.
There was a problem. Please refresh the page and try again.
There are so many bikes for kids and bike accessories out there, but how do you know which ones to buy? We've teamed up with Sustrans and put some of the most popular kids' bikes, trailers and seats to the test in time for The Big Pedal competition...
Would you love for your kids to cycle to school? Are you worried about them being on busy roads, cycling without you, or unsure about the safety of their equipment? There are lots of reasons why kids don't cycle to school, but not only is it free, it keeps them fit, and it's lots of fun too! Plus if you cycle with them, it'll keep you active too (and no more worrying about getting a parking space on the school run!)
In line with the Sustran's Big Pedal competition 2013 that encourages kids to get cycling to school, we've tested some of the most popular bikes for kids and kids' cycling products out there, like BMX bikes for the older children, and bike seats and trailers for the littler ones, so you can accompany them on the ride, with the knowledge that they are safe.
There are so many bikes for kids out there and different aids and accessories that make cycling with kids easier. We've teamed up with Sustrans and put 6 popular bike products to the test by 6 families, so you can get advice on bikes for kids from real families just like you.
Plus they've told us how these bikes for kids have changed the way they think about cycling, for the whole family. Meet our testers and see how they scored these bikes for kids.
Don't forget to stay safe!
Stay visible using hi-vis vests and lights Make sure your bike is in working order Plan your route with sustrans.org and let your parents or carers know If you are wearing a helmet make sure it fits properly and is done up Travel with a friend or your family – it's more fun that way!
Weeride Safefront
Tester: Harry, 20 months, from London.
The product: WeeRide Safefront
Price: £99.99
From: weerideuk.co.uk
Score: 5/5!
Harry's mum Naomi said: 'Freya, 3, loves to scooter to pre-school, but she's pretty fast. Harry is big for his age and heavy to push in the tandem buggy I still use. I'd be running along yelling at Freya to stop every time she came close to a road.
I'd thought about cycling, but I've got a fully suspended mountain bike, so a rear facing seat was out of the question, and Harry is too big for the ones that fit on the handlebars.
The Safefront is WeeRide's newest seat, suitable for all bike frames, except those with drop handlebars. Fixing the bar to the bike was a bit fiddly. My brother had to help me, and I needed to remove one of the plastic clashing strips designed to protect the paintwork because the bolts weren't long enough for my extra thick head tube. It fitted securely, though, and fitting the actually seat to the bar is easy peasy - and the seat can easily be taken off quickly if you want to ride alone.
The seat itself looked really comfy with extra padding and a head support if Harry wants to nap. It has an extendable harness with a child-proof buckle so he can't get out, and foot rests with straps to keep his feet secure during a ride. With his puffer jacket on, he already filled the seat - but as children grow up, not out, I feel confident we've got plenty of time to use it.
Chasing Freya up the road to school on her scooter was easy on the bike, and Harry loved it - laughing and shouting at his sister as we went along. I think this will revolutionise the way we get around!
Weeride Co Pilot tag-along
Tester: Joshua, 5, from Bristol
The product: Weeride Co Pilot tag-along
Price: £79.99
From: weerideuk.co.uk
Score: 5/5!
Joshua's dad Andrew said: 'Joshua loves cycling, and I often take him out on his bike at the weekends. When he was younger, I cycled with him in our Weeride Kangaroo bike seat, and I occasionally take Ashley, 19 months, out in it when Joshua is with his mum.
The school and childminder are just over a mile away, too far to walk, plus I have to be at work by 9.30am. I didn't think it was possible to cycle with both boys, so I usually use the car.
The Weeride Co Pilot was really easy to fit, just a clamp to the seat post that required an Allen key for four bolts. It also has a quick release so I can leave it at the school. It's a bit tight though so I have to take a spanner. Joshua is about average height for his age, and needs to get on the Co Pilot - which has a 20in wheel - from the kerb, but once on he can reach the pedals and help me cycle, which he loves. With Ashley in the Kangaroo seat as well we look quite a sight!
I'm getting some exercise, and saving over £200 a month in fuel and parking charges. Both pieces of equipment are solid, easy to fit and affordable. You do need good balance to use them together, though!
Apollo Vendetta BMX bike
Tester: Dillon, 11, from Essex, who's autistic and has dyspraxia and isn't confident on a bike
The bike: Apollo Vendetta BMX 20in bike
Price: £199.99 (currently £99)
From: Halfords.com
Score: 5/5!
Dillon's mum Tracy said: 'A lot of Dillon's friends cycle to school, but his dyspraxia means he finds it hard to balance. Until now he hasn't shown much interest in cycling.
He's quite into rock and punk music though, and when the bike turned up he loved the design - the red and black colour and 'alternative' graphics. The stunt pegs on the wheels also make it look pretty cool - 'awesome bananas' in Dillon's own words!
The bike is sturdy and well built, better than any bike we've had for our 3 boys over the years, and yet really affordable. It's got a discreet black bell that got a lot of use on the way to school! Dillon thought it was very smooth to ride, and because he has a grit scooter, the stunt pegs really appeal to him, he will definitely be practising to use those. Safety wise, the brakes are excellent and there are plenty of reflectors, and when it was delivered it was ready to cycle - all we had to do was adjust the seat.
Dillon is keen to cycle for the first time in ages, and it can only help with his dyspraxia. We can't wait to go out on a family bike ride with our other 2 boys.
Bellilli single bike trailer
Tester: Billy, 3, from Hitchin, who has special needs
The bike: Bellilli single bike trailer
Price: £109.99
From: Halfords.com
Score: 4/5
Billy's mum Sarah said: 'Harriet, 5, learned to ride a bike when she was quite young, and we always enjoyed taking her out and about on our bike seat. But Billy, 3, was diagnosed with a rare multiple food protein intolerance when he was 1, and has a Freka Peg Tube fitted directly into his stomach as he can't eat. It's bulky, and the straps of a bike seat rub against it uncomfortably. I was worried if they caught on it they could pull it out.
The Bellilli single bike trailer was easy to put together, although the way it fixes to the bike can be a little fiddly. Billy loves sitting in it as it's cosy and warm and he can play with his toys. Because the bike trailer is a single, it's the same width as the handlebars on my bike so easy to judge gates and distances. I can cycle right into the school playground, no fuss.
The trailer is very secure and I didn't worry about being on the road with it. Drivers overtook considerately. It also doesn't interfere with my sense of balance.
Harriet also loved the trailer, and I cycled into town with her to go shopping at the weekend while Billy played with his dad. That journey is too far for Harriet to cycle, but it's a nightmare to park the car, so the bike trailer was a great alternative.'
Bellilli Bike seat
Tester: Daniel, 3, from Kings Lynn
The bike: Bellilli Bike seat
Price: £39.99
From: Halfords.com
Score: 2/5
Daniels' mum Alice said: 'Daniel's pre-school isn't local, and it was taking me an hour to walk there and get home again. I don't drive, but my husband took him in the car a couple of times and it was the same - the traffic is terrible.
I've not cycled since I was a teenager, so I was quite nervous. I bought a new hybrid bike as my old bike wasn't in very good condition, and as Daniel is 3 and quite tall we decided a rear-fitting bike seat would be the best option. I was advised by my local bike shop I would need a man's frame to work with the Bellilli bike seat.
When the Bellilli turned up it looked quite good. The seat is a solid plastic mould with lots of padding, and a 'universal fit' bracket that easily attaches to the seat post. Daniel was very excited, and watched CBeebies sitting in the seat in our lounge!
The problems started when my husband tried to fit the seat. While the fitting itself was easy, once Daniel was in the seat, the bolts from the fitting bracket touched the rear wheel. The seat has 2 fitting positions, and we tried the higher one, but the same thing happened. We took it to our local bike shop for advice, and they said because I am quite small - 5ft 3in - my bike frame was simply too compact to accommodate the seat.
My husband later fitted the seat to his mountain bike, and took Daniel for a short ride. It was comfortable to ride with the seat on the bike, but the seat itself bounced up and down, which Daniel quite enjoyed! But it made us feel unsure it was the safest option. I think if you had a pannier frame for the seat to rest on, it might be better.'
16in Gyro Wheel
Tester: Caroline, 6, from Bristol
The product: 16in Gyro Wheel
Price: £115
From: Gyrobike-europe.com
Score: 3/5
Caroline's mum Ellen said: 'Caroline has never really got the hang of a bike without stabilisers. We go out for family rides with Caroline on the tag along, but now her brother is old enough to cycle independently, that's what she wants to do as well.
Gyro Bike launched their balance bike a few years ago.It self stabilises making it really safe for kids to use. The bike turns into a 12in pedal bike, but that's obviously too small for Caroline. Now you can buy a 16in wheel seperately that you can fit onto your existing child's bike.
When the Gyro wheel arrived we were quite daunted. It's huge and really heavy and it needed to be charged up for 2 hours before we could use it, which we didn't expect. Once it was charged, though, we began playing with it before we put it on the bike. It's amazing how when you turn it from side to side it resists you.
Fitting it to the bike was very fiddly, and it didn't fit Caroline's existing bike which had V brakes. It will only fit a bike with calliper brakes, which need to be disengaded, and there needs to be 8.5cm clearance between the front forks. We got a different bike, a Hudora RS-16 2.0, and used the spare washers provided to make up the space between the wheel and the front forks.
Caroline was quite nervous at first, especially as when you start the motor in the wheel it's very noisy. But she liked the flashing red and green lights! I held on to the back of her jumper while she cycled up and down the path through the park - she had a huge smile on her face! When I felt she was ready I let go - I didn't tell her, I just jogged behind. She didn't notice at first and when she did she started laughing - she was really excited to be cycling alone!
The wheel is very heavy, and Caroline struggled to push or turn the bike when she wasn't cycling, but she enjoyed the feeling of cycling without stabilisers and feels a lot more confident to try a normal bike now. We also have a friend whose son has dyspraxia, and they are going to try the wheel too as they think it would help with his balance. A very interesting product!
Where to next?- Win the products we tested!
Parenting advice, hot topics, best buys and family finance tips delivered straight to your inbox.
Trusted, informative, and empathetic – GoodTo is the ultimate online destination for mums. Established in 2007, our 15-year-strong archive of content includes more than 18,000 articles, 1,500 how-to videos, and 7,000 recipes.