Which balance bike is best?
Balance bikes are a fun way to get your toddler out and about and interested in cycling. So we've teamed up with Sustrans to test 5 of the best balance bikes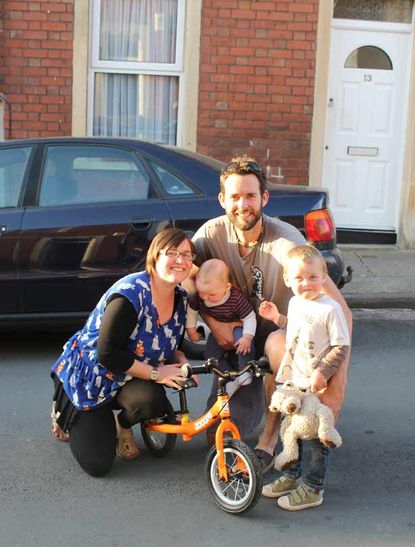 Balance bikes are a fun way to get your toddler out and about and interested in cycling. So we've teamed up with Sustrans to test 5 of the best balance bikes
Balance bikes are a fun way to get your toddlers out and about, so we've teamed up with Sustrans to test 5 of the best bikes on the market, and picked these fab 5 little testers to help us put the bikes through their paces.
This is George, 4, with his mum Julia, dad Tom and sister Sophia. He's Ben 10 mad and is going to be testing the Kiddimoto balance bike, worth £69.99.
We also have experienced riders Isaac and Archie, both 3, testing the Zooom Adventure and Wee Ride Delux bikes, worth £79.99 each.
The girls of the group, Tabitha, 4, and Florence, 3, haven't had bikes before, but can't wait to test the £35.99 Kettler Speedy and £84.99 Strider in pink!
Find out how they got on...
Isaac on the Zooom
Why you can trust GoodTo Our expert reviewers spend hours testing and comparing products and services so you can choose the best for you. Find out more about how we test.
Tester: Isaac, 3, from Bristol
The bike: Zooom Adventure with aluminium frame
Price: £79.99
From: sustransshop.co.uk
Who the bike suits: The enthusiast! With its longer seat pole, this bike will last from toddler to pre-school
Isaac's mum Jamie said: 'The first thing Isaac said was 'cool colour!' It's orange, which is very striking and it took dad less than 15 minutes to assemble.
'Isaac has ridden a balance bike before, but we were impressed with how quickly he was scooting along at top speed with minimal wobbling. The air wheels and seat are comfy, and the bell is an excellent way to teach him to be polite! There is also an extra, longer seat pole in the pack so this bike should last a couple of years yet.'
Archie on the Wee Ride
Tester: Archie, 3, from Norfolk
The bike: Wee Ride Deluxe with 14in wheels
Price: £79.99
From: weeride.co.uk
Who the bike suits: Older pre-schoolers or children who are tall for their age
Archie's mum Sarah said: 'We assembled it in less than 5 minutes as the instructions were clear and the bike had been packaged well. However, Archie's little legs barely reached the floor so it was a bit disappointing as the bike was clearly labelled ages 3-5 and although Archie is on the short side, he turns 4 in a couple of months. Perhaps there should be a minimum height mentioned for the bike? At least the bike will last for a long time so it's good value for money.
'We also liked the fact it has rear brakes and he said the seat was comfortable. We love the red, but it comes in silver too.'
George on the Kiddimoto
Tester: George, 4, from Bristol
The bike: Kiddimoto 'Valentino Rossi' Kurve, wooden balance bike with rubber tyres
Price: £69.99
From: Kiddimoto.co.uk
Who the bike suits: Streetwise kids aged 3+ who want to look cool!
George's mum Julia said: 'This is the first thing, not Ben 10 related, that George has described as looking 'cool'! It came with a matching helmet and gloves, which were also a big hit.
'With a quick and easy saddle adjustment he could jump right on and started scooting up and down the street, although he had to take regular 'bum breaks' as the saddle isn't padded.
'The bike encouraged George to lean into corners, which is good steering practise for him, and it's very sturdy and strong. The saddle is at its maximum though, so it won't be long before he's too big for it.'
Tabitha on the Kettler Speedy
Tester: Tabitha Rose, 4, from Essex
The bike: Kettler Speedy with 12.5" resin/rubber wheels
Price: £35.99
From: kettler.co.uk
Who the bike suits: This basic, value-for-money model is perfect if you're not sure your child will take to a balance bike
Tabitha's mum Katie said: 'Tabitha loved the pretty pastel pink colour of the bike and it was simple to put together in 20 minutes. The seat was comfy and the wheels looked sturdy too. Tabitha is quite tall so is already on the highest setting on this bike.
'I was amazed at how quickly she went from being wobbly to balanced. Tabitha has hypermobility, which causes poor coordination and weak legs, so a balance bike is brilliant for her as it encourages her leg muscles to work together. She finds it hard to use the brake and steer, though, so her nice new shoes have taken a beating, but the balance bike does give us another tool to help her be active.'
Florence on The Strider
Tester: Florence, 3, from Dorchester
The bike: The Strider ST3 pre-bike, steel body with moulded plastic wheels and optional brake
Price: £84.99
From: stridersports.co.uk
Who the bike suits: It's suitable from 18 months and with no brakes to keep things simple, this is a good starter balance bike
Florence's mum Alex said: 'Pink, comfy and sturdy, Florence loved this bike, which comes in several colours.
It took us 20 minutes to put together and has solid moulded tyres, padded handlebars to take the impact of any little slips, plus spoke protectors to prevent ankle bashing. It also has a foot rest for high speed moments!
'It took Florence a while to master the technique though, and as she's tall she may need a bigger bike quite soon.'Where to next?
- 75 ways to entertain your toddler