Mum creates 'money wise' game that aims to boost kids' financial awareness through play
The game, devised by Dr Arinola Araba, hopes to improve financial skills in young people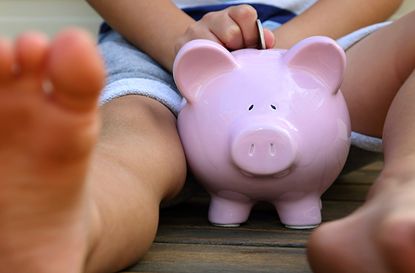 A mum has created a board game that aims to increase financial awareness in children.
The bMoneywize game hopes to improve maths skills in young people by teaching them about money management and how to plan ahead for financial security through play.
The game has already been tested in some schools as part of their citizenship curriculum lessons, and its creator, Dr Arinola Araba, hopes that by encouraging parents to play the game at home with their kids, more young people will feel confident when it comes to financial matters.
Schools trialling the game have already reported an increase in parent involvement, with many commenting on how crucial they deem financial awareness for their children and beneficial playing the game at home can be.
Mum of one and GoodtoKnow tester Jane Kemp says she considers financial education 'very' important for her 16-year-old daughter, and she'd love to see the bMoneywize game rolled out in schools: 'I think the idea of budgeting and separating your money under different headings is a good way to start this sort of teaching', she says.
Buy Now: bMoneywize from Amazon.co.uk (opens in new tab) from £24.99
Dr Arinola Araba is thrilled by the response to the game both in schools and at home, and would like to see more parents give it a try with their kids: 'I enjoy watching children playing and learning to save at the same time in a way that encourages better money decisions.
'Parents and children playing the game together have been the best sessions so far as it serves as a tool to discuss 'real life' examples as presented on the cards.
'We hope the game becomes an international phenomenon and a positive movement towards financial education for all.'
How does the game work?
Each game contains:
Game board


Game cards


Goal cards


Dice (one with text and one with numbers)


Money


Rule booklet


How to play:
1. Each player starts by taking a goal card, which will reveal their individual cash and savings amounts. 2. The first player is selected randomly or is the player with the highest savings goal. They then roll the 'theme' die to determine which of the six colours to read from. 3. The player needs to read the text card and complete the action described, or pass when the cards allow you to. You may be given an opportunity to gain or lose money, discuss a real-life scenario or to borrow money to pay an expense. Before acting, discuss what to do with the other players! 4. The player then rolls the 'number' die when the card instructs them to do so, then apply the calculation to cash or savings. For example, if the savings total was £200 and the number die rolls '+100', the player would add £100 to the £200 current savings to get a new total of £300. 5. A player may use money from cash or savings to pay for items displayed on the cards. If using savings, they will have to deduct money from their savings balance. 6. A player can continue to play if they have cash or savings as money can be moved back and forth. A player who loses all their cash and savings will have to exit the game. 7. The first player to reach their savings goal wins the game!
What the GoodtoKnow Parent Panel said
We asked three mums to test the game with their children, and here's what they had to say!
Liz: Mum to 15-year-old twin boys
The discussion points that the game raised were good, in that kids can learn how to pay for holidays and so on. We liked the way you have to work out interest rates too!
I think this would be really effective as a primary school tool rather than secondary school, but it's a great idea.
Jane: Mum to a 16-year-old daughter
We thought this game was quite funny and very clever in the way it sets gentle maths exercises on the cards. My daughter thought it was entertaining and engaged very quickly with the idea once we got going.
I'd say some of the concepts are quite tricky, but on the other hand it does give you a chance to explain what these concepts mean.
Amanda: Mum to a 14-year-old daughter
The savings account and the cards were good, and the discussions worked too. I'd say my daughter learnt not to go into debt and to use cash rather than savings for things! I definitely think this could be a fun way to learn.