Best school shoes 2023 for boys and girls: includes Kickers, Clarks & Lelli Kelly
Best school shoes need to fit a lot of criteria to be the one to see you through the school year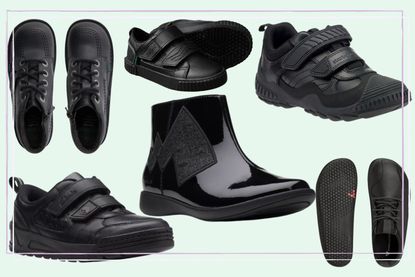 (Image credit: Future)
The best school shoes can be hard to find. They're a mix of variables that are different for each parent and child. Velcro or laces? High top or not? Are Kickers still in? It's a minefield.
And we're here to help you navigate that minefield. Many parents believe that ill-fitting shoes will damage their children's feet when in reality there isn't much research to support this. There is however a study that shows ill-fitting shoes can hinder your child's motion. Therefore, school shoes need to be durable and made well, and sturdy enough to hold their own in all the running, jumping, skipping, falling and playground games with ease and comfort.
When shopping for your kids' school shoes, podiatrist and mother, Dr Lindsay Hill tells us that going in the afternoon is a good idea as feet can swell. She also recommends taking 'school socks' along with you for the fitting.
The podiatrist says it is vital to get something that offers the right support - with anything too low such as ballet pumps, as well as anything too high, a 'definite no-no'. Here she shares her top tips when buying school shoes:
How to choose the best school shoes
Shop for shoes in the afternoon (feet swell)
Check your child can balance in the shoes (stand on one foot/hop etc)
Take 'school socks' with you to wear at fitting
Check fit with the child standing
Ensure shoes have flexibility (no restriction on movement)
Look for creasing when they squat and rise on their toes (this means they're a bit too big and may pinch little toes)
Make sure the foot doesn't slip up out the back of the shoe
Have the child walk up and down the shop to get a feel for the shoe fitting
Factor in that kids are in their school shoes for 7+ hours a day, five days a week. The best school shoes are well-fitting and don't restrict movement, but also have the right amount of room for growth so you're not replacing them in two months' time. Also, good shock absorption is a must along with durable soles. Luckily, we've done the leg work for you across lots of well-known brands.
Best school shoes 2023: at-a-glance
Best school shoes 2023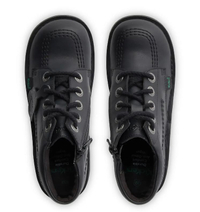 1. Junior Unisex Kick Hi Vegan: View at Kickers
RRP: £60
Delivery: FREE UK next day delivery
Refundable: FREE returns
The iconic Kick Hi is a classic ankle boot with the distinctive Kickers chunky sole, triple stitch detailing and a handy side-zip. These look just like the classic leather variety - except for some subtle branding updates including green details on the tabs and sole instead of the red and green. They come in a green branded shoebox that's made using 90% recycled material and natural soya ink and is fully recyclable.
'My 8-year-old daughter chose these for her first day at school because she thinks they're by far the best school shoes of all those we tested,' says our Consumer Editor Heidi Scrimgeour. 'She's an Eco-Councillor at school so the fact that they're vegan is a major bonus in her eyes! I'm just delighted that the vegan version is no more expensive than the leather design.'
'Perfect for the transition to a new season, these robust but stylish boots will see youngsters through everything from rainy autumnal days to full-on winter weather. They couldn't be easier to put on or take off, thanks to the side zips, but the laces mean they still look very much like big-kid boots.'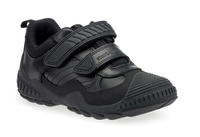 2. 'Extreme' in black leather in Boys Primary Collection: View at Start Rite Shoes
RRP: £53
Delivery: FREE standard delivery
Returns: FREE UK returns
Meet Start Rite's toughest ever boys school shoe – with durable leather and toe bumper. Soft premium materials and perfectly positioned padding guarantee long-lasting comfort. As the sole unit wraps around the whole shoe, it can withstand pretty much any activity.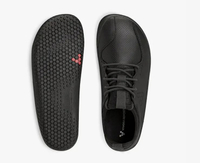 3. Primus School II Juniors: View at VivoBarefoot
RRP: £75
Delivery: £7 (3-5 working days)
Returns: Full refund within 100 days
Ideal for older kids who love to stand out from the crowd, these distinctive 'barefoot' style school shoes are made from super soft yet hardwearing Wild Hide leather produced from free-roaming, small-scale cattle herds. The multi-terrain sole is designed for maximum flexibility and toe protection, while the 2mm base and sticky rubber hexagon design allow young feet to feel the ground and thus move more naturally than conventional shoes allow.
Forget the creaky, clunky school shoes of the past - these are built like the brand's best-selling barefoot sports footwear but in black leather with school uniforms in mind - helping keep feet moving as close to barefoot as possible, even at school.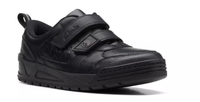 4. Palmer Mist Older Black Leather: View at Clarks
RRP: £43
Delivery: FREE Standard Delivery within 5 working days
Returns: FREE returns and exchanges on all items
Super-cool kicks with school-ready styling, they'll be ready for every playground adventure in this Palmer Mist kids' trainer. Part of the fab new Clarks Kids Pokémon collection, the soft black leather uppers wrap feet in complete comfort, while a Pikachu tail print and rubber Poké Ball add character charm that kids will love. Handy riptape straps make this pair easy to pop on and off, keeping mini fans moving at lightning speed!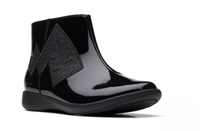 5. Etch Trail Kid Black Patent: View at Clarks
RRP: £51
Delivery: FREE Standard Delivery within 5 working days
Returns: FREE returns for refund or exchange
Also part of the Clarks Kids Pokémon collection, the awesome new school boot 'Etch Trail' combines classroom-smart styling and fun Pikachu-inspired detailing with all the features that little feet need for lasting comfort – from breathable antimicrobial linings to soft, supportive cushioning.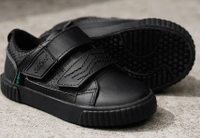 6. Infant Boys Tovni Twin Flex Leather: View at Kickers
RRP: £43
Delivery: FREE next day delivery
Returns: FREE returns
What's matte black, looks as sporty as a sneaker (but isn't), and has tons of features to keep you looking great and staying comfy? It's the Tovni Twin Flex. A favourite for treading the schoolyard, this pair boasts Kickers' renowned robustness, with a sporty bumper and reflective panel detail.
These have the Kickers signature triple stitch branded details and padded nylon collar, along with two hook and loop straps for what the brand calls 'out the door in 30 seconds flat' practicality.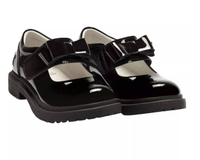 7. Lelli Kelly Helen Black Bow Patent School Shoes: view at Schuh
RRP: £60
Delivery: FREE delivery 2-5 working days
Refundable: FREE for Shuh account holders £2.50 if not
Lelli Kelly has been around for 30 years. And they are THE shoes for style and substance, plus every pair comes with a free gift too. Cute, and comfortable, they all come with soft breathable leather insoles and are handmade.
VIEW AT CHARLES CLINKARD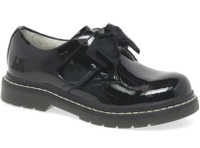 8. Lelli Kelly Irene Patent Bow School Shoes | Charles Clinkard
RRP: £61.90
Delivery: FREE delivery
Refundable: FREE within 365 days of receipt
Mum-of-two, Dionne bought these for their edgy style; "They remind me of my Doc Martens, I love them. And the solid chunky sole means my daughter won't be getting wet feet through winter."
These also come with a free pair of Lelli Kelly socks.
VIEW AT CHARLES CLINKARD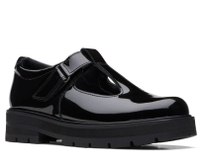 9. Clarks Prague Brill O Girls School Shoes | Charles Clinkard
RRP: £48
Delivery: FREE delivery
Refundable: FREE within 365 days of receipt
A classic style that will carry your child through their school year effortless and for under £50.
Dad-of-one, Matt tells us; 'My daughter isn't into all the diamantes and flashy shoes that are popular with her friends; she'd have 'boy shoes' if she could. So these were perfect for her. And I'm happy they're a solid sole and hard-wearing patent finish.'
Check the school shoe policy
When you hear 'best school shoe' you think black, lace-up and smart. But not all schools have the same uniform policy when it comes to school shoes. Our Family Editor Stephanie Lowe tells us: 'My son starts Reception and the uniform for him is jogging bottoms and plimsolls. In Reception, a lot of learning is done through play so they need to be comfortable.' It's always worth reading your school uniform policy thoroughly - some schools may not permit embellishments like diamantes, flashing lights or elaborate stitching.
Bear in mind that some schools have different uniform policies for different year groups, so don't assume that what was fine on their feet last year will pass muster for the new school year.
Mum-of-three, Dionne got caught out one year. 'I just assumed it was the same as before - and we get A LOT of letters from school, I don't read them all I'll admit,' she says. 'So my advice is definitely read the letters when it comes to the school shoe requirements at the start of each new school year . My son was sent home on the first day as his shoes didn't fit the new uniform policy.'
Plan ahead
It may seem logical to leave buying school shoes until the last week in August, and it is. However many parents have been stung with little to no stock to choose from by the time they got to the store.
Yes, children's feet grow over the summer holidays but we would recommend still buying shoes slightly earlier, if you can.
School-age appropriate shoes
Age is a huge factor to take into consideration when choosing the best school shoes.
Infant school: age 4-7 years old - Choose Velcro, as fiddling with laces or buckles just sets them up for failure in a fast-paced environment such as school.
Junior school: age 7-11 years old - While Velcro will still make it easier for them to do their shoes, many are at the development age to start with zips, buckles and maybe even learn to tie their laces.
Senior school age: 11 - 16 years old - All are options for this age group, but they need to be hard-wearing. Shoes with scruff-resistant leather can withstand a football match on the concrete playground. While back-collar padding helps shoes keep their shape no matter how many times they get kicked on and off without undoing the laces.
Nail the fit
If buying online, when the shoes arrive keep all labels on and try them on a carpet surface if possible. First, test for the heel grip by holding the ankle with one hand and pulling down gently on the heel of the shoe. If it stays in place it's a good fit.
Next, use your fingers to feel around the top of the shoe and check there are no gaps. Then feel around the ankle to make sure the shoe does not touch the anklebone, as, if it does, it could rub.
Finally, feel the top of the shoe to locate the end of your child's longest toe. Apply a little pressure to check the toe is not pressing against the end of the shoe. There should be a little growing room – but not too much.
Are Kickers good school shoes?
Kickers have been about for 32 years. Some parents might even remember pestering their parents for some back in the day. They are a well-known and well-loved brand and they receive consistently good reviews.
They're known for their trademark durable rubber soles and they have a huge selection to choose from, including their new vegan range - which is at the same price point as the original leather shoes, so parents can make eco choices without price being a factor.
How much are school shoes?
School shoes range in price depending on where they're from. If you're looking at supermarket school shoes the price point can start from £3, while brands such as Clarks and Start Rite could be upwards of £40 a pair.
How long should school shoes realistically last?
This depends on many factors, such as how active the child is as well as their age. Many parents buy shoes in the hope they'll last a school year. But in reality many have to buy a new pair well before the end of the school year.
How can I label school shoes?
With a Sharpie pen or a sticker label. These are common as they are easy and don't irritate feet. Stick them on the inside tongue of inside heel of the shoe.
What school shoes are in fashion?
The timeless classics such as Mary Janes, moccassins, T-bars and plimsolls are always a great buy. Remember that school shoes ultimately need to be comfortable and robust.
Related articles:
Video of the Week:
As a parenting specialist for more than 15 years, Heidi has written for most national newspapers and for a wide range of consumer magazines, including Mother & Baby where she was the Shopping Editor for six years, looking after regular consumer features including buying guides and gift roundups.