Back-to-school 2022: The best buys as recommended by parents
Back-to-school buys are varied - we've found the best bargains for you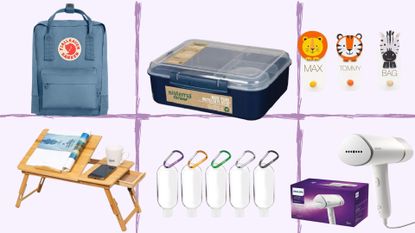 (Image credit: Future)
The best back-to-school buys can be hard to find. And, while a new school year officially starts at the beginning of September, we all know that the prep kicks off way before then.
Once you've agreed on your back-to-school tradition checked when your child starts school and double checked if there are fines for taking children out of school for holidays then it's time for the new school year. It has a nice all-new vibe, it's exciting and full of organisation, with new pencil cases and lunch boxes there's so much potential... as long as you get the right tools in your school tool kit. We're talking pencil cases, backpacks, pens, labels, notepads, water bottles the lot. And that can all tot up, especially if you have more than one child.
The best back-to-school buys 2022
Infant and primary school
For this age group it's all about easy-to-use, whether that's opening a lunch box or pulling on wellies, it's all about helping your little on succeed at the small things. Plus they love a water bottle... and anything personalised.
Secondary school
At secondary school your little ones are not so little, they are at the 'tween stage' now, they want to be adults. Whether it's a Bento lunchbox or Kanken rucksack. These buys will carry them through to adulthood.
College and university
The best buys for this age group are ones that make their life outside of studying that little bit easier.
For parents
While 'back to school' is usually all about kids and pencil cases, uniform and new shoes there are a few buys to make parents lives so much easier during this busy time, buys to help you organise or save time.
What back to school supplies does my child need?
The back to school stationery supplies depends on the school, and can widely vary. Some schools are very strict on book bags instead of backpacks, because of space. Others provide water bottles while some ask you to bring your own. It's always best to check directly with your school. And, hopefully at the transition days or information evenings you'll get a chance to ask any questions and clarify what is needed when.
After talking to parents here are some of the stationery essentials to think about;
Pencils
Pencil case
Biro pens
Book bag/backpack
P.E. bag
Notepad
Water bottle
Lunch box
You might also like:
When do kids go back to school after half term? 2022 school dates (opens in new tab)
Fines for taking children out of school: what are they for and how much will you pay? (opens in new tab)
18 great first day of school traditions to do with your kids (opens in new tab)
Video of the Week:


Stephanie Lowe is Family Editor at GoodTo covering all things parenting, pregnancy and more. She has over 13 years' experience as a digital journalist with a wealth of knowledge and experience when it comes to all things family and lifestyle. Stephanie lives in Kent with her husband and son, Ted. With his love of choo-choos, Hey Duggee and finger painting he keeps her on her toes.