American Pie's Chris Klein announces he's expecting his second child with wife Laina Rose
'Making another beautiful angel'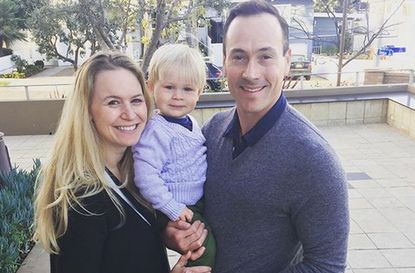 American Pie star Chris Klein has revealed that he's expecting his second child with wife Laina Rose.
The actor took to social media to share the lovely baby news with fans, alongside a picture of his wife and their baby boy.
Revealing that his wife is around six months, Chris didn't tell fans whether they're going to have a boy or a girl (opens in new tab).
He wrote in the caption: 'My beautiful angel @lainarose is making another beautiful angel. Easton's going to be a big Brother. 24 weeks along. We are so #blessed.'
This will be Chris and Laina's second child, after they welcomed a baby son (opens in new tab) - who they named Frederick - in July 2016.
Taking to Instagram at the time, they announced they welcomed their bundle of joy with an adorable snap of him.
'So excited to announce our precious baby boy, Frederick Easton Klein was born 7/23/16. This little Champ has already mastered his warrior pose and is doing great. Our hearts are bursting with love and joy💗 #staylittleforever #wakingupklein #chrisklein #partyofthree', Laina wrote.
After becoming a dad, Chris opened up about his experience with fatherhood and said: 'We have this beautiful experience together sharing this healthy baby boy, and the amount of gratitude I have as a husband is just incredible. It's just a really beautiful time in our lives.
'There's a lot of business that goes on. The baby has got to sleep; baby has got to eat; diapers have to get changed. Then there are these beautiful moments in between. And during all those, where the whole world just stops and there I am with my son, it's just remarkable, and I'm told it only gets more incredible as you go.'
Chris and Laina tied the knot in August 2015, a few months after getting engaged during the Christmas holidays in December 2014.
They dated for three years before taking the big step, and and their ceremony in Montana, US.
Before meeting Laina, Chris had already been engaged to Katie Holmes, but they split up in 2005.