Woman pens powerful letter to Clearblue after fertility struggle - and its making waves for the TTC community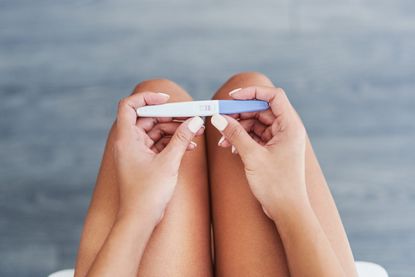 Clearblue's Instagram feed is awash with happy faces, smiling brightly, proudly holding up their positive result to the camera.
But the aftermath of taking a pregnancy test can be quite the contrast to the picture painted on social media. For some, the continual disappointment that follows yet another negative result can be devastating.
Lauren, who has been a regular Clearblue consumer for years, has written a powerful open letter to the brand, claiming their social media offering was 'alienating' its core consumers. 'Please diversify your narrative,' she wrote.
According to the NHS (opens in new tab), couples who've been trying to conceive for more than 3 years without success, the likelihood of getting pregnant naturally within the next year is 25 per cent or less.
Lauren's letter stresses that when conceiving naturally becomes challenging, the last thing consumers want is to be 'taunted' by 'filtered, celebrity-endorsed' pregnancy announcements.
"I was fed up of spending upwards of £20 a month on a product I've been recommended to use to help me get pregnant (3 years and counting) - and yet the marketing (thus far) was aimed at people who I simply couldn't relate to," she told GoodtoKnow.
"I reached out to my Instagram friends with a poll and 98% of the responses I received said they felt the same way - alienated by the advertising and not recognised as a very loyal consumer. The letter was based on real messages I received from these people. I never imagined it would attract the attention it did."
Clearblue were quick to respond to Lauren's letter, taking her comments - and those from other members of the TTC [Trying To Conceive] community - on board.
Clearblue told GoodtoKnow, "We saw and we listened to the piece by Lauren. We do understand that many of our customers face a long a difficult TTC journey and we are currently changing the way we are there for them by working closely with our Clearblue Advisors and our advertising agencies."
Lauren's emotional letter to Clearblue, which has gained over 4,000 likes and counting, reads:
'I've been purchasing your products for years. I've used your ovulation kits to track my cycle, relied on your pregnancy tests for a clear result after fertility treatment and stared down at the words "not pregnant" more times than I care to admit. And I feel the need to tell you this: Those perfectly filtered, celebrity endorsed, #Sponsored pregnancy announcement campaigns are alienating your largest group of consumers.
She goes on to explain, 'The people who spend a fortune trying to make a baby don't want to be taunted by the hashtag 'spon' pregnancy announcements of the rich and famous cashing in on their happy news. The people whose hearts are shattered by the words "not pregnant" every single month don't want to be bombarded with pixelated reminders of the result they didn't get, but desperately hoped for.
'And yes, you can call me a jealous, bitter, twisted, angry infertile woman if you wish…. but I am also a consumer, one of YOUR consumers – and there are millions of potential customers just like me who aren't being represented by your brand.'
Your can read the letter in full below:
It's a topic that clearly resonates, as reflected in the comments on Lauren's post.
'I just cried reading this ! #InfertilityStruggles' wrote one woman. While another revealed in solidarity, 'Spot on, my husband use to joke that I should have shares in @clearblue the amount I have spent on them trying for our baby.'
Lauren isn't the first to question Clearblue's advertising choices.
In November 2018, following the launch of a new ovulation test product, blogger Alice Rose wrote a powerful blog post entitled, Why Clearblue need to understand the #TTC community better (opens in new tab).
'What about people who are trying to conceive for a long time; who might be waiting for fertility treatment; between treatment cycles; experiencing secondary infertility or going through miscarriage?' she asked.
'These people will still be buying products like ovulation and pregnancy tests and they'll be doing it for YEARS. Not just months. Years and years. They might not be Clearblue's target...but they're still there.'
She concluded, 'Clearblue: you have the power and clout to do wonderful things and if you wanted to learn more about the #TTC community, there's a strong opportunity to build a relationship with the 3.5 million people in the UK right now who are struggling with fertility issues and who buy your products.'
Progress for the TTC community
After bringing this issue to the forefront online, campaigners for the TTC community have made some promising headway. Lauren recently posted an update to her social media plea, thanking the brand for listening to her concerns.
She posted on Instagram, 'UPDATE - Clearblue have responded to this, they have heard us and they are listening. Behind the scenes for some time they have been working with @itscatandalice and they are taking big steps towards a more inclusive marketing strategy. Bravo ladies!!!!!!!!!!! And everyone!!! And thank you @Clearblue for listening to us!'
Since her 2018 blog post, Alice Rose has opened a conversation with Clearblue regarding their social media and marketing message.
"Clearblue have made really big strides and both myself, Cat Strawbridge (my business partner at catandalice.com (opens in new tab) - we run fertility events but also consult for brands on exactly this topic) and other people, have filmed content for them for a new campaign which will be rolled out next year," said Alice.
"Our Customer Support Team had an amazing and emotional afternoon two weeks ago with Cat and Alice to get us started," Clearblue told GoodtoKnow. "Hearing Cat's story was powerful and deeply moving and we're so grateful to her for sharing with us.
"We have an exciting new initiative coming in January and we invite you to keep watching for the next steps and would love to hear your feedback as our new story unfolds."