Celebs are calling for more creative arts in schools - but why's it so important to childhood development?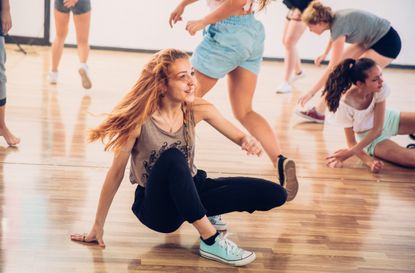 (Image credit: Valentin Casarsa)
Celebrities are calling for more creative arts in schools following a sharp decrease in the number of students being taught subjects including drama, music, dance and art.


Sir Lenny Henry, director Sam Taylor-Johnson, model Adwoa Aboah and photographer Ian Rankin are just a few of the celebrities championing creative arts in schools.
In total, 150 celebrities have co-signed a letter drafted by the Creative Industries Federation calling on the government to recognise the value of creative arts to young people's education and mental health, as well as the future economy and ever-growing arts industries.
The letter to Education Secretary Gavin Williamson states: 'For the benefit of the whole of the UK, we urge government to incentivise a broad and balanced curriculum within schools. Ensuring young people have access to creative education is vital if the country is to maintain a resilient talent pipeline for the creative industries, the fastest growing sector in the UK economy'.
This isn't the first time Sir Lenny Henry has hailed the importance of creative arts education. Speaking at the annual conference of the Association of School and College Leaders (ASCL) in Birmingham, Sir Lenny called for a world where youngsters have 'paintbrushes in their hands, not knives'.
The letter to MP Gavin Williamson comes following an 8 per cent fall in the number of students choosing to take creative arts subjects as their GCSE options since 2014/2015. Students taking art at GCSE level has also fallen by 35 per cent since 2010.
As well as a fall in creative subjects taught at GCSE level, a further sharp decrease was reported in drama and music taken at A-Level by students.
[apester id="5d5febe4a809d4cab3c53f6f"]
Creativity leads to better wellbeing
The All-Party Parliamentary Group on Arts, Health and Wellbeing Inquiry published a report in 2017 that found people who take part in the arts are 38 per cent more likely to report good health and wellbeing.
After engaging in creative activities, the report found:
79 per cent of people ate more healthily
77 per cent engaged in more physical activity
82 per cent reported greater wellbeing
There's a direct link between creativity and happiness
According to a recent study, engaging in creative activities contributes to an upward spiral of positive feelings and psychological wellbeing in both children and adults. The study further revealed that spending time on creative activities and goals during a day is associated with higher activated positive affect on that day.
Engaging in creative education such as drawing, dancing and acting, can also reduce anxiety, depression, boost your mood, as well as slow your heart and mind down.
Family and Board Certified Art Therapist Carolyn Mehlomakulu said: 'We all experience a feeling of happiness when we have successfully created something. Engaging in a creative activity leads to lowered negative emotions and increased positive feelings. People often report that they feel calmer, happier, and less stressed when doing something creative, even something as simple as colouring.'
Ben Evans, Headmaster at Edge Grove school said: 'Just as regular exercise and team games are important throughout children's school years, a curriculum which encourages creativity will allow them to relax, laugh, take risks and cope with disappointment far more readily and with increasing maturity.'
The creative arts aid emotional expression
Creative education can help facilitate expressions of emotions that may at times be hard to let out. This is extremely beneficial for children who find it difficult to speak openly and understand their emotions and feelings.
For instance, art can help individuals connect with different parts of their mind which are largely unconscious. In this sense, art is is a great way for children to express themselves and define their identity. Carolyn Mehlomakulu said: 'Someone could make a collage by looking for images that connect with how they are feeling and what is on their mind, then arranging those pictures into a collage. If someone is feeling angry or upset, they can express and release those feelings.'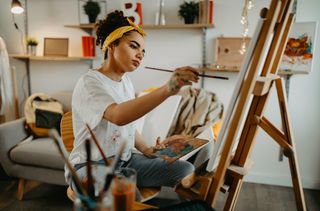 Ben Evans said: 'Emotional intelligence, empathy and the ability be oneself are all elements of a child's development which need close support from home and school. Children will develop these attributes at different ages but if they are exposed to a creative curriculum which encourage discussion, collaborative working, communication and the importance kindness, children will naturally be more emotionally mature.'
A creative education boosts problem solving skills, communication skills and stimulates imagination
Creativity in the classroom can help boost problem solving skills by altering the way a child tackles a specific problem. Allowing a child to think freely and outside the box will encourage them to come up with different and innovative solutions to a problem. Subjects such as drama and dance usually involve teamwork and help children build on their communication skills.
Creativity is one of the driving forces behind imagination in children. Loosening the classroom structure and allowing children to compose a musical song or write a creative story will spark their imagination and curiosity. Ben Evans said: 'Creative education will allow children to be imaginative and give them the freedom to think beyond the obvious, be curious and adopt new learning habits. A narrow curriculum will inhibit children's ability to be imaginative and to think outside the box.'
Three women's stories that remind us why creative arts are important
For Vicki Psarias, music helped her sons overcome shyness
Mum-of-two Vicki Psarias and Honest Mum blogger said: 'Both my sons, Oliver, nine, and Alexander, six, are creative like I am, and their school's commitment to the arts, particularly music, has helped them both grow in confidence and feel happier too. They moved to their new school 6 months ago as my youngest son Alexander was unhappy at his former one.
'Always confident and out-going at home, he'd become a shell of himself. The current school, with their nurturing and pastoral approach and deep commitment to the creative arts (singing and dancing) have hugely contributed in helping him overcome his shyness at school. He's become a different child.'
Sara Tasker's daughter found creative arts and crafts projects helped her daughter gain confidence
Mum-of-one Sara Tasker said: 'My daughter is naturally very shy and self-contained. She's not a fan of trying new things in front of people. Creative education has been transformative. At school my daughter dug clay from local woods to make bricks and then built a pizza oven.
'She's motivated to make the beautiful crafts enough to actually join the group and sit down. When she needs help, she's finds courage to actually ask, and talk to her peers or teacher. She's still shy but creative education has given her lots of small wins and safe experiences of leaving her comfort zone. So now she's happier and more confident to try new things.'
Soli Lazarus believes creative arts can be a great outlet for children with educational needs
Former primary school teacher Soli Lazarus said: 'I used creative lessons to include pupils with a a variety of special educational needs and disabilities such as autism. For example, when studying the Egyptians we used bandages and dressed up as mummies, and when studying WWII pupils built their own air raid shelters.
'Creative activities encouraged pupils to use all their senses, gave them confidence and promoted communication skills. Creative lessons ensure that the school curriculum is fully inclusive for all pupils.'
6 ways to spark creativity at home
We sought out the help of Family and Art therapist Carolyn Mehlomakulu for tips on encouraging children to be more creative at home:
Carolyn advises: 'Set up a space that allows for creative activities. Children cannot be as creative if we are always worrying about mess. Have a space in the home that is set aside for creativity, has art materials available for use, and allows for some possible mess.'
Give this quick and easy play dough recipe a go to keep the kids entertained. There's something weirdly therapeutic about kneeding this squashy substance into different shapes.
Set time aside for creative play
Carolyn said: 'Allow time for child-led, unstructured art and play. This allows kids the space to come up with their own ideas, develop creative thinking, and be able to express themselves. When working on a project with your child, don't always tell them what to do or how to do something. Encourage them to come up with their own ideas, then let them experiment and try new things, even if it leads to mistakes and messes.'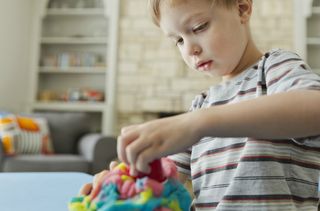 Carolyn advises: 'Take time to ask questions about what your child is creating and listen to them share about their ideas and their process. Minimise your focus on whether a child's art and creative projects are "good" or "beautiful." Instead, when children create, try to comment on and praise other aspects like originality, problem-solving, and persistence.'
Encourage your children to perform a puppet show to the whole family. They can design the set themselves using bits and bobs from around the house, create their own characters, and then come up with a story plot.
Encouraging children to play outdoors away from their TVs and mobile phones enables a child to connect with nature. Activities such as making a fairy garden, or making a bird feeder and growing vegetables can help children be more creative, use their imaginary outside of a traditional classroom setting.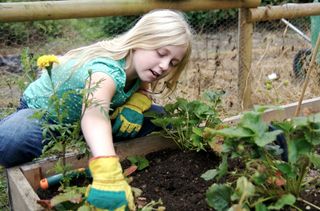 Carolyn advises: 'Engage in a variety of hands-on activities with your child. Art, cooking and baking, building, gardening, and pretend play all involve creativity and the joy of making something new. Parents can encourage these things by modelling creative activities in their own life as well as engaging in these activities with their children.'
Carolyn said: 'Although some games are creative, most screen time does not really involve creativity. Setting limits on this encourages children to spend their time in more active, creative things.'
Parenting advice, hot topics, best buys and family finance tips delivered straight to your inbox.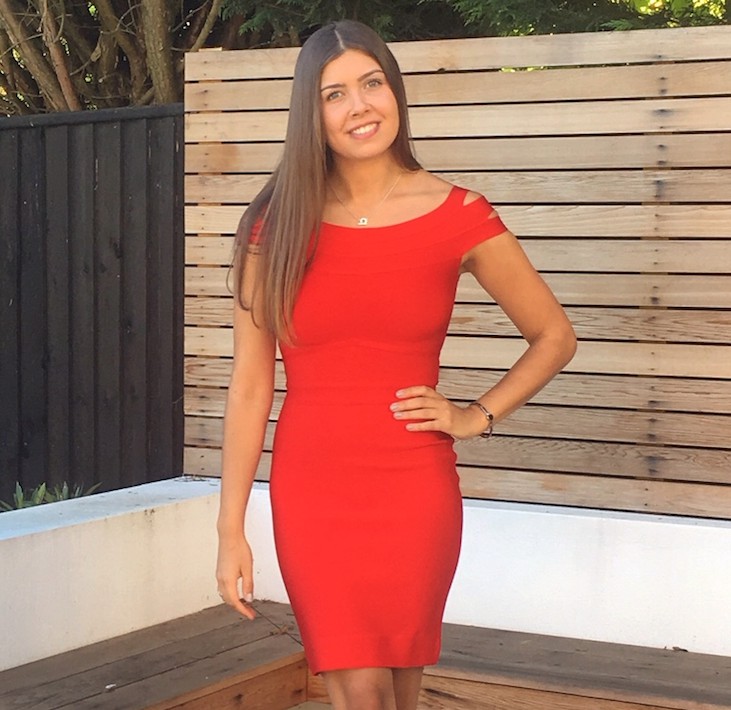 Sibelle Mehmet is a Junior Digital Writer at Goodto.com. She joined the team in April 2019 and was her first job since completing a MA in Magazine Journalism at City, the University of London in the summer of 2019. Sibelle previously interned at a number of national titles including OK!, Heat, Closer, Mother & Baby, and The Times Newspaper magazine. She's written extensively about the latest celebrity, showbiz, and royal news.