David Beckham confirms he's moving to Miami without wife Victoria and the children
The ex-England player is setting up his own football team in the States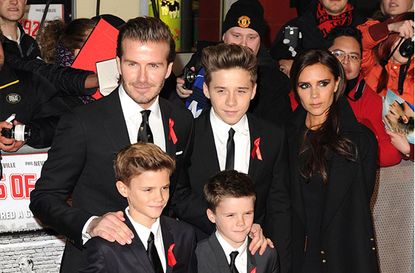 David Beckham has revealed that he's moving to America without wife Victoria and their children.
The former professional sportsman, 42, is planning to set up home in Miami, where he'll launch his own football team.
'I want to thank my family. Brooklyn and my wife Victoria, who is at home with the other kids', David said at a press conference concerning his new venture.
'They've been through the good times and the bad times and I owe them everything.'
David went on to confirm that Victoria will remain in the UK so their younger children - Romeo, 16 and Cruz, 12, plus six-year-old daughter Harper - can continue their education, but they will jet out to see him during school holidays.
Brooklyn, who turned 18 last year, will also not be around as he's now living in New York City, where he attends university (opens in new tab) to study photography.
He continued: 'Whenever they [my family] can, they'll be coming over.'
Keen to show that they're giving David their full support, messages from Victoria and Harper were played at the conference.
'We can't wait to be spending much more time in Miami,' exclaimed the 43-year-old fashion designer, while Harper sweetly added: 'Hi daddy, I can't wait to see your first football match!'
Though he might be going solo this time, it's not the first time David has lived in the States.
Back in 2007, he and Victoria swapped the UK for California with their kids after he signed a contract with LA Galaxy.
The family's move was chronicled on an hour-long fly-on-the-wall TV documentary titled Victoria Beckham: Coming To America.
Speaking at the time of the move, Victoria admitted that she couldn't understand photographers' fascination with the clan.
'They are probably going to realise that we are actually quite boring and that we don't do that much', she quipped during a conference.
'We stay in a lot as a family and there are so many famous people in Los Angeles who are much more famous than myself and David.'