Everything you need to know about Dispatches: Breastfeeding Uncovered with Kate Quilton
'We just need to normalise it', Kate revealed her thoughts on breastfeeding ahead of her new show.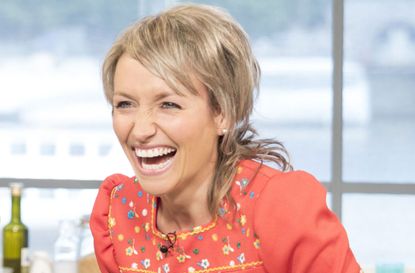 Presenter Kate Quilton looks into the benefits of breast milk while examining the nation's shocking attitudes towards breastfeeding, in her new Channel 4 show.
On Dispatches: Breastfeeding Uncovered with Kate Quilton, the new mum, 34, investigates why Britain has one of the lowest breastfeeding rates in the world and how a lack of support leaves many women giving up on it, despite many desperately wishing they could continue.
Kate has spoken candidly about the issue since giving birth to her son in June, and the negative attitudes she's faced while breastfeeding in public.
'Without a doubt I feel like I'm at the most vulnerable time in my life.' Kate told GoodtoKnow. 'You don't know the difference from day and night, your hormones are all over the place, you're recovering from labour and yet you're entirely responsible for this brand new life. It's a really vulnerable time.
'I was in Victoria Park one day, and a pair of older ladies were expressing how they didn't think I should be breastfeeding out and about. They were saying things like: "Not in my day". I asked: "When you breastfed, what did you do?", and they said: "We didn't leave the house. We stayed in." I said: "Well, I'm not prepared to do that, so deal with it."'
She added: 'These attitudes can be a generational thing, so it's been handed down. You're essentially expressing an opinion that's 80 years out of date. The other issue is we don't see it enough and it's a bit of a vicious circle. It's quite a rare sight.
'And, it's not just out and about when you're in public, I can't think of a TV programme where I've seen someone breastfeed. Or can you even name a movie with a woman breastfeeding? It's integral to our existence, but it very much goes on behind closed doors. We just need to normalise it.'
According to the latest statistics, most women want to breastfeed, and the current initiation rate is around 80 per cent. This drops at around six weeks, where only half of babies are reportedly being breastfed. As the infant approaches the six-month mark, only a shocking one per cent are still being breastfed.
In the Dispatches documentary, Kate also explores how many mums feel under pressure to breastfeed their children yet, along with negative attitudes to feeding babies in public, a lack of local health services leaves many without the support they need to continue.
She told us, 'Because of a lack of funding, it's highly unlikely that you don't live in an area with breastfeeding workshops that you can drop in for free, or that someone can come round to visit you at home. You've got to seek support where you can, maybe in your own family or your friends.
'One brilliant that Emma Pickett (chair of Breastfeeding Association) says in the documentary is that this message, 'Breast is Best', is quite frankly inhumane because women are told this they start feeling these hideous feelings of guilt when they can't breastfeed, but actually there isn't the help there.
'There are lots of mums out there doing their absolute best. In the film, we try to focus on the fact that 80% of mums try to breastfeed, and for whatever reason those numbers just plummet quite quickly.'
During the one-off show, Kate also teams up with scientists from Imperial College to learn about the vital nutrients in breast milk and how they compare to those found in many popular formula products marketed to mothers who don't breastfeed.
These formulas claim to give the baby everything it needs to thrive, though some of the differences in comparison to breast milk are jaw-dropping.
'When it comes to formula, breast milk has hundreds of compounds that formula doesn't,' says Kate. 'We've evolved over millions of years to produce this milk that's custom-made for our babies. Breast milk is quite unique and is tailor-made for your baby. There are endless benefits.'
Who is Kate Quilton?
Kate is best known for her shows Food Unwrapped and Superfoods: The Real Story. She also used to be Channel 4's youngest ever commissioning editor.
Kate married her actor husband James Lance, 41, in 2016 after three years together. The pair met at the Edinburgh Festival eight years ago.
Dispatches: Breastfeeding Uncovered airs on Monday 30th July at 8pm on Channel 4.
Anna Bailey is the editor of GoodTo. She joined the team in June 2018 but has been a lifestyle writer and online editor for more than 14 years. Anna graduated from Bournemouth University in 2004 with a degree in Multimedia Journalism and went on to gain her NCTJ and NCE journalism qualifications. She began her career in local journalism, working as a reporter for the Basingstoke Gazette in Hampshire. As Lifestyle Editor for ITV.com she managed the websites for the broadcaster's best-loved shows including This Morning, Loose Women, Coronation Street, Emmerdale, Coleen's Real Women, and Britain's Best Dish. Before joining Goodto.com she was also a Features Editor at MSN UK and Digital Lifestyle Editor for the broadcaster UKTV. She's also contributed to The Mirror, The Sun, LoveFood, LoveExploring, and TBSeen.