Could eating chips help you get pregnant if you're trying for a baby?
A recent survey suggests women believe eating McDonald's chips straight after having sex will increase their chances of conceiving - but experts don't agree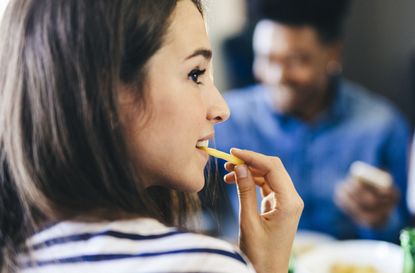 A recent survey suggests women believe eating chips straight after having sex will increase their chances of conceiving - but what do the experts say?
According to a recent survey carried out by ChannelMum.com, 3% of women believe that eating McDonald's chips straight after sex could increase their chance of conceiving. Apparently the hopeful mums-to-be believe eating the moreish savoury snack will help them get pregnant because the salt content in the fries will help fertilisation to happen!
But could it actually work?
Laura Dowlling, a Lloyds pharmacist and spokesperson for PROCEIVE fertility supplements believes the source of chips - potatoes - do have their advantages.
'Though high in carbohydrates, the average potato contains more potassium than the average banana and is also an excellent source of vitamins C and B6. All of which are vital vitamins and minerals for healthy egg and sperm production', she said.
However she advises that chips should be eaten in moderation because of their high fat and salt content.
'It can take up to three months to effectively prepare your body for a pregnancy, so couples trying for a baby should focus on long term, positive changes as opposed to quick fixes' she added.
Dr Clare Morrison, a GP at MedExpress agrees that eating chips as a method is 'sketchy at best'.
'It's unlikely that eating salt will boost your chances of becoming pregnant. There's no real science to back this theory up', she commented.
So it sounds like this theory could be a bit of an old wives tale and, at best, quite flawed!
However, there are some foods you could be eating instead to help improve your chances of getting pregnant.
'There's evidence to suggest that good nutrition can help you get pregnant and prepare your body for a baby,' Dr Morrison explained.
'Zinc [is found in] oysters, whole grains, beans and dairy products and contributes to ovulation and fertility in women and semen and testosterone production in men.
'Eating [omega 3] fatty acid found in fish oil, plant and nut oils can improve embryo quality.'
'All women of childbearing age should consume about 400 micrograms of folic acid per day to create red blood cells. [You get this] from greens, citrus fruits and whole grains', she added.
Finally, don't forget your iron. 'If your body doesn't have enough iron, your body's tissues and organs won't get the oxygen [from red blood cells] needed to properly function', Dr Morrison advises.
Trusted, informative, and empathetic – GoodTo is the ultimate online destination for mums. Established in 2007, our 15-year-strong archive of content includes more than 18,000 articles, 1,500 how-to videos, and 7,000 recipes.