Eurovision Song Contest: Best and worst Brit acts
Are you a Eurovision fan? Test your British knowledge and reminisce about your favourite acts since 1975!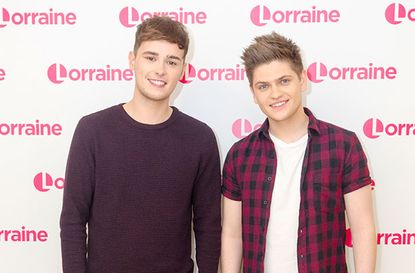 Goodto Newsletter
Parenting advice, hot topics, best buys and family finance tips delivered straight to your inbox.
Thank you for signing up to GoodTo. You will receive a verification email shortly.
There was a problem. Please refresh the page and try again.
Will you be trying to get your hands on Eurovision tickets this March? If you're a fan, test your British knowledge and reminisce about your favourite acts since 1975!
Whether you love it or hate it, everyone has to admit that the Eurovision Song Contest, or Eurovision, has true staying power. It has been an annual occurrence on our TV screens since May 1956 and continues to be a continent-wide celebration of all things musical (for better or worse…).
Eurovision is well known (and loved) for the garish costumes, gaudy dance routines, frankly confusing sets, and, occasionally, even worse vocals, but everyone has their own reasons to tune in.
Most UK Eurovision entries - even winners - don't seem to go on to have a successful career in showbiz. Who could forget the 2003 UK entry Jemini, who nosedived into a total of nul points' for their song Cry Baby? Or Finland's winning entry in 2006 - heavy metal band Lordi, who wore monster outfits and sung Hard Rock Hallelujah?
But there have been some notable exceptions to the rule; ABBA, who won in Brighton in 1974 for their home nation of Sweden with worldwide hit Waterloo went on to build a career spanning several decades.
Then there was Bucks Fizz, winner in 1981 for the United Kingdom (the penultimate win before our most recent in 1997 for Katrina and the Waves) and of course Celine Dion, who won in 1988 for Switzerland and went on to have one of the most successful singing careers of her generation.
And most recently the UK set to host Eurovision 2023 on behalf of 2022 winners Ukraine, and the nation has high hopes for UK Eurovision entry Mae Muller.
Eurovision 2016: Joe and Jake
Song: You're Not Alone
UK position: TBC
Winner: TBC
Host city: Stockholm, Sweden
Fun fact: Joe and Jake, who are from Wales and Stoke-On-Trent respectively, both appeared in the fourth series of BBC talent show The Voice as solo artists. They only became a duo after they both left the show!
Eurovision 2015: Electro Velvet
Song: Still In Love With You
UK position: 24
Winner: Sweden
Host city: Vienna, Austria
Fun fact: The lady half of Electro Velvet, Bianca, has appeared on both The X Factor AND The Voice before!
Eurovision 2014: Molly
Song: Children of the Universe
UK position: 17
Winner: Austria
Host city: Copenhagen, Denmark
Fun fact: Prior to her Eurovision entry, Molly had already had a UK top ten hit with Raindrops, a collaboration with superstar DJ Sash!
Eurovision 2013: Bonnie Tyler
Song: Believe in Me
UK position: 19
Winner: Denmark
Host city: Malmö, Sweden
Fun fact: In a poll conducted by the Guardian, 46% of people believed Bonnie would bring home the win for the UK with her performance, but it wasn't meant to be.
Eurovision 2012: Englebert Humperdink
Song: Love Will Set You Free
UK position: 25
Winner: Sweden
Host city: Baku, Azerbaijan
Fun fact: Englebert opened the entire show with this tune, but sadly he seemed to have been forgotten by the end, scoring just 12 points.
Eurovision 2011: Blue
Song: I Can
UK position: 11
Winner: Azerbaijan
Host city: Dusseldorf, Germany
Fun fact: Blue were up against X Factor contestants Jedward, who are representing Ireland!
Eurovision 2010: Josh Dubovie
Song: That Sounds Good To Me
UK position: Last
Winner: Germany
Host city: Oslo, Norway
Fun fact: The UK ranks joint 2nd in its number of Eurovision victories (5) and has the highest cumulative points total of any country in the contest since it began in 1956.
Eurovision 2009: Jade Ewen
Song: It's My Time
UK position: 5
Winner: Norway
Host city: Moscow, Russia
Fun fact: In a massive attempt to bring the UK Eurovision glory, Jade Ewen's song It's My Time was written by Sir Andrew Lloyd Webber who also flew to Russia to perform with her on stage. Jade's dress was designed by Amanda Wakeley and the Strictly Come Dancing judge Arlene Philips, hired to help choreograph the performance.
Eurovision 2008: Andy Abraham
Song: Even If
UK position: 23
Winner: Russia
Host city: Belgrade, Serbia
Fun fact: Despite former X-Factor contestant Andy Abraham having high hopes for the song Even If, he came joint second to last with Poland. having received only 14 points - the second worst act of the 2000s.
Eurovision 2007: Scooch
Song: Flying The Flag (for You)
UK position: 23
Winner: Serbia
Host city: Helsinki, Finland
Fun fact: Despite reaching number five in the charts, Scooch managed a dismal second-to-last finish at the 2007 Eurovision contest after receiving only 19 points.
Eurovision 2006: Daz Sampson
Song: Teenage Life
UK position: 19
Winner: Finland
Host city: Athens, Greece
Fun fact: In 2006, the contest was won by a Finnish death metal group called Lordi, who grunted through Hard Rock Hallelujah in monster masks and exploded fireworks as a distraction measure.
Eurovision 2005: Javine Hylton
Song: Touch My Fire
UK position: 22
Winner: Greece
Host city: Kiev, Ukraine
Fun fact: After failing to make the band in Popstars: The Rivals, Javine went on to represent the UK in 2005 after beating Katie Price in a public vote. Javine however only received 18 points and finished near the bottom of the table.
Eurovision 2004: James Fox
Song: Hold On To Our Love
UK position: 16
Winner: Ukraine
Host city: Istanbul, Turkey
Fun fact: Ukraine's win in 2004 was only their second participation in the contest's history. It was also the third year in a row which the contest was won by a woman.
Eurovision 2003: Jemini
Song: Cry Baby
UK position: 26 (last)
Winner: Turkey
Host city: Riga, Latvia
Fun fact: In 2003, Jemini became the first UK act to receive the dreaded 'nul points'. With 26 countries competing (the highest number at this point), this also made the duo the least successful entry in the history of the contest.
Eurovision 2002: Jessica Garlick
Song: Come Back
UK position: 3
Winner: Latvia
Host city: Tallinn, Estonia
Fun fact: X Factor hopeful, Jessica Garlick, received 111 points at the close of the 2002 voting, coming joint third place with host country Estonia. This was the best result for the UK since 1998 and the best result for the UK in the 2000s.
Eurovision 2001: Lindsay
Song: No Dream Impossible
UK position: 15
Winner: Estonia
Host city: Copenhagen, Denmark
Fun fact: The Eurovision Song contest is one of the most-watched single events in the world. In 2001, 95% of the Danish viewing public tuned in - the highest percentage in Europe.
Eurovision 2000: Nicki French
Song: Don't Play That Song Again
UK position: 16
Winner: Denmark
Host city: Stockholm, Sweden
Fun fact: In 2000 it was decided that the four countries that made the biggest financial contributions to the European Broadcasting Union would automatically qualify each year - these are the UK, Germany, France and Spain.
Eurovision 1999: Precious
Song: Say It Again
UK position: 12
Winner: Sweden
Host city: Jerusalem, Israel
Fun fact: Precious had limited success after a poor performance at the 1999 contest. After they split just a year later, Jenny Frost joined Atomic Kitten to replace the outgoing Kerry Katona.
Eurovision 1998: Imaani
Song: Where Are You?
UK position: 2
Winner: Israel
Host city: Birmingham, United Kingdom
Fun fact: The UK has hosted the Eurovision song contest eight times, which is more than any other country.
Eurovision 1997: Katrina and the Waves
Song: Love Shine A Light
UK position: 1 - hooray!
Winner: United Kingdom
Host city: Dublin, Ireland
Fun fact: In 1997 the UK receved the most number of top marks ever awarded to one song in the contest's history. They held this record for eight years.
Eurovision 1996: Gina G