Exam stress: Tips on how to help your child keep calm during exam time
Exam stress can be difficult to deal with – especially for the half a million 11-year-olds who are taking their SATs tests this week, their first major exams to date.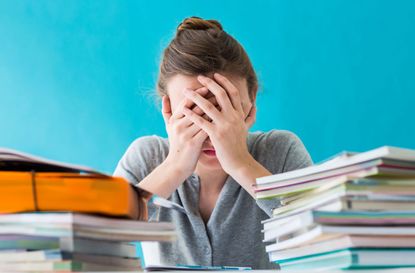 Exam stress can be difficult to deal with – especially for the half a million 11-year-old's who take their SATs tests every year, their first major exams.
Childline delivered 3,135 counselling sessions on exam stress in 2017/18 – with just over a fifth taking place in the month of May, when most end-of-year exams take place. Young children and teenagers are concerned about an overwhelming workload, potential pressure from their parents and worries about whether they would get the grades they wanted.
And while exams- along with GCSE result day and A level results day - have been disrupted this year, the stress of exams may return in autumn, when many can complete exams again if they wish.
But while most parents may understand that the results are used more to judge the school than the child, pupils are still likely to feel pressure to achieve good results, which can leave many of them suffering from exam stress.
However, some schools understand that the SATs are not the be all and end all in determining your child's future and have taken steps to reduce the amount of exam stress children feel.
One such school, All Saint's School in Blackheath, introduced a different kind of 'homework' for their pupils ahead of SATs week earlier this year, which included 'eating some Haribo' and 'laugh until your tummy hurts'.
The note finishes by telling kids they can revise for 'one hour' only, and that it is the job of their teacher to worry, not them.
Mum and journalist Jane Martinson shared a picture of the 'homework' on Twitter, praising the school for their unique take on relieving exam stress and pressure.
Another mum shared her sweet remedy for helping her daughter cope with her exams stress on Facebook. She revealed that she puts matching pink kisses on her and her daughter's hands, for her daughter to touch if she feels a bit stressed.
She said: 'SATs for the biggest one this week. She's bright as a button but can be a bit hard on herself so...I got a Sharpie and drew a matching kiss on each of our hands.
'If she gets a bit worried and needs her Mummy? She can look at her pink kiss and know that I'm thinking about her too.
'Side-note when we hold hands the kisses touch. I am aware that all of this is ridiculously cheesy and OTT. But sometimes a Mummy's gotta do what a Mummy's gotta do'.
https://www.facebook.com/brummymummyof2/photos/a.1394690584135024.1073741828.1378601475743935/2047117162225693/?type=3&theater
How to spot if your child is suffering from exam stress
Emily Graham, Senior Policy and Campaigns Officer at the mental health charity Mind, said, "It is understandable that young people feel stressed around exam time as there is often a lot of pressure associated with them, particularly GCSEs and A Levels. Prolonged periods of stress can contribute to mental health problems, which is why our education system must value and support the mental wellbeing of pupils, as well as their academic success."
She continued, "We know from talking to young people that teachers are often their first port of call if they are worried about their mental health. This is why we need staff throughout the school community to be properly trained in mental health and wellbeing, so they can initiate conversations about mental health and spot the signs of mental health problems.
"Schools also need to consider offering additional support for all pupils' mental wellbeing around stressful times like exams periods, so that the whole student community is well cared for."
According to NHS Choices, there are certain signs to look out for to see if your child is suffering from exam stress. These include not enjoying activities they previously loved, a loss of interest in food or eating more than normal, trouble sleeping and negative or low moods - much like adults.
How to help your children with stress management
If you are worried about your child's mental health during exam week or at any other time, there are ways that parents can help to keep their child calm.
Make sure you talk about their exam stress and nerves
Be calm, positive and reassuring and put the whole thing into perspective. 'A simple conversation can help children to acknowledge what they're struggling with and how it makes them feel', Place2Be, a national children's mental health charity, advises.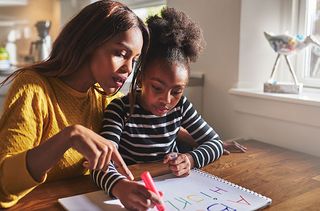 Remind your child that feeling anxious is normal. Nervousness is a natural reaction to exams. The key is to put these nerves to positive use. You can even explain times that you have felt stressed or worried, and give them examples of how you overcame your fears.
Help your child to study
Make sure they have a comfortable place to work and study which is quiet. Ask them how you can best support them with their revision and establish a routine by re-arranging the family's schedules and priorities that works for them.
'Ask them how you can best support them with their revision,' NHS Choices advises. 'Help them to come up with practical ideas that will help them revise, such as drawing up a revision schedule or getting hold of past papers for practice.'
Andrew Sutherland, Founder of Quizlet, says finding the right study environment can be hugely beneficial. "If you can, work at a desk in a room with a door that you can close," he says. "Get everything into neat, little piles so that you're not drowning in paper and books. You can get inspiration and help for this from places such as The Student Room and other student dedicated forums."
Mixing up the revision methods can also really help to avoid textbook burnout. If you're just staring at your Spanish verb conjugations on the page hour after hour, your kids will probably find that their brain goes a little verb-blind. Add variety and interaction with online study activities to keep you engaged with the material. Ahead of your language exam, the Babbel app can polish up your conversation skills before an oral language exam, and Blinkist takes non-fiction books and distils the key points which is perfect if you want a productive break from revision, providing you with some interesting insights, and quotable tidbits that might turn out very useful come exam time.
Niels Eek, psychologist and co-founder of mental health and self-development platform, Remente also recommends visualising the examination room before walking into the test, associating the space with something positive and remembering previous exams where your kids did well. "You're probably going to feel stressed and be nervous so take a moment to breathe deeply - countdown from 10, and repeat the breathing exercise a couple of times," says Niels. "If you find yourself in your assigned seat and overwhelmed with stress, then try progressive relaxation. This involves tensing and releasing different muscle groups in your body. This method is also used by actors before they come onstage, so repeat until you feel calm."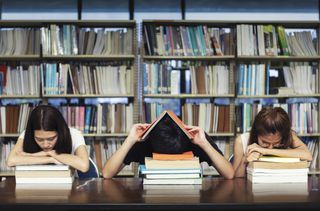 Make sure your child eats well
A balanced diet is vital for your child's health, and can help them to feel well during exam periods. But a small treat, whether that be their favourite meal or letting them choose their own breakfast for the week is also a great way to help them to look forward to something and take some pressure off their exams.
Encourage exercise during exams
"Exercise can help boost energy levels, clear the mind and relieve stress. It doesn't matter what it is - walking, cycling, swimming, football and dancing are all effective," NHS Choices advises. Try and find a fun physical activity that you can do with your child or if they are involved in school clubs or sports, encourage them to continue with this during exam week.
Don't add to the pressure
It's normal for parents to want the best for their children, but you may be adding to the pressure they're already feeling without even realising it. According to NHS Choices, lots of the children who contact Childline feel that most pressure at exam time comes from their family. "Before your child goes in for a test or exam, be reassuring and positive," they advise. "Let them know that failing isn't the end of the world. If things don't go well they may be able to take the exam again. Talk about the parts that went well rather than focusing on the questions they had difficulties with. Then move on, rather than dwelling on things that can't be changed."
Make sure to schedule in downtime for them as often as possible
"As a parent you can really help your children through this time, just by being there for them and encouraging them to talk about their feelings and fears," advises Family Lives.
"Arrange some downtime for them in between the exams so they can fully recharge before the next exam. Having some balance is very important and can help them manage their stress and anxiety levels."
Parenting advice, hot topics, best buys and family finance tips delivered straight to your inbox.
A Freelance Writer and Content Editor, Jenni has been working on the women's lifestyle team at TI-Media on and off for over three years. She writes about your favourite celebrities and TV shows so you never miss an update. Jenni also writes beauty news and features - so for all of your skincare and make-up needs, drop her a line.