Mum shares GENIUS car seat hack that could save your child's life
Alexis Copas shared an important message from her local Fire Department on Twitter.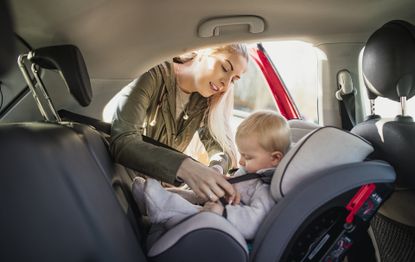 (Image credit: Getty Images)
GoodTo newsletter
Sign up to the GoodTo Newsletter. You can unsubscribe at any time. For more information about how to do this, and how we hold your data, please see our privacy policy
Thank you for signing up to . You will receive a verification email shortly.
There was a problem. Please refresh the page and try again.
Alexis Copas shared an important message from her local Fire Department on Twitter.
The idea was originally posted to Facebook by the Rose City Area Fire Department, located in Michigan, USA. They shared a picture of a piece of paper attached to a child's car seat (opens in new tab). The notice gave the child's and parents' names and dates of birth, along with important medical notes, like whether the child could speak.
https://www.facebook.com/rosecityareafiredepartment/photos/a.347559028785501/845828998958499/?type=3
'Way too often do firefighters come upon a car wreck with child(ren) in the car who are too young to have any info and parents are unconscious,' they wrote. 'It takes 2 minutes of your time to write out child's name, DOB, parents' names, DOB, emergency contacts and any medical conditions, any meds your child is on and even child's doctor, then stick it to the child's car seat. This helps EMS a ton and can also help save your child's life. Please share this.'
Alexis took to Twitter to share the post, along with a photo of the notice she had made to stick to her own child's car seat. 'Saw this on FB & wanted to share it here!!' she wrote. 'As soon as I read this, I made one to stick on my child's car seat.'
READ MORE: 'Don't do this' Mum warns 'clever' car seat hack could actually cause internal decapitation (opens in new tab)
The tweet has been liked more than 9,000 times and retweeted more than 5,000 times.
READ MORE: Best baby car seats: What baby car seat should you buy? (opens in new tab)
'I'm going to do this, thank you for sharing,' one mother replied. 'Love this doing it asap,' another agreed. 'This is honestly the best idea. Thank you for sharing,' another user added.
Babies are especially vulnerable to injuries caused by impact and uncontrolled head motion because their neck muscles are weak.
Children should use a car seat until they're 12 years old or 135cm tall and if your child is under 15 months old, their car seat must be rear-facing. The NHS recommends using a rear-facing car seat for as long as your baby fits into it, as they offer better protection in the event of an accident.
Samantha is a freelance writer at Goodto who has been with team since 2019. Initially trained in psychology, she specialises in health and wellbeing and has additionally written for magazines such as Women's Health, Health & Wellbeing, Top Santé, Healthy, Refinery29, Cosmopolitan, Yahoo, CelebsNow, Good Housekeeping and Woman&Home.