9 Celebrities who changed their baby's names - Kylie Jenner, Stacey Solomon and more
There's a few funny stories behind some of these name changes...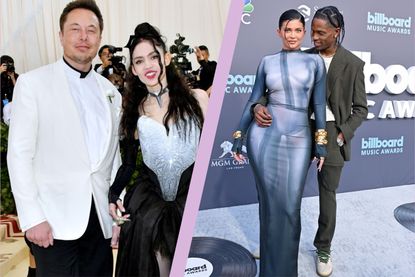 (Image credit: Future/Getty)
We think some of these kids will definitely thank their famous parents for changing their baby name...
It's no easy feat selecting a name for a newborn child. Parents are often influenced by the most popular baby names for boys and girls in the present, but they also want to make sure that their cool baby name stands the test of time and has remained a popular baby name in the last 100 years or so, and going forward into the future.
As these celebrity parents show - you might not always get the name right on the first go. From Grimes recently revealing her daughter's changed name to Kylie Jenner and Amy Schumer's altered baby names, we've shared all the celebrity baby name changes to know about.
1. Elon Musk and Grimes
Canadian singer Grimes is the most recent celebrity to reveal she's changed her baby's name. In March 2023, the 35-year-old shared a sweet photo of her daughter, her youngest child, on social media.
One excited fan was quick to react to the post, commenting: "omg baby sailor mars hiiii". Grimes then replied: "She's Y now, or 'Why?' or just '?' (But the government won't recognise that)". The mum-of-two went on to explain the meaning behind the obscure name. "curiosity, the eternal question, .. and such," she wrote.
Grimes confirmed that she and ex-partner Elon Musk welcomed a second child together, via surrogacy, in an interview with Vanity Fair in March last year. At the time, she revealed that they had named her Exa Dark Sideræl Musk, though her nickname was "Y". It seems the parents have since decided to make her nickname her real name.
After the Vanity Fair interview was published, Grimes confirmed that she and Musk had "broken up again", though the two remain close, with the singer calling her ex her "best friend and the love of my life". The two also share two-year-old son X Æ A-Xii (nicknamed X).
2. Kylie Jenner and Travis Scott
Kylie Jenner and long-term partner Travis Scott welcomed a baby boy together in February 2022. The couple shared their son's name as Wolf Webster at the time, but a month on Kylie revealed they were changing the name.
Taking to Instagram stories in March 2022, Kylie wrote: "FYI our son's name isn't Wolf anymore. We just like really didn't feel like it was him. Just want to share because I keep seeing Wolf everywhere."
The cosmetics entrepreneur then kept fans waiting almost a year before confirming her son's new name. Finally on January 21, 2023, the mum-of-two confirmed that her youngest child's new name is "AIRE". The name is of Hebrew origin and reportedly means "Lion of God."
In March 2023, TMZ reported that Kylie and Tyler had officially filed to change their son's name. This would legally change their son's name from Wolfe Jacques Webster to Aire Webster.
Aire seems a better fit with his older sister's name too. Kylie and Travis' first child Stormi Webster was born on February 1, 2018.
3. Amy Schumer and Chris Fischer
Comedian Amy Schumer and her husband Chris Fischer welcomed son Gene Attell Fischer back in May 2019. Confirming their child's name via Instagram, Amy revealed the middle name was in honour of comedian and friend David Attell.
11 months later, Schumer shared that the couple had legally changed their son's name after realising the first and middle name form an unfortunate homonym.
Announcing the news on her podcast Amy Schumer Presents: 3 Girls 1 Keith she said: "So do you guys know that Gene, our baby's name is officially changed? It's now Gene David Fischer. It was Gene Attell Fischer, but we realised that we, by accident, named our son 'genital'."
Gene's new middle name still honours Attell. David also happens to be the middle name of Amy's dad Gordon David Schumer. "So, two stones," Schumer said of the change.
4. Caterina Scorsone and Rob Giles
Grey's Anatomy star Caterina Scorsone is another celebrity who ended up changing her child's name. The actress welcomed her third daughter with husband Rob Giles in December 2019. Shortly after the couple revealed their little girl's name as Arwen.
Then in April 2020, Caterina shared that Arwen's name had been changed. Sharing a photo of her cradling her newborn next to a bookshop, Caterina wrote: "I love my baby. I love books. (By the way, we went with what was her middle name. Lucinda. "Lucky" for short.)".
Caterina and Rob also share two older daughters: Eliza, 10, and Paloma, six.
5. Aaron Paul and Lauren Parsekian
Breaking Bad star and his director wife Lauren Paul welcomed a son together back in April 2022. Seven months later, the couple filed for a name change for their son - who's original birth certificate showed the name Casper Emerson.
Casper is known henceforth as Ryden Caspian, following the legal name change in November 2022. Around the same time, Aaron and his wife also filed to officially change their surnames too. Aaron - who's last name was Sturtevant - chose to make his middle name (and his professional name) Paul, his official surname. Lauren also took her husband's new surname and now goes by Lauren Paul.
6. Kathryn Hahn and Ethan Sandler
Wandervision and Bad Moms actress Kathyrn Hahn and her husband Ethan Sandler filed documentation in November 2022 to change their teenage children's names legally. The petition requested that the star's surname Hahn, be added as a second middle name, before their current last name Sandler.
No details were given as to why the name changes took place. Their 16-year-old son is now officially Leonard Henry Hahn Sandler, whilst his younger sister's name is now Mae Marie Hahn Sandler.
7. Doug Hehner and Jamie Otis
Married at First Sight US success story Jamie Otis and Doug Hehner welcomed a second child together in May 2022. The happy couple had decided on the name Hayes Douglas ahead of their son's arrival, as they liked the sound of it and wanted to feel more connected with him during pregnancy.
However, the two had a change of heart when they met the little fella.
"The minute we had our son, the minute he came out, I looked at him [and] I almost called him Hendrix," said Otis in an Instagram Live. "That was, like, a top name for him, [but] we named him Hayes before we met him."
Hehner then explained: "It's [now] officially Hendrix. We did the birth certificate, so it's official."
The couple later confessed that they didn't know "why we chose Hayes to begin with".
8. Kourtney Kardashian and Scott Disick
Kourtney Kardashain shares three children with ex-boyfriend Scot Disick - Mason, Penelope and Reign. And it's the youngest of their brood, Reign, who almost didn't have the name he's known by today.
During an appearance on Jimmy Kimmel Live in 2019 with Kim and Khloe Kardashian, Kourtney revealed that Reign was born without a name and shared the unusual way she and Disick agreed upon their third child's name.
"I would try out a different name on different days," Kourtney said, adding that one of the names was Reign. "I was like, I know in my soul his name is Reign and Scott didn't believe me. And I was like, no, I know his name is Reign. And he's like his name is Preston. So I was like, fine, let's call him Preston for a day. And it didn't work out."
The two later made the name change official. Reign - now 8 - was born on December 14, 2014 - the same day as his older brother Mason (aged 13).
9. Stacey Solomon and Joe Swash
Stacey Solomon and Joe Swash welcomed their fifth child, daughter Belle, in Feburary 2023. But it's Belle's older sister Rose who the couple originally planned a different name for.
In an Instagram video, Stacey shared that she had originally wanted to call her oldest daughter Autumn Solomon Swash - honouring the season she was born in. However, she soon realised an unfortunate issue with the first name and the surname.
"We loved the name Autumn but then we realised her initials would be A-S-S," she said. "So it helped us rule out all of the 'A' names."
She later shared an Instagram post to reveal her daughter's new name as Rose Opal Esmè Solomon-Swash. She explained the reasons for the name, with the caption reading: "Our beautiful flower - Our precious jewel - who is ever loved."
Stacey and Joe have three children together - three-year-old son Rex, daughter Rose and newborn baby Belle. Solomon also shares 15-year-old son Zachary with ex Dean Cox and 10-year-old son Leight with ex Aaron Barham.
Video of the Week
Emily Stedman is the former Features Editor for GoodTo covering all things TV, entertainment, royal, lifestyle, health and wellbeing. Boasting an encyclopaedic knowledge on all things TV, celebrity and royals, career highlights include working at HELLO! Magazine and as a royal researcher to Diana biographer Andrew Morton on his book Meghan: A Hollywood Princess. In her spare time, Emily can be found eating her way around London, swimming at her local Lido or curled up on the sofa binging the next best Netflix show.