Royal baby names - our top 12 favourites in order and why
Most of them have a unique meaning, and they're all adorable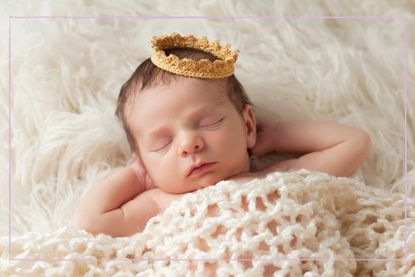 (Image credit: katrinaelena/iStock/Getty)
Goodto Newsletter
Parenting advice, hot topics, best buys and family finance tips delivered straight to your inbox.
Thank you for signing up to GoodTo. You will receive a verification email shortly.
There was a problem. Please refresh the page and try again.
Royal baby names are often steeped in history, or repurposed into more modern monikers for the newest generation of noble bundles of joy - here are some of our favourites.
When a Royal baby name is revealed, it's usually not long until it lands on lists of the most popular baby names for that year. Elizabeth has always been an enduringly popular name, standing firmly in the list of top 15 baby names that have stood the test of time and consistently remained popular for the last 100 years.
The Office for National Statistics (ONS) reports that Prince William's birth in 1982 resurrected the name William, which was about to drop out of the top 50 - it rocketed back into the top 20, remaining popular to this day. His son George was similarly responsible for 20% more babies being named George than prior to his birth.
Some modern Royals are combining tradition with a modern-day form of name upcycling, to form some more unusual baby names for their aristocratic offspring - here is our list of favourite Royal baby names.
Ernest
Lucas
Sienna
Lilibet
August
Lena
Archie
Louis
Charlotte
George
Mia
Isla
A Royal baby name reveal is always an exciting event, but finding out the meaning behind the choice is even more special. Here are our top 12 favourite Royal baby names of all time, including what they mean and why we think they're perfect.
Royal baby names we love and why
1. Ernest George Ronnie Brooksbank
When Princess Eugenie gave birth to her second child with Jack Brooksbank on May 30 this year, Royal fans couldn't be more delighted with his chosen name. Of German origin, Ernest is a strong name that means "serious" and "battle to the death." Although the powerful name could be reflective of the battles the child could face with life in the limelight, it was the choice of middle names that had fans gushing.
Announcing his birth on Instagram, Princess Eugenie wrote "He is named after his great great great Grandfather George, his Grandpa George and my Grandpa Ronald." King George V also had Ernest as a middle name, while Jack's father who sadly died in 2021, was also named George. Ronnie likely acts as a nod to Eugenie's Grandfather on her mother's side, Sarah Ferguson's father Maj Ronald Ferguson who passed away in 2003.
2. Lucas Philip Tindall
Lucas Philip Tindall is the third child and first son of Zara and Mike Tindall. The Tindalls have a history of simply calling their children names they like, that don't have a deeper meaning - Lucas' first name is no different. The name Lucas means "bringer of light" and it took the couple some time to agree on the name, having first considered James as an option.
Mike had also spoken of his hopes of having a boy after two girls. During his The Good, The Bad & The Rugby podcast, he said "I'd like a boy this time, I've got two girls, I'd like a boy. I'll love it whether a boy or a girl - but please be a boy!" His wish was granted, and the middle name Philip was given to the precious son to honour the Duke of Edinburgh.
3. Sienna Elizabeth Mapelli
Sienna Elizabeth Mapelli Mozzi was born in 2021 to Princess Beatrice and Edoardo Mapelli Mozzi. It was reported that the name Sienna honours grandmother Sarah Ferguson, the red hair colour running in the family, and Edorado's Italian heritage. A family friend said "They were looking for an Italian name which started with an 'S' for Sarah, to honour the duchess, and also reflected the golden rust colour of both the duchess's hair colour and Beatrice's, which the new baby shares." The name also means "from Siena," a medieval Italian city, in a nod to the baby's father.
Elizabeth is to honour the former Queen Elizabeth, Sienna's great grandmother. We find the level of thought that went into the name utterly adorable, along with the fact that Edoardo's son from a previous relationship has been included through every step of news of Sienna and her arrival. A statement at the time of her birth read "Her Royal Highness Princess Beatrice and Mr Edoardo Mapelli Mozzi have named their daughter Sienna Elizabeth Mapelli Mozzi. The couple have said, 'We are all doing well and Wolfie [Edo's son from a previous relationship] is the best big brother to Sienna.'"
4. Lilibet Diana
Born in 2021 to the the Duke and Duchess of Sussex, Lilibet is known to her family as "Lili." Although Lilibet traditionally is of Hebrew origin meaning "God is my oath," in the case of this Royal baby the name has a different meaning. As a child, the former Queen Elizabeth had difficulty pronouncing her own name, using Lilibet instead. The nickname stuck, and the Queen was known by the name by those close to her, for most of her life.
We love the sweet and playful meaning behind the name, that is likely to see a surge in the name Lilibet used as a first name for many years. Diana is of course, after Harry's mother, the late Princess of Wales. This was confirmed in a statement at the time of Lili's birth, reading "Her middle name, Diana, was chosen to honour her beloved late grandmother, The Princess of Wales."
5. August Philip Hawke
Princess Eugenie and Jack Brooksbank welcomed their first child, August Philip Hawke, in 2021. August is name of Latin origin meaning "to increase" and "great", deriving from the name Augustus which means "exalted" and "venerable". We love that the pair took an unusual name that had meaning for both sides of their families, when selecting it for their first born.
At the time, Eugenie used Instagram stories to explain the meaning behind the unusual choice. She wrote "He is named after his great-grandfather and both of his great x5 grandfathers." Queen Victoria's husband, Prince Albert, was named Franz August Karl Albert Emanuel, and Philip would have been a clear choice after Eugenie's now late grandfather, Prince Philip. The couple revealed Hawke to be a family name stemming from Jack's side.
On the tot's first birthday, Eugenie shared his sweet nickname. Writing an Instagram post honouring her first child, she revealed his nickname to be Augie; she said "Happy 1st Birthday to our little hero Augie. You are such a special soul that brightens every room with your smile and wave. You have made us so very proud. We love you!"
6. Lena Elizabeth Tindall
Lena Elizabeth Tindall was born in 2018, the second daughter of Zara and Mike Tindall. Zara revealed after the youngster's birth that she originally wanted to name her Elena, but had second thoughts. On realising her daughter's initials would be E.T., Zara made decision to shorten the name to Lena.
Inevitable questions surrounding the meaning of the name arose, with a spokesperson for the down-to-earth couple simply stating that they just happened to like it; the name means "bright" or "ray of light." The little one's middle name however, is clearly a different story and sure to be after the former Queen Elizabeth - we love the hilarious story behind the changing of Lena's name, and the fact it was chosen simply because it's lovely.
7. Archie Harrison
The first born son of The Duke and Duchess of Sussex was given a twist on a traditional name, with a unique meaning. Although traditionally short for Archibald, Archie has become a modern version of the vintage name and a name in its own right. Archie means "genuine", "bold" or "brave," but when he was born in 2019, The Duchess of Sussex revealed the real meaning behind the name.
The moniker isn't linked to any other British Royalty, and is a debut name within the Royal Family. It is thought to have been inspired by the word "arche," a Greek word for "source of action." The word has been used both in the couple's charity name Archewell, and short-lived podcast Archetypes. Harrison is more popular in America where the Duke and Duchess now reside, and also has a literal meaning of "son of Harry."
How lovely that the couple took a traditional name and made it their own, continuing to forge their own path and do things their own way. Meghan has been heard simply referring to Archie as "Arch", and along with frequently referring to Harry as "H", the names are kept quick and simple in the Sussex household!
8. Louis Arthur Charles
Louis Arthur Charles is the third child of the Prince and Princess of Wales, and his first name has a very special meaning to the family. Born in 2018, Louis was named after King Charles' beloved great-uncle Louis Mountbatten who died in 1979. On 27 August 1979, Mountbatten was fishing when an IRA planted bomb on his boat detonated. He died along with several members of his family taking the fishing trip with him. Aside from this poignant tribute, Louis means "famous warrior," and is popular within Royal circles.
Arthur is a nod to William and is one of his middle names, while Charles is after King Charles, Prince William's father. A statement at the time of Louis' birth read "The Duke and Duchess of Cambridge are delighted to announce that they have named their son Louis Arthur Charles. The baby will be known as His Royal Highness Prince Louis of Cambridge." His name might mean famous warrior, but the cheeky youngster is becoming famous for his adorable antics that have cheered up many Royal event.
9. Charlotte Elizabeth Diana
Charlotte Elizabeth Diana, born in 2015, is known as "Lottie" by the Prince and Princess of Wales - the traditional shortening of the name Charlotte. During a conversation at a Royal engagement, Kate was overheard saying "Oh, he's the same age as Lottie," when told a child's age, and we love the pretty and elegant sounds of both the long and shortened versions. Charlotte is the feminine version of the name Charles, which means "free man."
As well as a nod to Kind Charles, Queen Charlotte was the wife of King George III. For Bridgerton fans, Queen Charlotte and her colourful life act as the inspiration for the series spin-off, Queen Charlotte: A Bridgerton Story. Elizabeth was a clear front runner to feature somewhere in Charlotte's name, holding more poignancy now the former Queen is sadly no longer with us. The young princess shares the middle name Diana with cousin Lilibet, also as a tribute to the late Princess of Wales.
10. George Alexander Louis
George Alexander Louis is the first born child of the The Prince and Princess of Wales, and the special meaning of the name "Louis" shines through, as the couple used it twice. The name George however, is about as Royal as it comes, with six King Georges featuring throughout British history; this is surprising given the meaning of the name to be "farmer" or "earthworker". But if anyone can take a name with lowly beginnings and transform it, the Royals can, and this strong name is definitely fit for a future king.
Although the Prince and Princess of Wales haven't revealed a personal nickname for George, his classmates endearingly refer to him as "P.G." His middle name Alexander hasn't featured heavily in British Royal name history, but it is thought to be a nod to the former Queen Elizabeth's middle name, Alexandra. Louis is likely the first homage to the late Louis Mountbatten, and all three choices are perfect for the young Prince, in our opinion.
11. Mia Grace Tindall
The first child born to Zara and Mike Tindall in 2014, Mia Grace Tindall was born in Gloucestershire Royal Hospital and is 19th in line to the throne. Zara has never offered a reason for choosing the names Mia or Grace, but likely went with the way she chose siblings Lena and Lucas' names and simply liked how they sounded.
Mia means "Moon," "Beloved" and "Star of the sea," and is of Australian origin. Stemming from the Nyungar language, it is thought to inspire babies with the name to be grounded and connected to nature - perfect for the rural living Tindalls, who love the outdoor life!
12. Isla Elizabeth Philips
Isla Elizabeth Philips is the second child of Peter Philips and now former wife Autumn Philips. Born in 2012, the name Isla was not hugely popular at the time of her birth, but rocketed 268 places up the names leader board the year she was born - she could have been the pioneer in seeing the popularity soar.
The pretty first name works perfectly with the middle name that is once again, a clear nod to the late Queen Elizabeth. Three of the former Queen's four granddaughters have the middle name Elizabeth, with many of those passing it to their own daughters as a middle name. With a lengthy reign and enduring popularity, the name is sure to remain popular for decades to come.
For something really unusual, we know all the cool baby names for a little one who will really stand out from the crowd. If it's a genius you're after, these smartest baby names could produce the next one. A choice of millionaire baby names could be for you, if you want your offspring to be in the money when they're older.
Parenting advice, hot topics, best buys and family finance tips delivered straight to your inbox.