The 15 baby names that have stayed popular since the 1920s
Baby names come and go, except for 15 that remained popular for over 100 years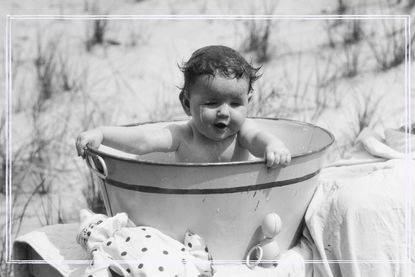 (Image credit: Getty images / Future)
Find out the 15 baby names that have stood the test of time and remained steadfast in the top 100 most popular baby names for over 100 years.
Choosing a baby name can be a hurdle most parents find tricky to navigate with many sticking to the most popular baby names (opens in new tab) for many reasons, though sometimes it's just because knowing the naming trends can give you the baby naming edge.
While some parents think should they go for a more unusual baby name or even animal-inspired baby names, founder of MyNameForLife.com, Sherri Suzanne (opens in new tab) tells us; "Popular names are comfortable and recognisable, making them generally easier to pronounce and spell. Sharing a name with peers can make any child feel part of a community and a timid child feel a little less different. There are studies that suggest that a popular, and mainstream name is associated with access to opportunities."
Well, the latest study from the Office for National Statistics (ONS) baby name data reveals the names that have consistently appeared in the popular names list over the last 100 years.... are you ready?
15 most popular baby names in last 100 years
A total of 15 names have consistently made it into the top 100 most popular names every single decade, since the 1920s. The list includes a number of traditional British names favoured by the Royal family such as George, Charles, and Elizabeth.
On this list, are 13 boys' and just two girls' names, this could be down to the fact that parents like to play it a bit more creative with the little ladies in their life. Backing this suggestion, a whopping 339 different girls' names appeared in the top 100 for each decade between the 1920s and 2010s, while for boys it was 276 boys' names.
The study shows that girls' names change a lot from decade to decade. For example, monikers like Gwendoline, Doris, and Vera were hugely desirable for baby girls in 1920s, but were soon replaced with names such as Robyn, Harriet, and Zoe in later decades. Whereas Alexander is a top player for most consistently popular name, having been in the charts every decade since the 1920s. While, it's shortened version Alex didn't become popular as a standalone name until the 1980s.
Most popular baby names: 1921 - 2021
Analysis from My Nametags (opens in new tab) looked at data from the Office for National Statistics (ONS) to discover this.
Alexander
Charles
Daniel
David
Edward
Elizabeth
George
James
Joseph
Michael
Mohammed
Robert
Sarah
Thomas
William
Managing Director at My Nametags, Lars B. Andersen (opens in new tab) tells us: "At My Nametags, we have been tracking baby name (opens in new tab) trends for almost two decades. "Throughout the years, we have seen many names come and go, with trends often influenced by pop culture. However, there are some names that seem to have enduring appeal.
"It's interesting to see that, whilst traditional monikers like Elizabeth and George are maintaining their charm, names in general are becoming more diverse as parents favour less formal options, and increasingly take inspiration from popular culture.
"For example, Maeve made the top 100 charts in 2020, a year after the Netflix show Sex Education aired for the first time with its lead character Maeve Wiley. As popular culture continues to have a wider social impact, we expect this trend to grow, leading to an even broader range of names in the UK."
Founder of Namerology.com, Laura Wattenberg adds; "Parents today are actually leaning away from popular names more than ever before. We're as determined to stand out as past generations were to fit in. The irony is that by the standards of the past, there is no longer such a thing as a truly popular name. Historically, John and Mary would account for about 1 out of every 5 English babies. Oliver and Olivia today account for just 1 in 100."
Relates features:
Video of the Week:
Stephanie Lowe is Family Editor at GoodTo covering all things parenting, pregnancy and more. She has over 13 years' experience as a digital journalist with a wealth of knowledge and experience when it comes to all things family and lifestyle. Stephanie lives in Kent with her husband and son, Ted. With his love of choo-choos, Hey Duggee and finger painting he keeps her on her toes.