Big Brother's Craig Phillips has announced the birth of his first child
The Big Brother series one winner has been documenting his daughter's first weeks on Instagram.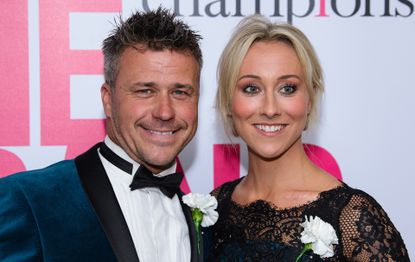 (Image credit: Getty Images)
Big Brother series one winner Craig Phillips has been documenting his daughter's first weeks on Instagram.
The 47-year-old TV star, who won the first series of Big Brother back in 2000, welcomed his first child with his wife Laura at 5.56pm on 8th March.
Craig broke the happy news with a sweet photo (opens in new tab) of himself and Laura carrying their new arrival down a corridor at Whiston Hospital in a car seat. 'Bursting with pride, please welcome Nelly Janice Phillips weighing in at a trim 6lbs 8oz,' he wrote. 'Both mummy @_mrsdiy and baby Nelly are doing great.'
A few days later, he posted a funny snap (opens in new tab) of himself looking puzzled while out shopping for nappies, tagging the image, '#confused #newbaby #newdad #firsttimeparents #howhardcanitbe #ivegotthis #stress #help #daughter #firstdayout #shopping #prouddad'.
Craig's friends and followers were quick to respond to the new dad's hilarious post. 'This is the easy part sausage,' wrote one friend. 'Ready for the next 18 years?!' another person asked.
'Normally they have the size you need in the wrong quantity or the right quantity in the wrong size,' one commentator advised. 'Almost always. Best of luck Craig!'
'Don't worry kid. Every dad pulls this face when doing a baby shop,' another joked.
Then, just in case he hadn't melted enough hearts, Craig decided to post an adorable snap (opens in new tab) of his new baby girl sleeping on his chest. 'Just the best feeling ever!' he wrote.
The doting first time dad also shared a heartwarming family portrait (opens in new tab) showing him and Laura kissing Nelly on the forehead.
'What a little beauty you have there,' one person commented. 'Lovely photo. Hope all is going well as a family of three.'
Craig and Laura got married in the grounds of Peckforton Castle in Cheshire in February 2018. The kind couple asked their guests to make donations to Helen and Douglas House hospice instead of buying wedding gifts.
But they've been 'overwhelmed' by 'all of the gorgeous baby gifts' that Nelly has been sent, according to Craig. 'Than you to each and every one of you for spoiling Nelly,' he wrote on Instagram. 'She really has no idea how lucky she is right now!'
Samantha is a freelance writer at Goodto who has been with team since 2019. Initially trained in psychology, she specialises in health and wellbeing and has additionally written for magazines such as Women's Health, Health & Wellbeing, Top Santé, Healthy, Refinery29, Cosmopolitan, Yahoo, CelebsNow, Good Housekeeping and Woman&Home.