Actress Danielle Brown has announced she's five months pregnant after two miscarriages
The actress is expecting her third child; and her first with partner Ty.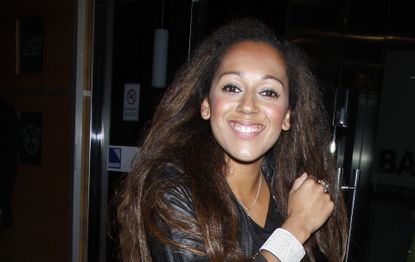 (Image credit: James Curley/REX/Shutterstock)
Emmerdale actress Danielle Brown is expecting her third child; her first with partner Ty.
Danielle, who is Spice Girl Mel B's younger sister, told New! magazine that she and her boyfriend Ty Maynard had been trying to conceive (opens in new tab) for six months.
'We've wanted this for a while but it took longer than we expected,' she explained. 'Six months of really trying – and we became impatient so we got a puppy.'
The 38-year-old actress admitted that she was so amazed when it finally happened, she had to take 'about five' pregnancy (opens in new tab) tests.
'Even though we were trying, I was still shocked,' she confessed. 'One morning I started to feel quite sick, so I did a test – well, I did about five – and that was it. I was pregnant!'
Danielle, who is now five months pregnant, revealed that she'd waited a while to tell friends and family because she'd gone through two heartbreaking miscarriages in the past.
'I've had two miscarriages in the past and both happened just before the three-month mark, so that was on my mind,' she admitted. 'We didn't want to get carried away and be upset.'
On the downside, Danielle might not now be able to join her older sister on the upcoming Spice Girls tour.
'My plan was to join them for the whole thing,' she explained. 'But then I went and got myself pregnant!'
Danielle recently appeared on an episode of Celebs Go Dating, when she revealed that she once 'borrowed' an outfit from her older sister to go on a date with rapper Jay Z.
'I raided Melanie's wardrobe as sisters do,' she confessed. 'I was head to toe in Christian Dior. I couldn't afford Christian Dior!'
Danielle told big sis Mel her baby news by text on Christmas Day. 'She was absolutely over the moon,' she shared. 'She can't wait to be an auntie again.'
The actress already has a 12-year-old daughter named Mimi and a nine-year-old son called Hendrix from a previous relationship.
Samantha is a freelance writer at Goodto who has been with team since 2019. Initially trained in psychology, she specialises in health and wellbeing and has additionally written for magazines such as Women's Health, Health & Wellbeing, Top Santé, Healthy, Refinery29, Cosmopolitan, Yahoo, CelebsNow, Good Housekeeping and Woman&Home.