Deliciously Ella praised by fans for sharing 'honest' picture of life a week after giving birth to daughter
Her baby is now one week old...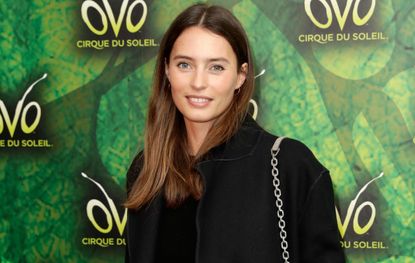 Deliciously Ella - also known as Ella Mills, nee Woodward, has shared a candid picture of her life one week after welcoming her baby daughter.
Healthy chef and business owner Ella gave birth to her daughter, who she and her husband Matt have named Skye Tessa Camilla Davan Mills, seven days ago.
And in a recent post to her Instagram, Ella shared an honest picture of herself at home in an adult nappy and nursing bra, with Skye on her chest - showing the reality of life with a newborn.
Read more: Emmerdale's Charley Webb reveals she's left the house for first time in eight days after welcoming third baby (opens in new tab)
In the caption of the sweet picture, Ella said: 'Last Friday night we went on a date with this little angel in my belly, this Friday night I'm wearing an adult nappy, maternity bra and breast pads, and I've got Skye on my belly 😂
'So much change in seven days, and couldn't feel more grateful or happier about it 🥰🥰🥰 The soreness is starting to ease up, it feels like everything is healing and my energy is really starting to come back too. It's not the sexiest look around but I couldn't feel more comfortable in my own skin right now 🙏🏼'.
Many of the new mum's 1.6 million followers praised Ella for her inspiring honesty about life as a new mum, with one saying: 'Thank you for sharing the real life of a young mother! It's brave to post a picture in a adult nappy 💪 and I couldn't appreciate it more! ❤'.
As another commented: 'This is the true picture of just having a baby! Amazing 👏🏻 so refreshing seeing this! Xx'
And a third also wrote: 'I gave birth to our little bean 3 weeks ago and really appreciate your openness about the healing process.'
Read more: Meghan Markle reportedly set to write children's book on a topic close to her heart (opens in new tab)
Ella has so far been open about many aspects of new motherhood, revealing that she's never felt so content with her baby daughter in her life, despite the physical after-effects of birth.
In another Instagram post, she said: 'I'm feeling really good too, still sore and can't really walk/waddle much further than the bathroom, but emotionally in the best place of my life, feeling a sense of completeness that I can't explain. We're just feeling so incredibly lucky and grateful for every second.'
Aww - we're so happy for the new family!
Amy is Senior Digital Writer across Woman & Home, GoodTo and Woman, writing about everything from celebrity news to health, fashion and beauty features. When she isn't obsessing over the latest dress drop from Marks & Spencer, you'll most likely find Amy out running, or with a cup of tea in hand ready to dive into a gripping new Netflix series.