How to get your little one a dolls' house like Sam Faiers' daughter's but for a fraction of the price
Rosie's first birthday gift costs up to £279!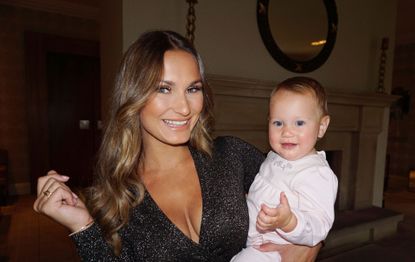 Sam Faiers threw her daughter a lavish first birthday party this weekend. And, if you're feeling inspired by the grand doll's house she bought Rosie, we've got a brilliant budget alternative for you and it's from Aldi…
Sam Faiers proudly took to Instagram to show off how she was celebrating Rosie's first birthday.
If you were left feeling inspired by the party and gifts Sam showered little Rosie with, you might be wondering how you can recreate the magic for your own children.
Several people commented on Sam's post gushing over how adorable Rosie looked next to her huge doll's house and asked where they can get one too.
One person wrote: 'Happy birthday beautiful girl 😍 Where is her dolls house from please? My little girl would love that! X' and another said: 'Aww happy 1st birthday Rosie🎈🎈🎈I have to ask where the house is from?'
Sam very usefully tagged the brand as The Dolls' House Workshop and after a quick snoop on the website it's easy to find the model Rosie has, which is called the Ash House.
Described as a 'gracious Georgian house' with three storeys and nine rooms, the wooden house has very pretty front porch and opens from the roof or front.
However, if you were hoping to grab one the price might make you reconsider as it costs between £120 and £279, depending on the exact model.
Plus, you might want to reassess buying it for your little one to play with as it is 'not a toy' according to the website.
A special note under the product description explains: 'This dolls house is a collectors item. It is not a toy, nor is it suitable for use in play. It is not suitable for children aged 14 or under.'
If you're still feeling inspired by the wooden house but want something more practical and budget friendly, Aldi are here to save the day. The discount supermarket has launched some fantastic wooden toys this year including a doll's house.
Aldi's wooden doll's house has featured in our top Christmas toys list for 2018!
Aldi's Little Town Wooden Doll's House costs just £29.99 and comes in two different designs. It's easy to assemble and has three storeys, just like The Dolls' House Workshop's Ash House.
While the design is perhaps not as chic, it is still very charming and you can let the kids play worry-free with it knowing that is hasn't broken your bank balance!
Will you be heading out to try and get one of Aldi's wooden doll's houses? They've sold out online so you'll have to try your local store!
Jessica currently works as a Senior Food Writer at Future. She writes food and drink-related news stories and features, curates product pages, tests, and reviews equipment, and also develops recipes that she styles on food shoots. An enthusiastic, self-taught cook Jess adores eating out and sharing great food and drink with friends and family. She has completed the Level 1 Associate course at the Academy of Cheese and is continually building on her knowledge of beers, wines, and spirits.