'I'm always broody' Holly Willoughby confesses that part of her wants another baby
Baby number four isn't a definite no...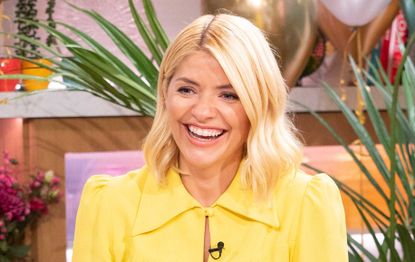 (Image credit: Ken McKay/ITV/REX/Shutterstock)
Holly Willoughby has revealed that she hasn't decided if she will have another baby but that she would really like one!
Holly and her husband Dan Baldwin have three children together, nine-year-old Harry, seven-year-old Belle and four-year-old Chester but the TV presenter hasn't ruled out trying for a fourth…
Speaking to The Sunday Telegraph's Stella Magazine Holly admitted: 'I'm always broody. Part of me wants another baby but part of me thinks that's not a good enough reason!'
She continued: 'I've almost decided not to…but not quite.'
Holly has always been very open about how much her family means to her and she's got a busy few months coming up.
The This Morning presenter recently pulled out of her lifestyle website Truly (opens in new tab) so that she could focus on her family ahead of her new presenting role for I'm A Celebrity Get Me Out Of Here, which will see her relocate to Australia for the whole filming period.
In the interview Holly admitted that you can't have everything and 'something had to give'.
When Holly's new role was announced she confirmed that her family would be going with her and that she was trying to make sure the logistics all went to plan.
Holly explained: 'From the point I said "yes" my whole focus has been working out the family logistics. The kids are coming out to Australia so we've had to organise tutors. My mum and dad are joining us and Dan will fly back and forth.'
With her family by her side, perhaps Holly will be able to deal with all the creepy crawlies a little better…
Speaking to her This Morning co-presenter Philip Schofield Holly admitted that she was dreading the eating challenges and being around the celebrities when they are covered in bugs.
She said: 'Even if you just ate chocolate and opened your mouth to show me right now I wouldn't like it. The fact you've eaten a body part that you're not meant to, it's going to be horrible.
'I'm also not going to like the smells. I'm not good with smells. And when they come out and they've got stuff still on them. What have I done?'
We're sure you'll be great Holly, just put that brave mum-hat on that we've all got tucked away for when we are trying to put the kids' at ease…
Jessica currently works as a Senior Food Writer at Future. She writes food and drink-related news stories and features, curates product pages, tests, and reviews equipment, and also develops recipes that she styles on food shoots. An enthusiastic, self-taught cook Jess adores eating out and sharing great food and drink with friends and family. She has completed the Level 1 Associate course at the Academy of Cheese and is continually building on her knowledge of beers, wines, and spirits.