Holly Willoughby shares a birthday selfie with her mum- and fans can't believe how old she is!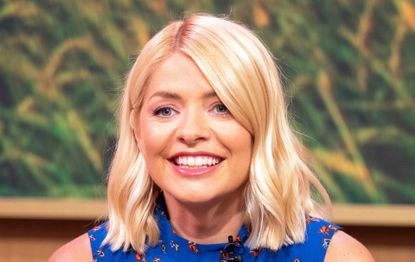 Holly Willoughby's fans couldn't believe the star's mum had just turned 71.
After sharing a rare shot of her eldest son Harry (opens in new tab) earlier this month, the TV presenter posted an adorable mother-daughter selfie to Instagram to mark her mum Linda's 71st birthday last week – and her followers couldn't stop talking about it.
Holly added the caption: 'This beauty turned 71 today! Happy birthday mama… love you so much.' The picture also featured a stunning bouquet of pastel pink blooms. But not many people seemed to be looking at the flowers.
Instead, stunned Instagram users took to their keyboards in their thousands to comment on Linda's youthful appearance.
'Congrats you don't look anywhere near 71,' wrote one. 'How is she 71?!!!!! Amazing,' another added.
'Wow, I would be happy if I looked like that at 31!!' another fan exclaimed.
Others were quick to comment on the resemblance between Holly and Linda. 'Wow beautiful mum.. like mum like daughter,' one fan wrote. 'Omg can see where you get your beauty from.. your mum looks truly incredible,' another added.
'Your Mama looks more like your slightly older sister, amazing,' said another.
Even Holly's fellow Celebrity Juice team captain Paddy McGuinness pitched in, adding: 'Strong gene game. Happy Birthday!'
'No way!! She's gorgeous!!!! Strong gene game indeed!!!' a fan agreed. 'Beautiful lady. Definitely strong genes,' another declared.
All Saints' Nicole Appleton, who is one of Holly's closest friends, also commented on the post, writing: 'Happy birthday beautiful Mumma!'
The day before her mum's birthday, Holly posted a tribute to her other bestie, Emma Bunton (aka Baby Spice) ahead of the first Spice Girls comeback show at Dublin's Croke Park.
Holly shared a picture of herself wearing a pink Spiceworld hoodie in honour of Emma, who often goes on girly nights out with Holly and Nicole. 'Todays the day!!!!' she wrote in the caption. 'Dublin you lucky lot… look after Baby for us… good luck @emmaleebunton go be your incredible self… love Ya!'
Samantha is a freelance writer at Goodto who has been with team since 2019. Initially trained in psychology, she specialises in health and wellbeing and has additionally written for magazines such as Women's Health, Health & Wellbeing, Top Santé, Healthy, Refinery29, Cosmopolitan, Yahoo, CelebsNow, Good Housekeeping and Woman&Home.